Even the blazing sun seemed to recognize the heat of competition as Foothill took on the reigning league champions in their last home match of the season.
Even the blazing sun seemed to recognize the heat of competition as Foothill took on the reigning league champions in their last home match of the season.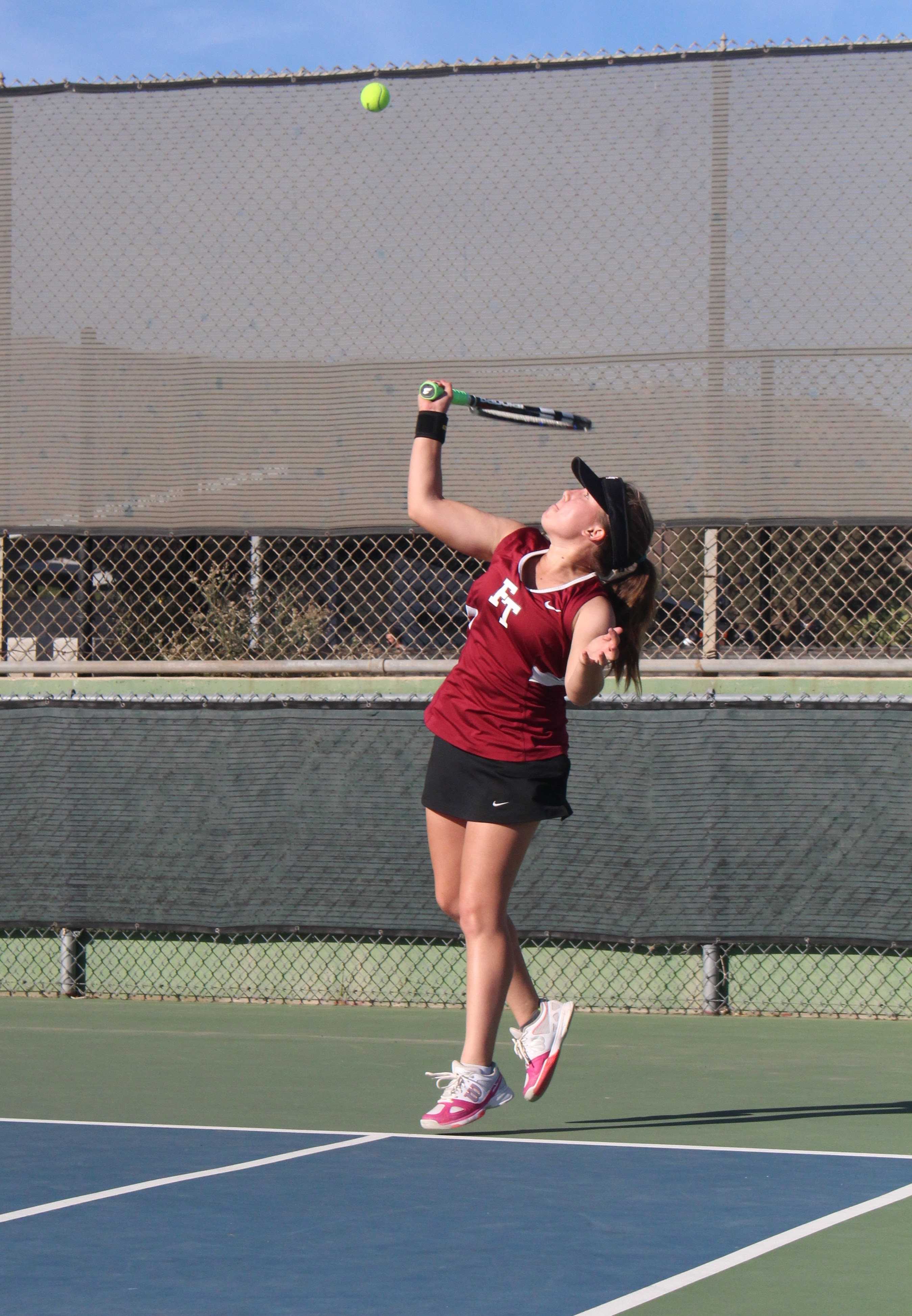 Foothill came into the match on Tuesday knowing just how "dominant" of a tennis team Cate has. The Dragons were defeated 15-3, but not without a few highlight matches to keep their heads held high.
In the number one singles slot, Erin Gaynor '19 played what her coach described as "good, solid tennis" against Cate's two and three. Gaynor felt her play was "on fire" in the two sets, hitting the ball deep in the court with consistency.
She ended the day with an "intense" match against Cate's second best in singles. The two had been neck and neck since the start of the set, and went to a seventh game to secure the win, with Gaynor trailing 6-5.
Though Gaynor lost the set in the end, she still enjoyed the competition because "if [a team has] quality players, then it will always be a really fun match, whether you win or lose." She finished with set scores of 0-6, 6-4, and 7-5.
Simultaneously, the number two doubles team of Enkela Qoshlli '18 and Laina Feath '17 battled Cate's number three team.
After long rallies and echoing slams back and forth, the Dragons and the Rams were tied 6-6 and entered into a tiebreaker game. The Dragons were narrowly defeated, but Qoshlli was not disappointed.
She felt that she and her partner played "really well." Qoshlli, who usually plays singles, was gracious about this change of pace. The position was less intimidating for her because of her flexibility.
She's "open to either" singles or doubles and thinks that helped her to improve through the match. She and Feath finished with set scores of 2-6, 0-6, and 6-6.
[soundcloud url="https://api.soundcloud.com/tracks/289078776″ params="color=ff5500&auto_play=false&hide_related=false&show_comments=true&show_user=true&show_reposts=false" width="100%" height="166″ iframe="true" /]
Leah Sehati '20 was highlighted as she made her debut as a starting singles player in the match. She felt that she played less than her best, but was still happy to be out there playing "a really fun game." Sehati's sets concluded with scores of 2-6, 0-6, and 0-6.
Alysa Elliott '17 also enjoyed the challenge of the match. She described it as "tough," but "a really good experience." Elliott, as the number two in singles, had final set scores of 0-6, 0-6, and 3-6.
Ella Duganne '20 and her partner Emma Kolesnik '17 were swept in their sets, with scores of 0-6 across the board. Duganne forgot about the scores and focused on the opportunities that tough competition opens up.
"Playing against [Cate] is fun because they're better [than other teams in the league] and it makes your game level raise," she said.
Sherlyn Khouvilay '18 was put in an unfamiliar situation, teaming up with Alyssa McClain '20 as opposed to her sister and longtime partner, Summer Kouvilay '17. The hardest part about this was "getting used to the way [her new] partner acts" during the game.
This challenge did not stop Khouvilay and McClain from taking two sets of three. During the games, Khouvilay took it one point at a time, not dwelling on her mistakes, and thinks this helped lead to the victories. The team emerged with scores of 1-6, 6-4, and 6-3.
Coach Brad McClain knew Cate would be a challenge, but was pleased with the way the new lineup performed. "This is all part of a learning curve" he said, and he's hopeful that the team will make it to CIF and earn the chance to show what they've learned.