Hope Solo's suspension from US Soccer is uncalled for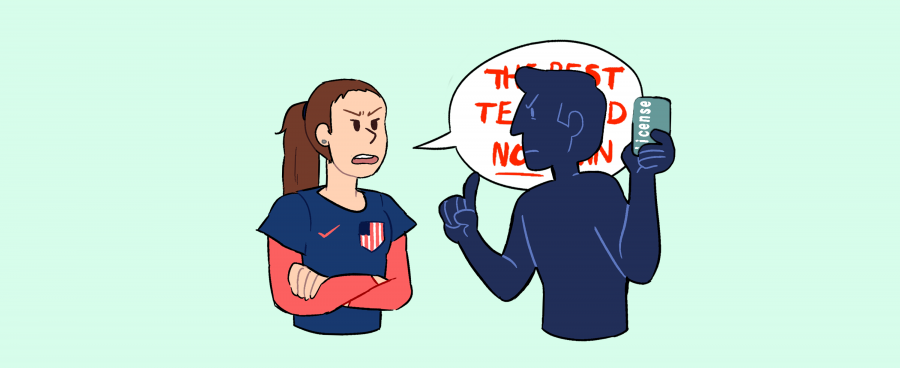 Emma Kolesnik
September 1, 2016
Inequality comes in many different forms, and sometimes in unexpected ways. A recent example of this is the controversy surrounding Hope Solo, one of the world's best goalkeepers, and a player on the Unites States women's soccer team.
Recently, her contract was terminated with the national team and she was given a six month suspension by US Soccer. This was done in response to few comments she made about the Swedish soccer team after losing to them in the quarterfinals of the Olympics.
The comments themselves did not deserve the punishment they received. She called the Swedish team "cowards" because they won off of penalty kicks. While not the best sportsmanship, this comment should have received (at most) a slap on the wrist, or a very short suspension. She didn't deserve to have her contract terminated.
US Soccer then said that her punishment was because of a series of events.
This is a valid point. Hope Solo has been consistently surrounded by controversy. She has been suspended before, has domestic violence charges against her, along with a plethora of other such offenses. She is far from a model player in this aspect.
Yet, she also is a world record holder in many areas, a decorated olympian, and has won the golden glove award twice. This makes her case a debate between whether it's more important to be a good player, or a good role model.
To fully answer this debate some background is necessary. This is not just the case of a women's soccer suspension, it is yet another example of the extreme inequality women face in athletics. Women athletes are paid significantly less than their male counterparts. This was shown when members of the US women's soccer team filed a complaint for receiving less pay than the male team, even though the women's team brings in more revenue.
The Rio Olympics had many examples of sexism and male privilege. Fox News had a commentary on why female Olympians should wear makeup when they compete. NBC gave a woman athlete's husband credit for her gold medal win, instead of mentioning her by name. The women's gymnastics team was compared to standing around at the mall, and articles were written about their favorite celebrities instead of their medals. Many more "mistakes" such as these happened.
These events were unfortunate to say the least, with women having made significant strides in garnering rights and being heard. A little over one hundred years ago, the first women were allowed to compete in the Olympics in a few sports.
To have consistent sexism demeaning the hard work female athletes put into their sports hurts and undermines both men and women. The Olympics should be a place of joy, celebration, and achievement; not hateful language and insults.
Ryan Lochte, who made up a robbery, and cost his teammates 11,000 dollars, has only lost four sponsors. He has received no formal punishment yet. He even gained a new sponsor. People made excuses for him, saying that "boys will be boys," even though he is 32. Hope Solo is 35, only a few years older than Lochte, yet no excuses were made for her.
When it comes to situations like Hope Solo's suspension, we should follow the precedent that has been set by the world of sports to date. With male football players, a precedent has been set for punishing players either not at all, or with a six-game suspension (a new policy).
In the world of soccer, male players who have purposefully physically attacked other players, fans or referees have at most been sentenced to a few game bans (or no punishment). Serge Aurier, who used homophobic slurs and profanity to insult his team boss and other countries' officials received a two month suspension. In a similar case with Zlatan Ibrahimovic, he received a four-game suspension.
Hope Solo committed crimes nowhere near comparable to these, yet her contract was terminated. This is discrimination at it finest. If athletic authorities wish to enforce more harsh of punishments, they should start doing it equally.
Hope Solo did not deserve her punishment, and I hope for her sake, that her contract with US Soccer is reinstated. Everybody makes mistakes in their lives, but as one of the best goalkeepers in the world she should be allowed to play in the position she has fought for.
Illustration Credit: Maya Avelar / The Foothill Dragon Press