Blast from the past Renaissance Rally transforms Foothill's campus
[vimeo 159642740 w=500 h=281]
Slides, obstacle courses, and a rock climbing wall transformed Foothill's campus into a childlike wonderland for this semester's Renaissance Rally. Students, decked out in Pixar-themed Renaissance shirts, celebrated stellar academics on Friday, March 18.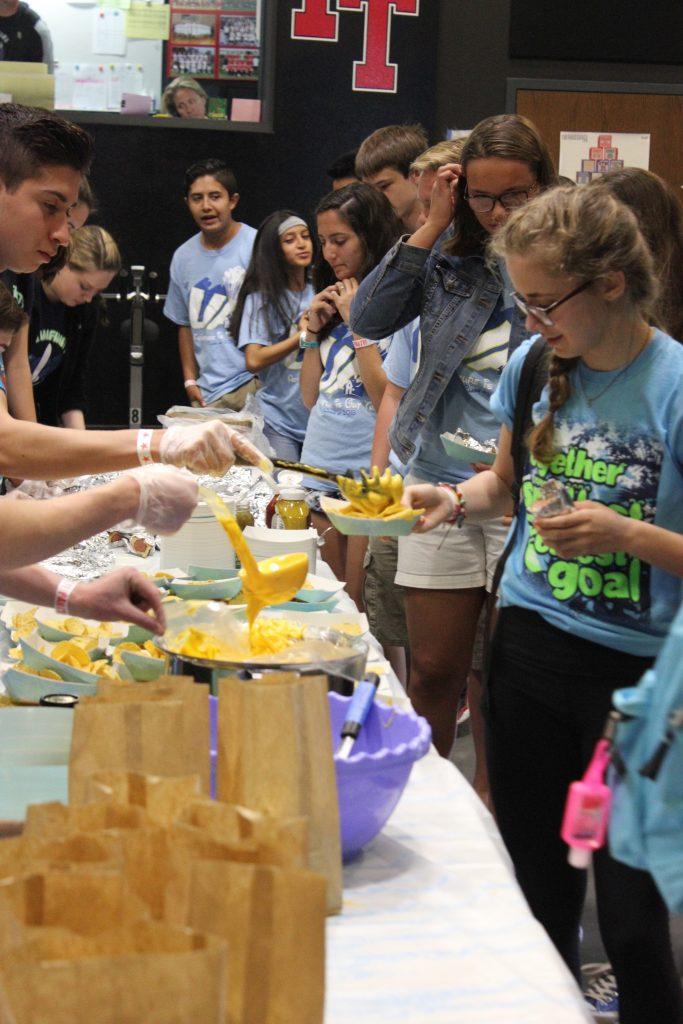 Victoria Shaw, Associated Student Body (ASB) Renaissance Rally Director, explained the inspiration for the rally's theme.
"We actually originally found the jolly-jumper things first and we just wanted to go off of that. And since jolly-jumpers remind you of being kid-ish […] we decided on the Pixar theme."
"I think the atmosphere is really festive and it's almost childish, but in a good way," freshman Erin Gaynor commented. "[The rally is] a nice reward for those who have the willingness to go the extra mile."
All students that achieved Renaissance for first semester were able to attend the rally. A student can make Renaissance by either improving his or her GPA by .5 or having a GPA of 3.0 or above.
Last week, Renaissance students also received Renaissance shirts that we different for each grade level. Freshman received "A Bug's Life" themed shirts. Sophomores had "Up" themed shirts, while juniors were given "Finding Nemo" Renaissance shirts. Seniors had "Toy Story" themed shirts and even teachers received "Monsters, Inc." inspired shirts.
Many students enjoy the variety of shirts, but junior Charlotte Cook wishes the shirts were all the same because she "likes when we all look the same." However, Cook and fellow junior Danielle Askar both think the Pixar theme is "cool."
This year Foothill was able to have inflatable attractions and a rock wall at the rally.
"We don't really have the inflatables that much so that was a nice change," ASB Renaissance Rally Assistant, Anna-Kate Levesque said. Levesque also thinks that many students enjoyed the rock wall.
Freshman Denise Castro enjoyed racing her friends on the rock wall.
"It's my first rally, and it's really fun," Castro said.
[soundcloud url="https://api.soundcloud.com/tracks/253001211″ params="color=ff0000&auto_play=false&hide_related=false&show_comments=true&show_user=true&show_reposts=false" width="100%" height="166″ iframe="true" /]
As well as the entertainment, there was also a raffle by grade level for movie tickets. Depending on students' Renaissance level, they were given a certain amount of tickets for the raffle.
Renaissance students could pick up nachos, hot dogs, and/or popcorn to snack on while amusing themselves at the rally.
"I think everybody just had a really great time. I saw everyone dancing in the quad with the DJ," Shaw said. The DJ played a handful of songs from Pixar movies, such as "You've Got a Friend in Me" from Toy Story.
"I think it was a really great rally overall, I think it beat the fall rally," Levesque commented.
Both Levesque and Shaw believe the rally went "really well" and they hoped "everyone enjoyed it."
……………
Background Photo Credit: Grayson McCoy/The Foothill Dragon Press