Foothill's drama captivates audience with "The Beatles Slept Here"
Music, amusement, and lots of laughter filled Spirito Hall Thursday and Friday evenings as Foothill's drama department put on a spectacular show. "The Beatles Slept Here," a performance co-directed by Cameron Liljekvist and Mahaila Woods, was truly a night to remember.
According to the drama department, "this magical mystery comedy will have you all come together and remember all the memorable tunes."  This claim was fulfilled through the frequent lines including puns for well known Beatles songs such as "All You Need is Love" and "Lucy in the Sky With Diamonds." Various characters names' resembled song titles as well, including Eleanor "Digby," and Sergeant "Paprika."
The play takes place at the Penny Lane Hotel, where the Beatles had purportedly 'slept' after their bus broke down in August of 1965. Sergeant Paprika, the owner of the Penny Lane Hotel, inexplicably despies the Beatles, and has tried to keep this a secret from the world. Word gets out that the fab four spent the night in his hotel when group of high school students promotes this historic tidbit in order to raise $1,000 for a project at school. Because of this Sergeant Paprika is enraged and fires the hotel manager, Eleanor.  
As if things aren't chaotic enough, a Beatles fan club arrives with all of their prized  memorabilia, which gets stolen by Mr. Mustard and his gang. The fan club then gets a dim-witted detective, Johnny B. Good, to solve the crime.
He immediately assumes that Sergeant Paprika is his prime subject based on insubstantial evidence. "It's been a hard day's night" for poor Paprika, especially when the Beatles mysteriously appear to him in the middle of the night, proving he's gone over the edge. But things start looking up, and "here comes the sun" as Eleanor and the high school students work it out, and Paprika gets by with a little help from his friends.
The cast of "The Beatles Slept Here" worked extremely hard in order for this production to be a success, and it certainly paid off.
"They [the cast] put so much time and effort into creating such a well put together play, where everybody acted great," said sophomore Summer Khouvilay.
 "I really enjoyed the fan girls and how the actors were so in tune and into their characters, and the accents that the characters used which helped the way in which they portrayed their characters; it was really something to behold and they should be very proud."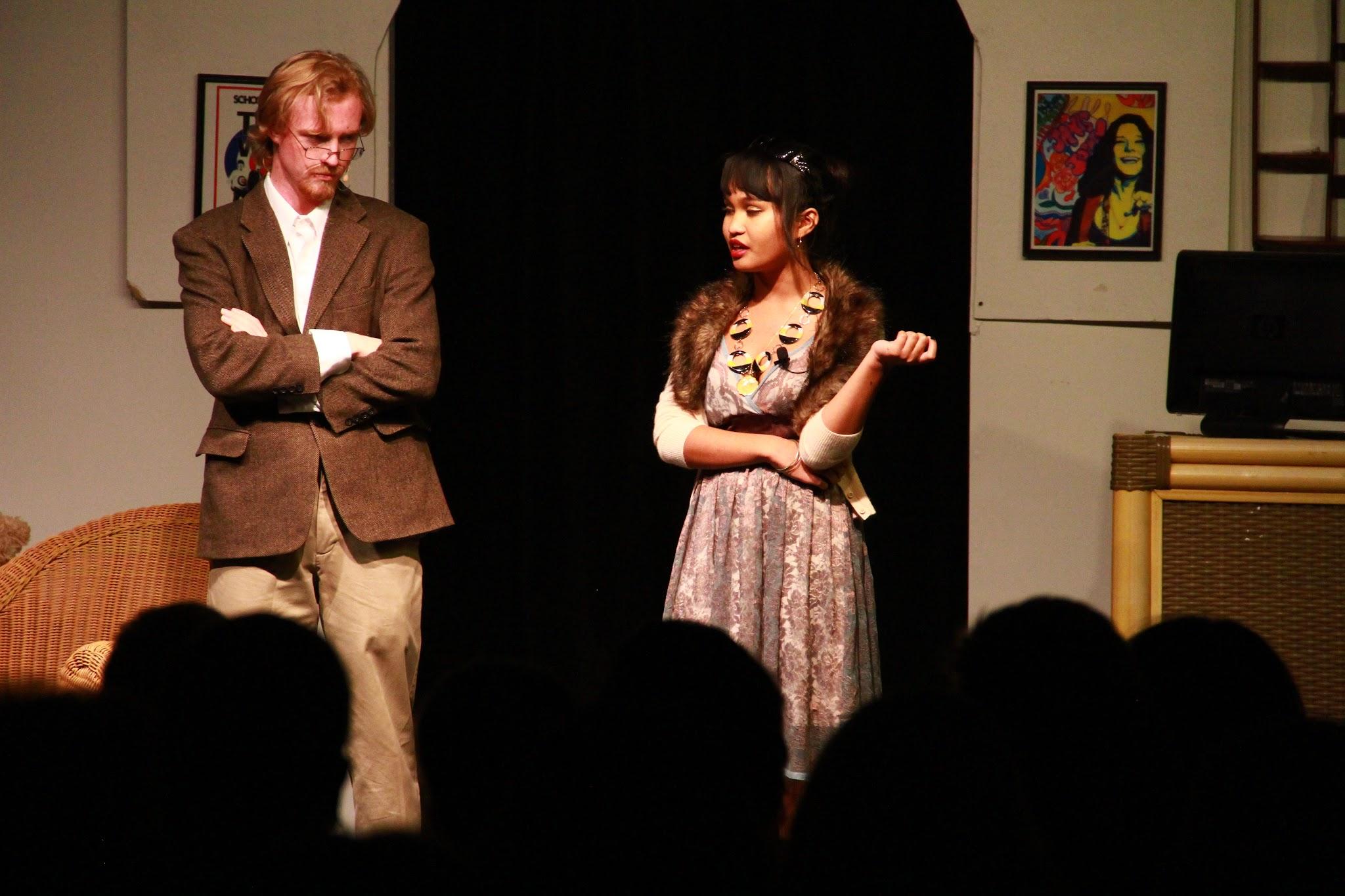 Rehearsals for the play were held Tuesday through Friday ranging from after school at 3 pm to usually 4:30 pm. The actors and crew prepared for their big debuts on Nov. 6 and 7 from the beginning of September, which added up to a grand total of 50 hours of hard work and dedication.
Foothill's drama teacher, Karen Rodrigues said that seeing her students shine was what she looked forward to the most.
 "They have been working so hard and they are an amazing group, there is so much talent on that stage that it will be a blast to watch," she said.
The crowd was very energetic, which generated an outstanding performance. By feeding off the audience's enthusiasm, the actors brought forth more humor and life to the play.
 "Just seeing how all of the actors have developed into their characters has truly been phenomenal," said co-director and senior Mahalia Woods.
[soundcloud url="https://api.soundcloud.com/tracks/175946544″ params="color=ff5500&auto_play=false&hide_related=false&show_comments=true&show_user=true&show_reposts=false" width="100%" height="166″ iframe="true" /]
"It has been crazy today. It's stressful just because we weren't sure how the audience would react, how if they [the actors] were too nervous and if they were going to mess up, but they're all doing so good so far that it's awesome. Love it," said senior Cameron Liljekvist.
Along with family and friends, many of Foothill's staff appeared to support the students and enjoy a good laugh.
Señor Perfecto enjoyed the comedy aspect, as well as seeing his students "get a chance to be someone else."
He was confident that "this was much more fun […] than the Buena-Ventura game."
"The Beatles Slept Here" was an entertaining production full of shenanigans, evil schemes, and sporadic fan girl screams. Overall, the audience enjoyed their stay at the Penny Lane Hotel.