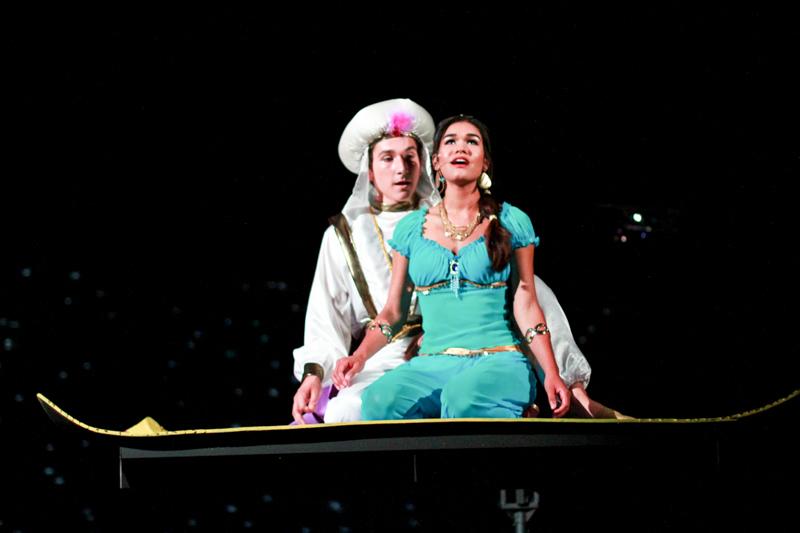 As the lights flashed from on to off in Buena High school's McConnell Auditorium, an immediate hush fell over the crowd. They awaiting audience was not disappointed with Buena's rendition of Aladdin Jr.   This classic-turned-comedy is a humor-filled spin off of the original Aladdin. References to modern day life resulted in the refreshing high school interpretation of the otherwise predictable Disney fairytale.
Aladdin Jr. tells the story of an unhappy Princess Jasmine who is betrothed to marry a prince of her father, the Sultan's choosing. Jasmine, played by April Davis, disappears into the crowded market place where she runs into a "street rat" named Aladdin, who is played by A.J. Morales. The separation of these two characters is brought on by Jafar, the Sultan's right hand man who has bad intentions towards him and his daughter. Jafar is played by Andrew Campos and the Sultan is played by Jonah Novoa.
As the story continues to unfold, a magical Genie appears to grant Aladdin the iconic three wishes.
The Genie happens to be played by Buena Drama teacher Frank Davis, seeing that none of the auditioners were "fit" to play the part, said Lindsay Wolfe, a Junior at Buena who is enrolled in Davis's Stagecraft class.
In the last scene of the play, Aladdin decides to ditch his prince facade, even if it means losing Jasmine. His decision to stay true to himself ultimately works in his favor and he ends up with the respect of the Sultan, along with Jasmine's increased affections towards him.
Although the cast revamped this tale with comedy, the production remained true to the original script. Complete with all of the fundamental characters, Aladdin Jr. opened with narrator Nisarg Tanna singing along to Arabian Nights. His narrations continued throughout this production and as did the singing.
Though entertaining and fun, Aladdin Jr. was picked as the spring play for a very specific reason.
"This play appeals to a broad audience of people. I mean everybody loves this story and it's a family show, which we love doing because it pulls our community together," said Frank Davis. "I mean it's Disney; who doesn't like Disney? It's a guaranteed sell when you do Disney." 
Many of the cast members are apart of Davis's Stagecraft class at Buena and this is their first time acting in a school production.
Already in its second week of showing, the cast of Aladdin Jr. still performs the show with vibrant energy. The rehearsal of this production was limited to just five weeks.
"Which is shorter than we've ever done," explained Davis. "It was just a race to the end and the kids were amazing; they kept up all the way."
Senior A.J. Morales couldn't decide which of the scenes was his favorite. He managed to narrow it down to "A Whole New World" and "One Jump" because, "they are just such iconic songs and I love getting the chance to perform them." 
This will be his last time starring in a play at Buena High school.
Davis, as well as the audience, were very pleased with the performance.
One audience member, Kaily Wolff, a junior at Foothill Technology High School, thought that this year's production was great. 
"I liked seeing my favorite Disney movie reenacted by a bunch of my friends. Seeing them enjoy themselves made the play even more fun to watch," she said.