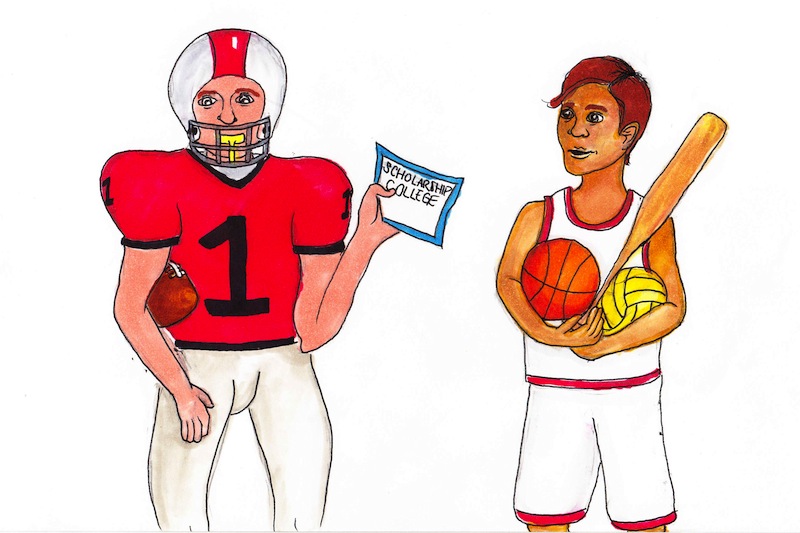 Gone are the days when a student could play baseball, basketball, and football, all in the same year. Gone are the days of students being able to participate in more than one sport that they love.
Whether it is the competitive drive to earn a scholarship in college, or the threat of a loss of playing time by a coach who says an athlete won't play next year, student athletes are committing themselves to one sport all year round, turning that sport into a serious, time consuming, costly job, instead of fun, competitive, character building athletic experience.
These students aren't grown ups just yet, and shouldn't have to pick between two or even three sports that they love, just so they get playing time in one of them. They aren't paid to play, or win. Too much pressure is placed on them, and the coaches even, to win, to succeed, to achieve college scholarships. 
Instead of playing sports at a competitive level for one season a year, then moving to the next, students are now forced to attend weekend traveling tournaments, participate in two-a-day practices, required to purchase team spirit uniforms on top of the already on top of astronomically high costs for club season prices.
The ultra-competitive nature of today's youth sports has pushed young athletes to a level not even professional level athletes train at.
Take water polo for example. There is fall season, which is the high school level. Then, club season starts two weeks after, all winter long. After winter season ends, spring club season starts, and after spring season, there is the climax of the cycle: summer season, where all clubs try to qualify for a year ending tournament, called Junior Olympics.
Even professional athletes take breaks. LeBron doesn't play basketball all year round and Peyton Manning doesn't play for a club football team after his 16-week season. If professional athletes don't do it, why has youth athletics become what it is today?
The love of money. If a kid gets pulled into one sport permanently, that kid or his/her family pays the coaches, they pay the club, they pay the clothing store for the gear, they pay the various organizations involved in the sport, they pay the owner of the facility of which they practice on, and they pay to be recruited by collegiate coaches. Everybody gets a cut from the player. Club athletics aren't just sports, they are industries.
High school athletes need to be able to do everything they love. They're too young, not to decide which sport to play, but to give up playing baseball, or to give up playing football, or soccer, or tennis. They shouldn't be forced to give up the passions which they love so early on in life.