Former Olympic torch bearer is now a Foothill teacher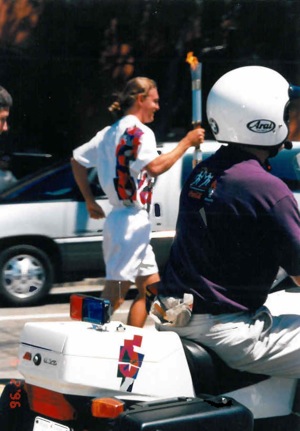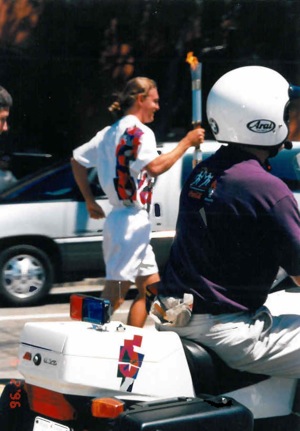 After spending many hours teaching biology and chemistry, a forgotten high school sports career is the furthest thing from this teacher's mind. However, Ryan Duston once graced the fields of high school competition.
Duston ran cross-country and track and field for Saint Buenaventure High School in Ventura.
"I ran Varsity all of my four years in both sports. Sports gave me an outlet to get rid of a lot of stress. Success in sports also leads to self-confidence, which allowed me to get out of my comfort zone and try new activities. What was unique about it, it you get to travel and I always enjoyed seeing new places."
Duston also said, "Running was everything to me, it gave me something people would identify me as that, It gave me a role. I didn't mind being the "runner" in my community, family and friends. School was never easy for me because I have dyslexia and being part of a team I made a lot of new friends which till now I'm very good friends with some of them."
Because Duston was successful in his sports, getting into a college was not a problem. Colorado State offered him a full ride as well as other schools like UC Davis. Also, in 1996 he was chosen to be part of the Olympic Torch for the Atlanta games. The Olympic Torch runners are chosen by seeing who has been a hero in the community.
"I had this opportunity because I was a good runner and since I was good at running and would volunteer three hours for two days for two straight years I was the hero of my community."
"I ended up breaking the school record for the mile in track running a 4:32," he said. "But running in college wasn't something I wanted to do."
Duston chose to not attend the schools where he had been offered full rides but still seemed to find his match in Cal Poly. He mentioned how many of his friends were going to apply to Cal Poly and once he visited the campus he enjoyed it. He also stated how it had forestry major and they were one of the best and that's what he wanted to do.
Nevertheless, Duston's old career will still be an important part of his life today.
Foothill junior Jessica Lucas, runner for Ventura's High School's cross country and track and field teams, has goals of becoming that great runner, as Duston once was.
"My goal is to run a 5:29 on the mile and get a scholarship to Westmont College," he said. "I was going to run Varsity but injuries and sickness kept me from reaching my goals for the past season."
Lucas, has the mind set of becoming the runner Westmont will want and she mentioned how prepared she will be once she stand in the line of the Track.
"I'm pretty competitive because I train and will train to be the best and you will see me in that Westmont's track."
Ryan Duston stated to the young runners with dreams: "You have to be dedicate yourself daily to your sport , but you can't forget about your academics. Being a teacher when I was in St. Bonny I had students get a full ride, but because they failed their classes, schools couldn't allow them to enroll so they couldn't take advantage of their opportunities."
Photo: Ryan Duston carries the Olympic torch prior to the Olympic Games in Atlanta. Courtesy of Ryan Duston.