"Carol Burnett Show" brings laughs to Spirito Hall (15 photos, video)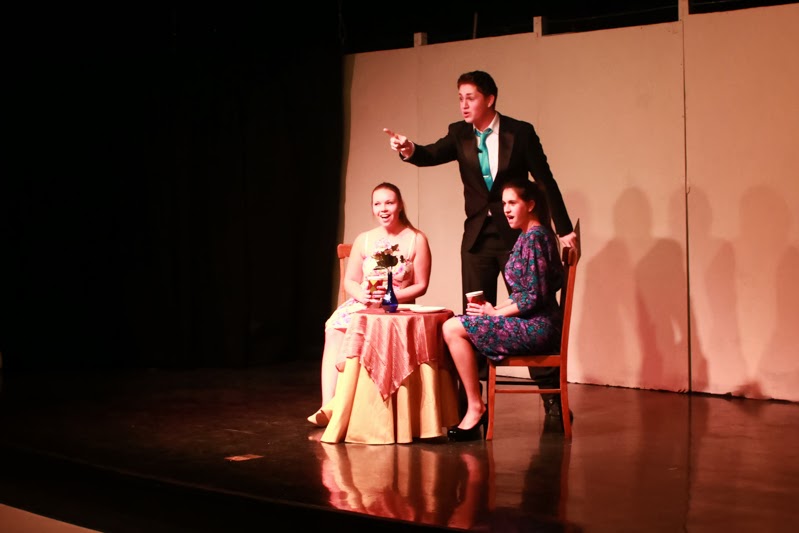 Sunset Flores
February 2, 2014
What better way to spend your Friday night than laughing with your friends? The Foothill Drama Department performed skits from "The Carol Burnett Show" for the second year in a row Friday night. The show brought lots of laughs to Spirito Hall and helped raise money for the drama department's future productions.
This year "The Carol Burnett Show" was the drama department's class final, and everyone in Foothill's drama department participated in some way.
Eight skits were performed, including "Lovely Story," "The Coffee Commercial," and "As the Stomach Turns #2."
Foothill parent Sarah Martinez said "So Proudly We Heal" was her favorite skit. Martinez was there to watch her daughter, sophomore Elizabeth Martinez, perform. When asked her favorite part of the play, Martinez joked, "When my daughter got slapped, I think."
The first skit of #fthsdrama Carol Burnett Show has ended and it was a great start to the show

— The Dragon Press (@FTHSDragonPress) February 1, 2014
The lead of the "Lovely Story" skit, sophomore Micah Palmer, said that the production was an effort made by the entire drama department. "I think that everyone did a great job was the best part," Palmer said.
Some of the actors had a hard time onstage because of how funny the skits were.
Junior Cameron Liljekvist, who directed "Coffee Commercial," said the hardest part about putting on a comical play like this is "trying not to laugh when the audience is laughing. I've always had trouble with that, it's so difficult because you have to have so much control."
This year, the drama department got a grant from a concert performed last year by the Ventura-based band Big Bad Voodoo Daddy, and with it, they got lights and new microphones.
These new microphones posed a bit of a problem. Junior Ariane Fritz, who acted in "Lovely Story," said that difficulties she experienced were with the sound.  
"We really didn't get to practice with the sound that much. I think we practiced with the sound maybe three times, and each time was different, so it kept throwing us off," Fritz said.
The rest of the production was well-practiced,  and the drama department took about two months to prepare it, meeting every weekday.
Fritz said these rehearsals and practices were her favorite part of the production.
"We messed around a lot, and it was awesome to see all the different things that we did, and to see other people do their thing," Fritz said. "It's like this little bonding experience, like a little family." 
The shows over and boy was it a hoot! Great job #fthsdrama

— The Dragon Press (@FTHSDragonPress) February 1, 2014
Photo Credit: Josh Ren/The Foothill Dragon Press
Video Credit: Kazu Koba and Emily Chacon/The Foothill Dragon Press