It's that time of year again…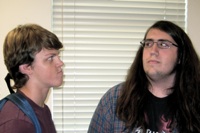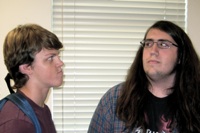 The fall is a time of many changes. Summer is ending, the weather is cooling down, the leaves start to fall off of the trees, and the gaming industry releases its biggest hits, anticipating large profits during the holiday season. Each year, many games are released to sales ranging from fantastic to the not so great, but ultimately profits are always made, especially from the big name titles. Here are just a few of the big name titles coming out this fall are (just in case you haven't heard yet, for some reason).
Action-Adventure, Open World, Rated M
Ex-roadie Eddie Riggs is teleported to a bizarre world of heavy metal by an arcane power, he lands in a world where humans are overpowered by demons, and he is, without a doubt, the only one who can save them. Legendary game designer Tim Schafer strikes again with a story featuring Jack Black as Eddie Riggs. Filled with comedy, majestic long-haired characters, and "melted faces," you should be on the edge of your seat. This game also features one hell of a soundtrack for us metal fans out there. We suggest you check it out.
First-Person Shooter, Rated M
Single-player campaign starts soon after the thrilling events from Call of Duty 4: Modern Warfare, the incredible multiplayer experience returns, with a decent amount of fresh augments and enhancements, and also a new cooperative "SpecOps" mode, the perfect combination of Modern Warfare's single-player potency and the obsessive re-playability of its multiplayer. If any of your friends plan on getting this game, don't expect to see them for a while…
Platformer, Rated E
This New Super Mario Bros. is a blast to the past with the style of the original Super Mario Bros. and allows four players to play the game together, which seems like it could possibly work, if done correctly. Players can navigate the side-scrolling worlds solo, as before, or invite others to join at any point in the game for either competitive or cooperative multiplayer. With the multiplayer mode, the newest division of the most popular video game franchise is designed to bring yet another time-waster into living rooms and engage groups of friends in fast-paced Super Mario Bros. fun. Mario just will not quit.
Action-Adventure, Rated T
Naughty Dog returns to gloat with Uncharted 2: Among Thieves. The story starts off nearly a year after the events of the first game and begins with Nate and a few fellow thieves working on finding Marco Polo's lost treasure fleet. As for the gameplay itself, Among Thieves strains you with gunfights, environmental navigation, and puzzle solving. While most of the mechanics are identical to the first, everything has been synthesized together a tad better, such as the combat and navigation. Did I mention the visuals were even more astounding?
Action, Rated M
Further inquire about the secret society of assassins with the sequel to the first. Assassin's Creed 2 is a story of family, retribution and trickery set in the pristine, yet brutal, backdrop of a Renaissance Italy. Ezio befriends Leonardo da Vinci, …yeah, and takes on Florence's most powerful families and ventures throughout the canals of Venice where he eventually becomes a professional assassin. This game retains the core gameplay experience that made the first game a profound success and features new experiences that will surprise and test a player's mettle. Sounds like fun, eh?
Action RPG, Rated M
This game features a trailblazing content generation system that will allow for nearly infinite variety in missions, environments, enemies, weapons, item drops and character customization, almost sounds too god to be true… Borderlands allows for multiple players to freely join or leave each other's games at anytime, or choose to play in the full single-player mode. The game also features totally swank lifelike character animations, supurb real-time physics, and customizable vehicles. Neat.
RPG, Rated M
This particular game features unseen amounts of character customization and role-playing, morally challenging decisions, tactical party-based combat, and mature sub-plots. It is a dark, heroic fantasy game that includes both original storytelling techniques with classic role-playing challenges. In Dragon Age, your choices affect nearly everything around you, including the world and the people around you (how original). Many things will change drastically depending on how you act. You create your character, and from that starting point, depending on which origin you chose, your story begins. Through your character's early days, you define his or her background and motivation. Your choices will determine how you will view the world and how it views you. I'll bet you're thinking, "Huh… just a better Fable II…"