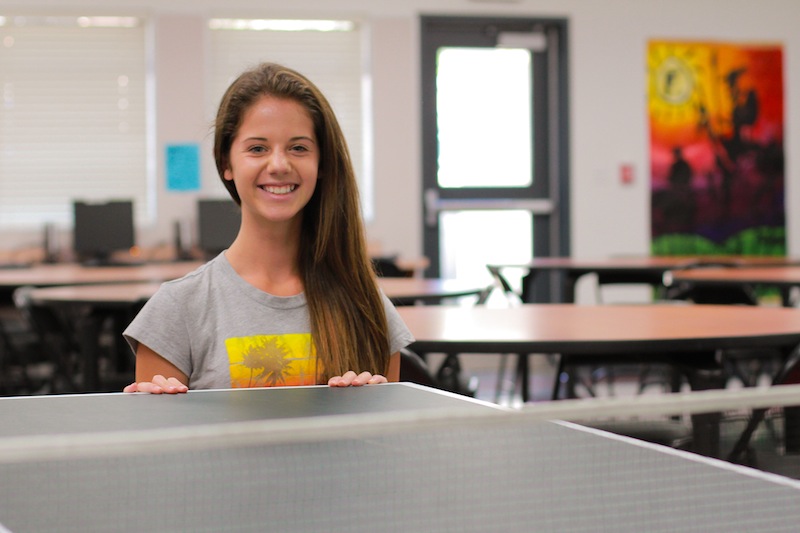 When sophomores Karina Cole and Daisy Myring found the practically hidden ping pong table in the F-Pod, their plans for creating a ping-pong club at Foothill were born.
During the summer, Cole participated in a medical camp at Georgetown University. At the camp, there was a ping pong table that they used, and it relieved a lot of stress for them all.  This was Cole's inspiration for the club.
 "I thought it'd be good for kids at Foothill. It's always been really stressful with all the work and stuff, and I just thought it'd be really fun to get more people involved," she said.
 Cole hopes that the club, which as of Friday did not yet have official club status with ASB, will attract a diverse group of people, and will welcome all grade levels.
 "I think a lot of people, and different types of people, will be interested in it. Usually freshmen don't want to join clubs and they might be scared. I wanted to join a club as a freshman but I was nervous about it," Cole admitted.  "Hopefully it won't be something they just blow off. If we have a fun club they might be more interested in going."
 Daisy Myring, the Vice President, thinks that students should join because it is a more active club.
 "It's such a good workout. Instead of just sitting around at lunch, with our club you can get out and get active," Myring said.
 World History and Government/Economics teacher Dan Fitz-Patrick will be the teacher hosting the club.
 "It is a demanding and rigorous club where we utilize calisthenics, dexterity and skillful tactics in order to better defeat our opponents," Fitz-Patrick said.
 Cole has a goal of at having at least 30 students join the club, and hopes to do fundraisers like a bake sale or car wash to raise money for balls and paddles.
 "I think it will bring a lot of people together," she said.  "When we asked different groups on campus, it wasn't just one type of person that was like, 'Oh, I'm interested.' They all thought it was pretty cool."
 Myring believes that the club will be a good place to meet other people, and Fitz-Patrick thinks that students will learn a little bit about life if they play ping pong.
 "Students should join this club because it is a metaphor for life, that the ball doesn't always bounce the way you want it to," Fitz-Patrick said.
EDITOR'S NOTE: Changes were made to this article at 8:17 p.m. Sept. 7 to improve the accuracy because the club is not yet official.