Local student musicians perform to raise awareness for Sierra Leone and West Africa (33 photos, video)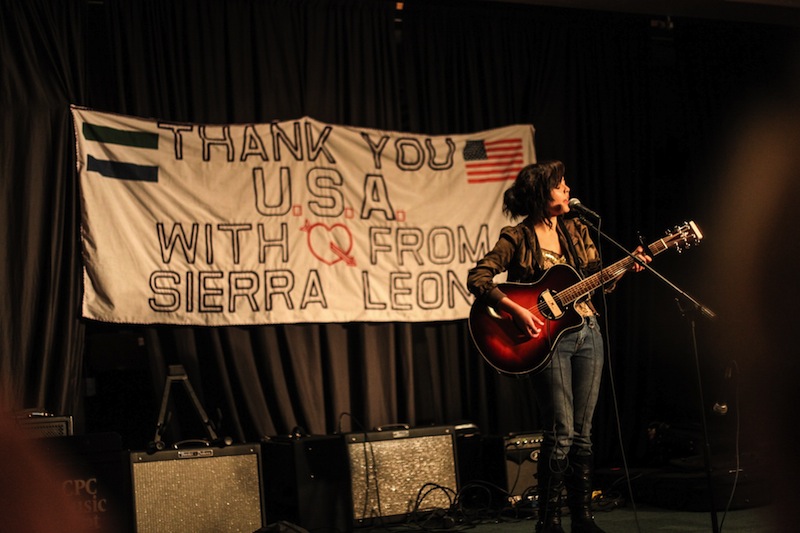 Filled with electric guitar solos and grinning faces, a benefit concert was held at Community Presbyterian Church last night to raise money for the people in poverty in Sierra Leone.
Hosted by Foothill junior Tara Yanez and Lauren Pedersen, the barbeque and concert sold concert tickets, artwork, Patagonia jackets, and food to raise awareness for the West African Community Mission (WACM) and Schools for Salone programs.
"Sierra Leone, ten years after the civil war, has been left in really bad shape. Our goal is to build Sierra Leone up again," Yanez said.
One volunteer and trip organizer, Tim Weir, is the owner of the Ventura Coffee Company and donates a portion of the proceeds to WACM.
"It's the overwhelming presence of abundance we enjoy as Venturans, as Americans, really. We can have anything we want at any time. [The people in Sierra Leone] have nothing, yet so much spirit, attitude and enjoyment of life," Weir said.
The Schools For Salone project was teamed with the West African Community Mission to create a tri-based organization to help promote medical health, education, and construction projects.
"We want to help them build things themselves. It's more than just support, our goal is to teach them how to teach," said Yanez.
A powerful, folk-inspired voice came from Lexi Rule, the first artist to take the stage. She played cover songs from artists such as Nora Jones, Guns N'Roses, and Phillip Phillips. Her last song ended with an "aw" from the crowd as she left the stage.
Four performances were given in all, two from student groups. One group, Andre and The Giants, was composed of four Foothill seniors. The other band, The Special Guests included Foothill junior Michael Morales, and three Ventura High School juniors.
Buena High School senior Cole Citrenbaum appeared in the last song alongside The Special Guests.
The Special Guests have performed for multiple benefit concerts before this one, including The Music Department and Lobatics.
"This is a more loftily goal than the other ones that we have undertaken," said lead vocalist/guitarist of The Special Guests, Matthew Goodkin-Gold.
Between each band, a different volunteer presented information about their role in the mission and the goals they accomplished or have yet to accomplish. Doctor Kevin White, Chris Prewitt, history and government & economics teacher Cherie Eulau, and English and journalism teacher and Technology Coordinator Melissa Wantz all added their perspective of the cause.
"If you're a writer, write. Do what you can to help," said Wantz.
Wantz went on to explain the importance of doing what you can with what you have. Her inspiration to use each person's talent was proved in her 2010 trip to Sierra Leone alongside three other Foothill teachers. They wanted to use their talent: teaching.
The night ended with gratitude from the hosts, Yanez and Pederson. Throughout the show, teachers spoke of their experiences and advice to all of the audience. Prewitt summed up the thoughts of the night.
"The best thing we can do is empower," he said.
Credit: Aysen Tan and Bethany Fankhauser/The Foothill Dragon Press
Credit: Emily Chacon & Kazu Koba/The Foothill Dragon Press