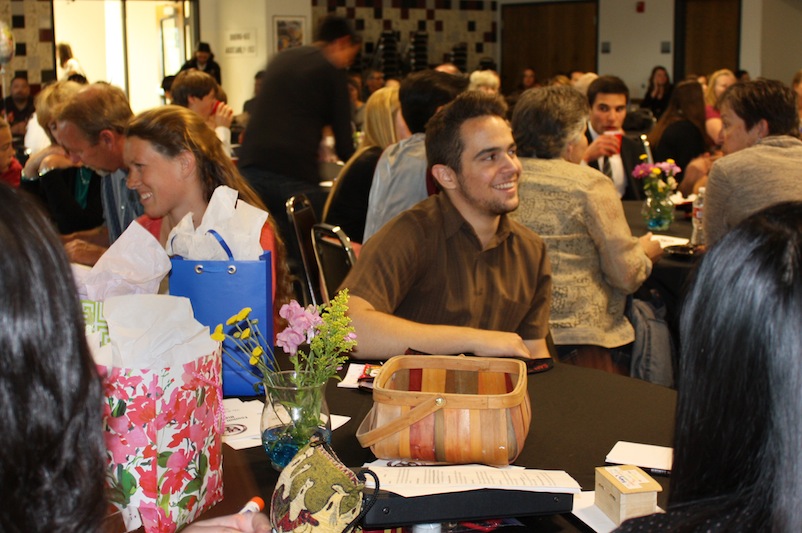 ASB members passed down their power to their soon-to-be successors by exchanging personal letters, gifts, and encouragement as they celebrated the year at their annual ASB banquet.
"We are having the 2013 installation banquet. This year's class hands off their positions to the next year, and it's also a farewell to the seniors in ASB," says ASB elections director, junior Hannah Rivera.
The event initiated with a slideshow commemorating all ASB members, showing the students throughout the school year organizing and working on events such as the Renaissance Rallies, Winter Formal, school lunch activities, and various ASB projects. Then ASB members stood at the front of the room to continue the ongoing tradition of exchanging letters and gifts to their successors.
"It's a symbolic transfer of power from the current year's representatives to next year's representatives, sort of an inaugural ball, but they don't physically take over till next year," said English and Psychology teacher Melanie "Captain" Lindsey who was filling in for current ASB advisor Darcy Duffy who is on maternity leave. Lindsey will also be taking over next year as ASB advisor.
Lindsey states that it's an important time of "self-reflection" that can be used to help improve ASB next year, but that we should also look back and celebrate the year and what ASB has accomplished.
"This is an important event because these kids do so much service to the school, and they don't take a lot of time to recognize their efforts and achievements," Lindsey said.
ASB Relations Director, senior Adam Braver, says that this year's banquet was "personal" for him after spending his last two years in the program.
"It's a very exciting time to be in ASB, but especially this year it's more personal for me. It's finally time for me to celebrate my time being in ASB as one of the seniors," Braver said.
Two seniors, ASB President Andre Sehati and Senior Treasurer Jackson Tovar, received the Lifetime Achievement award at the banquet for their four consecutive years of being in the ASB program.
"This is actually my tenth banquet since my brother was also a Lifetime Achiever, but the Lifetime Achiever award is just a thank you from the class for the service that we put in for the past few years and it means a lot to us," Tovar said.
The event ended by ASB students continuing on another tradition, handing out individual roses to their parents in the audience for their support throughout the year.
Tovar says the event was sad despite it being a celebration.
"It's the first installment in the end year celebrations, but it's just sad because it's the last year you are going to be with some of these people except for reunions, but I'm happy for the next year's incoming ASB class," Tovar said.
Sehati had similar feelings, and after the event described the effects the banquet had on him.
"I felt pretty neutral up until an hour before, and then that was about when everything just kind of flooded and hit me in an instant. Soon enough, the past four years came flashing back to me, and coming back to this same room for my senior year banquet, I couldn't feel more proud and sad, but happy at the same time," Sehati said. "I'm sad to leave an amazing experience, happy to continue on with my future and know that ASB will be in great hands, and excited to know what's to come for the class of 2013-2014."