Freshmen debate how "America Eats" for the revamped Ninth Grade Project (11 photos)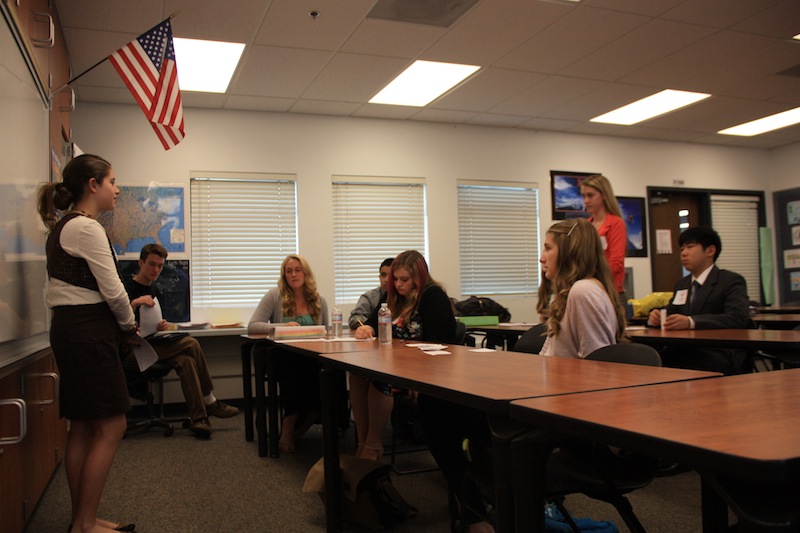 As they anxiously attempted to eat a complementary pasta lunch without spilling on their business attire, freshmen nervously awaited their first big high school project yesterday.
After enjoying a meal provided by Milano's Italian Restaurant, freshmen participated in the final stage of their 'America Eats' project focusing on "nutrition, the American diet, the science and politics of farming, animal and worker treatment, organics, genetically modified foods," according to Foothill's website.
The traditional Ninth Grade Project was changed this year from the old "biome" project that included a 10-minute speech and power point presentation to a debate-style presentation.
Students were grouped approximately 12 to a classroom with one moderator and a teacher to grade presentations. The room was split in half with pros and cons on opposite sides. Each student gave a speech in three minutes and was asked questions for the minute following.
As the speeches progressed, students were expected to take notes and address previous speakers. This style of debate is referred to as an extemporaneous debate.
Freshmen Sterling Wolf argued pro for the resolution of strengthening regulations on food companies ensuring food safety. He felt this project was not particularly difficult for him, but that for the opposing side of the resolution it could be more difficult.
"I don't think this was that challenging, but it could be for the cons, they had nothing to go on," Wolf said.
Some students felt that the change was going too easy on students, but English teacher Jennifer Kindred and junior Carson Graves feel it's a challenging experience in its own way.
"It's seemingly easier, but it really isn't. It's easy to write a 10-minute speech, you write it and then you're done. It's hard to attempt to synthesize the [previous] speeches in only three minutes," Kindred said.
As a moderator, Graves helped to shape the freshmen's resolution during FIRE training sessions and his job was to listen to speakers and give them time signals to keep them on track. Other students participated in these training sessions as well, including many members of the Speech and Debate team and the Associated Student Body. These students were in charge of writing the bills that the freshmen argued and helping to develop question asking techniques.
"It teaches them the Socratic style of learning which they will use the rest of their high school career, it's how business is conducted in the real world," Graves said.
Freshman Veronica Ramirez had the resolution regarding stricter regulations and felt the experience was nerve-racking.
"There's so many topics and reading your speech out loud is kind of hard. You just have to do the best you can," Ramirez said.
Students have been working on this project in and out of the classroom since its launch in February.
Freshman Cody Clark is relieved to have finished the project.
"I rocked it, but I'm glad it's over." Clark said.
Credit: Felicia Perez/The Foothill Dragon Press