BioScience Academy provides opportunities for future doctors and scientists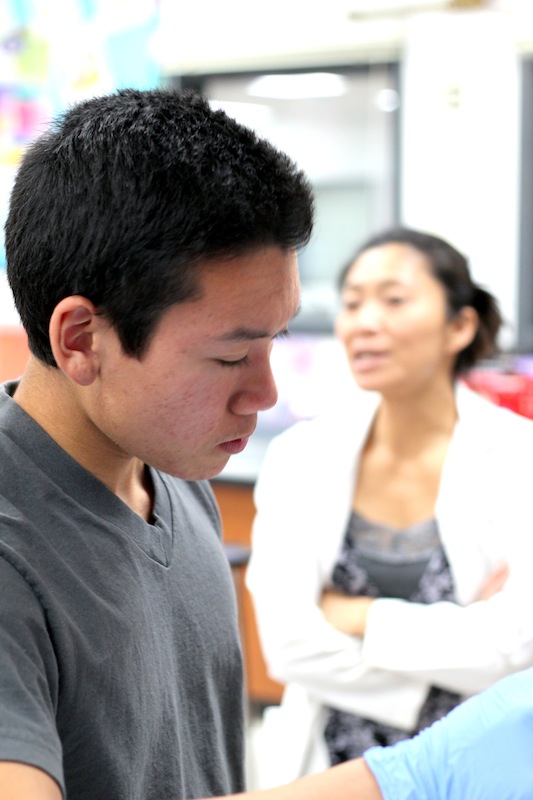 While most young people decide their major during their sophomore year of college, senior Natalie Waechter knows exactly what she will be majoring in. She also knows which college she will be going to.
"[During my freshman year] I wanted more opportunities in sciences," she said. " I wanted to go into the medical field. As a freshman, I wanted to become an occupational therapist. Now I'm planning to become an occupational therapist, and next year I'm going to a college [that specializes in that]."
Waechter credits Foothill's BioScience Academy for helping her feel confident in her career decision and increasing her knowledge of the medical field.
Like Waechter, this year many students have realized how valuable the program is. February 14 was the last day to turn in BioScience applications, and there was a frenzy in the office during lunch as many students perfected their applications and then hurried to turn them in.
"This year, we have about sixty applications. We have ten applications from sophomores this year," said BioScience Director Darcy Duffy. "[BioScience's popularity] varies from year to year. The last two years have been big, and the current sophomore class has shown a high interest [in the program]."
Due to its limited spaces, being accepted into BioScience is a prestigious accomplishment. Applicants are expected to have good grades, a strong work ethic, and a teacher recommendation, but most importantly, a keen interest in the medical field.
"Each year, we only accept about half [of the applicants]," said BioScience teacher Mika Anderson. "It's very, very competitive and there are very few spaces. The time to apply ideally is freshman year, but even still that doesn't guarantee a place for next year, as I drop some students after their first year. Getting in as a junior [applying as a sophomore] is extremely difficult. We usually accept only one sophomore application."
This year, there were ten sophomore applications. Duffy admitted that the program would most likely take less than half of these applicants.
In the past two years, the academy has been increasingly popular among students for its uniqueness; it's revered by many students who believe the program will help them get accepted to their dream college.
"There are aspects [of BioScience] that help students get into colleges," Anderson said. "It sets students apart from the pack. You can have good grades and test scores, but if you're part of such a special program, it sets you apart from other students."
The academy does help students stand out on their college applications since most universities are looking for students that not only do well but are also well-rounded and take part in activities and programs, and BioScience is a three-year commitment.
The first year of the program, which is taken during sophomore year, is called BioScience Survey. Students complete tests to access their learning process, go on field trips, and also attend a speaker series about different healthcare professions.
"We figure out ourselves," junior Norint Tung said of the BioScience Survey program. "We also went on a field trip last year; we went to the VCMS hospital. [There] we saw newborn babies being washed. It was really interesting."
The second year of the program is called Medical Technology. According to Anderson, this year focuses on CPR, labs, and job shadows.
During this year, each student will go on an average of three to four job shadows.
"[Shadowing], they get to see surgeries and live births as interns, hands-on. It's a great opportunity. They get to have experiences that college students get. And sometimes, they do get mistaken for college students," Anderson said.
The final year is spent learning biotechnology and bioethics. Using their knowledge of these subjects, students also take part in a project called the Barcoding Initiative, in which they collect DNA data of fish.
Waechter is currently enjoying her senior year in the class.
"We get to do labs every day," she said. "We get to do a lot of things college students get to do."
Not only does BioScience offer an extensive, in-depth program, but it is also led by fine teachers.
"Mrs. Anderson is very outgoing in her teaching method," said Tung. "She's so enthusiastic and amazing. She's very helpful as well."
Waechter, who found Anderson especially helpful last year, agreed with Tung.
"I had a medical injury, and I couldn't use my right arm, which is my dominant arm," she said. "I couldn't do homework or take notes during class. And during this time, Anderson was there for me. She helped me out a lot. She helped me take notes and keep up with the work with my injury."
Although the program is beneficial, some students also find that it increases the difficulty of pinning down their future. Students who entered BioScience without knowing their career path are introduced to many careers in the medical field and sometimes, like junior Melissa Fox, have a hard time choosing.
"I have no idea what career to do now. It's broadened my view," she said. "It's increased the medical field for me, so now I have a lot to choose from."
The program also takes up elective spaces starting junior year, and as a result conflicts with other elective opportunities.
"It conflicts with AVID, AP classes and physics," said Anderson. "There's the workload as well, but it's all definitely worth it. The experiences students receive in this program is unique, and to learn these things as a high schooler is rare."