Spanish program focuses on teaching through usage, not textbooks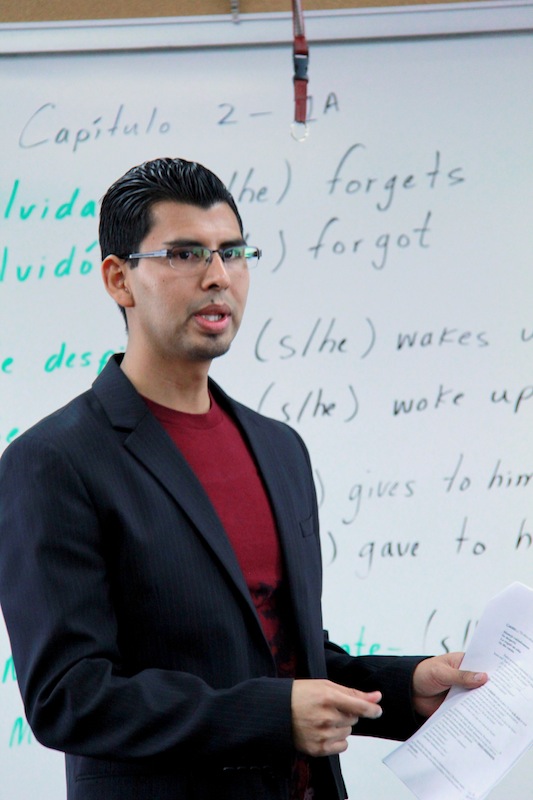 Foothill is known for being very college-preparation oriented. With no sports teams and only Spanish offered as a foreign language, Foothill can often go against the high school norm.
Foothill's Spanish program specifically is a unique course. It's the only course in the Ventura Unified School District that teaches its students with the TPRS (Total Proficiency through Reading and Storytelling) method.
Kathy Leaf has taught Spanish for about ten years at Foothill, and currently teaches Spanish 1.
"It's a natural way of learning language: through usage, instead of just the textbook," Leaf said.
Her students give a similar response about the way they learn Spanish at the school.
"I learn a lot more than I thought I would. We act out a lot of the words," freshman Camille Spittle said.
Sophomore Sasha Poirier, who also knows French, takes Spanish 2 from teacher Adrian Sanchez and plans to continue taking Spanish at Foothill until she graduates.
"It's really great. With French, it's more book-structured and difficult. [This program] is a better way of learning; it is more simple and straight forward," Poirer said.
Like Poirier, sophomore David Gonzales is also taking his second year of Spanish.
"I like learning grammar structure: rules and things like that. It's really easy," Gonzales said.
Students are encouraged to sing and tell stories, as well as act out vocabulary in class to further their growth of the language. Verbal tests as well as written exams are quite common.
Those enrolled in the course say the most difficult part is the perfecting of the accent.
"The level of ability is much better than taught traditionally," Leaf said. She says the best part of her job is "seeing students' love the learning and feeling accomplished."