Operation: Finals week relaxation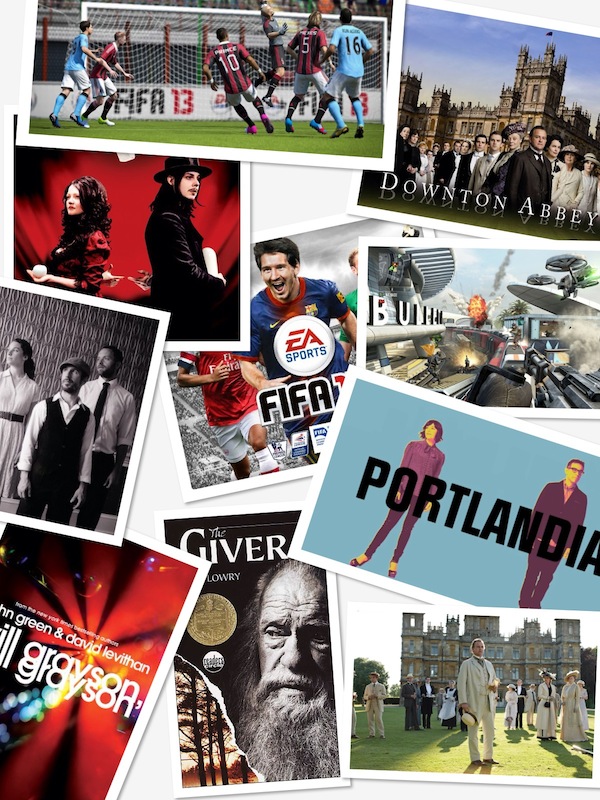 Need to take your mind off that math final, or recover from one you just took? Reward yourself with some entertainment! The Foothill Dragon Press's Arts and Entertainment section has compiled their favorite ways to relax during and after a hectic finals week.
Books:
1. "Will Grayson, Will Grayson" by David Levithan and John Green.
"Will Grayson, Will Grayson" is a novel about two very different high school teens, both named Will Grayson. Each boy is different in very obvious ways. One is an insecure student struggling with his sexual identity, and the other is a silent boy who goes through life quietly and mostly unnoticed. On the day they meet, both of their lives change in simple, but dramatic ways. "Will Grayson, Will Grayson" will make you laugh, cry, and be glad to live on a planet like ours.
2. "The Giver" series by Lois Lowry
"The Giver" series is a quartet of four books ("The Giver," "Gathering Blue," "The Messenger," and "Son"), each set in a dystopian society. Each book is relatively short, but phenomenal. Since it is a series, and not all the books link together besides having the same society, it is hard to give a summary in brevity. However, The Giver series is a quick, enjoyable, and memorable series to enjoy in your weekend of recovery.
3. "The Truth About Forever" by Sarah Dessen
Most girls have read (or at least heard of) Dessen's novels. Though a few of her books follow the same plot and have the same types of characters, "The Truth About Forever" breaks that standard and is the perfect brain candy book for all romance readers. Macy is a high school student, still recovering from the abrupt death of her father many years ago. Her whole life changed on that day, and she struggles with it constantly, but when she starts working with a catering company and meets comical characters like Kristy and Wes, her life starts to change. In typical Dessen fashion, there is love, heartbreak, revelations, and happy endings in this guilty pleasure book.
Video Games:
1. "FIFA 13" 
"FIFA 13," a soccer video game, is a great relaxing game, unless you are super competitive. This game is more than a normal soccer game; you can create your own player, practice by dribbling and shooting the ball in the arena and playing skill games, trade players as if they were trading cards in Ultimate Team, or challenge your friends to matches from anywhere in the world. Even if soccer is not your thing, the game is still a blast! What better way to relax is there than kicking a ball around with your friends but exerting no energy whatsoever? You can play this game on Xbox 360, Playstation 3, Wii, PSP, PC and Nintendo DS
2. "Viva Piñata"
Taking care of a garden is very relaxing in real life, but when you don't have to use any energy when tending to the animals and plants — the premise of "Viva Piñata" — it only adds to the relaxation factor. In "Viva Piñata" you plant seeds in an attempt to lure piñata animals into your garden. Once an animal performs certain tasks such as eating berries or a different, smaller piñata in becomes native to your garden. When a piñata becomes native, it cannot leave your garden. The better you get at tending to your garden, the more creative and prestigious animals will appear. It is very easy to become immersed in this game, which will help take your mind off the stress of finals week. You can play this game on Xbox 360 and PC.
Music:
1. "Driftwood" by Rena Jones
Get your zen on with Rena Jones' "Driftwood" and relax. You can pull up a nice cup of tea and begin your breathing exercises and you will be completely chilled out in no time. This album has smooth, almost sleek sounds. This is gentle but passionate music. The song "Seedling" brings in a soft and almost retro-sounding background, while exploring a variety of unique sounds. The "must hear" song is gentle and sensual "Open Me Slowly," which makes you feel like you are opening something slowly as the song keeps on getting progressively better and better.
2. "Get Behind Me Satan" by The White Stripes
Don't feel like relaxing? Want to break things instead and sing at the top of your lungs? Release that steam with The White Stripe's "Get Behind Me Satan." This album contains all the heavy drums and crazy electric guitar notes you need, and it also brings in some great piano, as well as Jack White's entrancing voice that will definitely have you singing along. My favorite track on this album is "The Denial Twist, " which brings together the best elements of The White Stripes: heavy piano notes and a great array of instruments. If you want something faster paced that will get you jumping around, listen to "Blue Orchid." This song can be described as pure electric guitar awesomeness. It had me playing air guitar and singing, and I am sure it will have the same effect on you.
Television:
1. "Portlandia"
Nothing helps me take my mind off finals more than laughing, something guaranteed to happen while watching "Portlandia." Starring creators and long-time friends Carrie Brownstein and Fred Armisen, "Portlandia" is a sketch comedy show set in Portland, Oregon that parodies hipsters living in the city.
The sketches all star Brownstein and Armisen, and sometimes their comedy friends make cameos. One of the funniest and most popular sketches is "Put a Bird on It," where Fred and Carrie revitalise a boring stationary shop by painting "free" and "beautiful" birds on everything for a fresh new look, until an actual bird flies in and isn't quite as appreciated by them as bird motifs are. Other funny sketches include the "Sanitation Twins" and the recurring "Feminist Bookstore." If you like laughing at the expense of hipsters, "Portlandia" is a great way to get some comic relief during finals week.
"Portlandia's" first and second seasons are available on Netflix, while the third season airs Fridays at 10 p.m. on the Independent Film Channel (IFC).
2. "Downton Abbey"
If you're more into drama, "Downton Abbey" is a great show to get wrapped up in. Beginning in 1912, the show follows the ups and downs of the wealthy English Crawley family in 1912. The show follows the lives of the aristocratic family and the many servants who work for them, both of which have dramatic and detailed storylines.
It's as easy to get lost in this show as it is to get lost in the sprawling estate that is Downton Abbey. The huge cast and all the plots and subplots surrounding them suck you into the show, and the beautiful sets and costumes don't hurt either. One of the most intriguing things about the show are the social differences between the family and the servants. Since the family is extremely wealthy, they have a huge staff of servants to cook, clean and even dress them.
The show can be very long, sometimes over an hour, but it somehow never gets boring. "Downton Abbey" is a great show to immerse yourself in and will help you forget about the stress of finals.
"Downton Abbey's" first two seasons are available on Netflix and season three airs Sunday nights on PBS's "Masterpiece," but the air time varies with different cable providers.