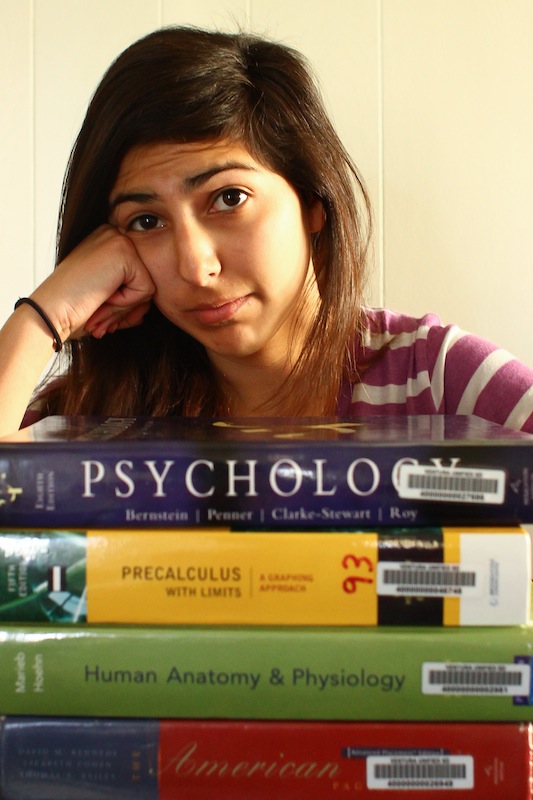 Throughout Foothill's halls, there is the constant buzz of students worrying about homework. Late nights and stress are an inevitable part of being a high school student, but students are often overwhelmed by their workload.
Despite common belief, the homework load for high school students hasn't increased much according to a study by the Brown Center on Education Policy. However, there has been an increase in students taking Advanced Placement classes.
As the competition for college acceptance gets tougher, students work for the weighted GPA from Advanced Placement and Honors courses to improve their chances of getting in.
"I am taking four AP classes, one honors class, and one college class online, so I have around five hours of homework depending on the day," junior Victoria Bonds said.
English, Bioethics, and AP U.S. History teacher Richard Geib said he assigns only about half an hour of homework per night in his AP classes and even less in his college prep classes. However, he often notices students struggling with managing their time.
"When I was in high school, there were barely any AP classes. Now almost half of the junior class is in the AP American Experience class. I think students have more homework because more of them are taking more challenging classes," Geib said.
"Year in and year out, I see some students being smart about their time and getting their work done, but many have a major struggle with wasting time and not getting their work done," he continued.
Sports and extracurricular activities also cut into a student's time for homework. The National Federation of State High School Association estimates that 55.5 percent of all high school students play a sport.
Along with taking three AP classes and two honors classes, junior Anneke Zeko is on both the water polo and swim team for Ventura High School.
"I usually have about two and a half hours of homework every night," Zeko said, "but I'm usually not up too late."
Junior Sarah Reyes isn't taking any AP or honors classes, but she has several extracurricular activities occupying her time outside of school.
"I run track for Ventura [High School], volunteer at CMH [Community Memorial Hospital], and I'm a peer leader for my church. I feel like I'm always busy doing something; I don't have a lot of free time," Reyes said.
Many students are involved in challenging classes and extracurricular activities, such as volunteering, in order to improve their chances of being accepted into college. These activities require students to manage their time well and stay focused on their academic goals.
"When you take challenging classes, students have to expect more rigor across the board," Geib said. "Students just need to use their time well. Homework is necessary to cover stuff that we don't have time to cover in class and it is also a place for students to practice what they have learned."