Cartoon comedy: The good and the bad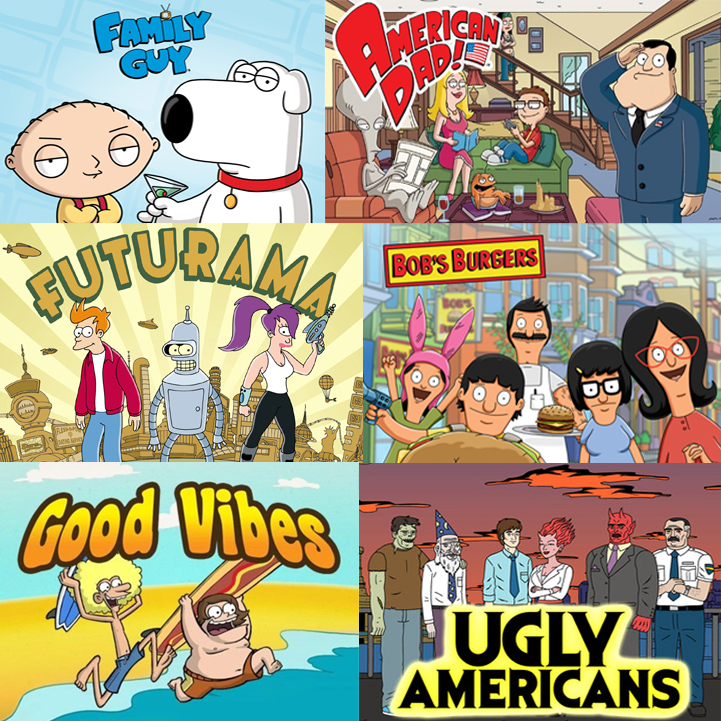 Seth MacFarlane's "Family Guy" is definitely a series worth watching unlike some other not-so-comical series, such as "Bob's Burgers." But what makes or breaks a cartoon comedy series? Here's a list of popular cartoons on Netflix, ranked from best to worst.
1. "Family Guy" 
"Family Guy" is about a man, Peter, and his odd family. It follows their various shenanigans that usually hyperbolizes everyday life. However, some shenanigans don't relate to our lives and are completely bizarre, like how Peter's dog Brian can talk like a human. Regardless of the ridiculousness, the show will keep you laughing constantly with its sarcasm and irony.
2. "American Dad!" 
Another show created by Seth MacFarlane is "American Dad!" This series is worth watching because of its creativity and the hilarity of each character. "American Dad!" is very similar to "Family Guy" in the sense that they both portray an extreme version of the classic American family. In "American Dad!" there are many obstacles for the main character, Stan, and his family to overcome, but they do so with comical style. In one episode, Stan even becomes his son Steve's new bully to try and shape Steve into the assertive person that he is not.
3. "Futurama" 
Matt Groening's "Futurama" is one my favorite cartoon comedy series because of the futuristic style. "Futurama" is about a pizza delivery boy who is down on his luck until he delivers pizza to a strange room filled with time machines. He realizes the order was a prank, sits down and eats what he intended to deliver, and unexpectedly trips into one of the time machines. He is blasted into the year 3000 and has to learn to adapt to the new futuristic way of life. The show is entertaining and very funny. This is a very good cartoon comedy series to watch.
4. "Bob's Burgers" 
A cartoon comedy series not to watch is Loren Bouchard's "Bob's Burgers." The series is about the main character, Bob, who creates his own burger joint that is run by him and his family. The humor in this series is dry at best and not only weird but also offensive. There are several inappropriate and disgusting scenes per episode. This series does not deserve a fourth season if you ask me.
5. "Good Vibes" 
Another comedy series I would not recommend is good vibes. "Good Vibes" was created by David Gordon Green and is about the main character, Mondo and his single mother, Babs, moving from New Jersey to the fictional Southern Californian city, Playa Del Toro. The main character attends a new high school where he meets new friends who are portrayed as the stereotypical Californians. He then decides his goal is to try and fit into the stereotypical Californian society. The series comedy is great but it becomes less interesting when a plot is introduced along with a love interest. The series often tries too hard to be funny, which makes it annoying.
6. "Ugly Americans" 
"Ugly Americans" is a show that I would not like to watch more than once. The series was created by Devin Clark. It is about a social worker who works in the department of immigration in New York. The twist is that the main character must deal with the problems of monster species instead of humans. The show is funny at times but can often stray off topic from the main idea of the series. The series is often to spontaneous and can make you sick to your stomach instead of laughing with joy.