Richardson, Canosa not held back by visual impairments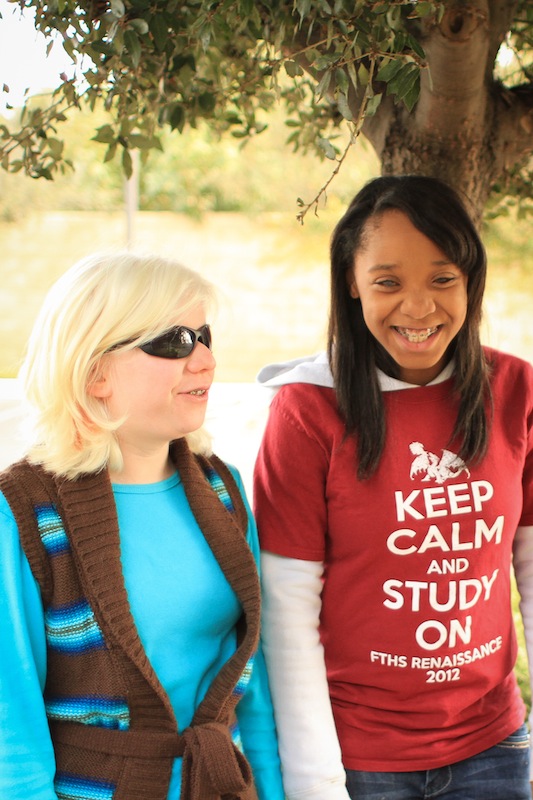 Brittany Richardson navigates through the crowded school hallway using just a cane and her hearing to guide her. Being legally blind, she can only distinguish shapes and colors, not details. She has to rely on her other senses.
Though there are many difficulties — sometimes others don't move out of her way as she walks through the halls — she has adjusted well to attending a public high school.
Because she has not let her vision limit her, Nickelodeon came to Foothill on Wednesday to interview and film Richardson for their Nick News segment, "A Day in the Life of a Visually Impaired Person," which will air in late January.
Both teachers and friends have helped to accommodate Richardson. She has support from her friend junior Carolina Canosa, a fellow visually impaired student who has a harder time with depth perception and peripheral vision.
"I don't have very good depth perception, like going down the stairs, I don't know how deep it is. I won't be able to measure the distance and steps to the ground," Canosa said. "That's hard when you're walking in the city, you know, if there's cracks or steps or anything curved."
At both her elementary and middle school, Canosa was the only visually impaired student at her school, so now that she's in high school, she appreciates having a friend like Richardson who can sympathize with her struggles.
"I didn't get to know the blind community until I was older. I didn't know other people who were going through what I was going through," she said. "But having her here, I feel like I have someone to talk to if there's something going on."
"It's nice having someone who understands when you tell them about something that happened in your day," Richardson said. "That's a good thing, but other than that, it's just like any other friend. She's my friend."
Not everyone understands their condition, though. Richardson said that when she tells someone she is visually impaired, sometimes they begin to treat her differently or change their way of speaking.
"It's not a good thing to be like oversensitive, it's not better to be insensitive," she said. "I am visually impaired, it's okay to say that I'm visually impaired. I'm not uncomfortable with it. It's okay to talk about it and ask questions. There's a difference between being curious and being mean."
Despite this, both said that most everyone at Foothill is friendly and accommodating. As for those who aren't, Canosa said it is "mostly from lack of understanding."
"It's hard for people to understand why I do certain things. Like if one of my friends — a new friend — says 'hi' in the hallway, I won't be able to recognize them by how they look at first; I recognize them by their voice. They have to tell me who they are, so I know, 'Hi. You're not some stranger'," she said.
Sophomores Annalise Lewey and Delaney Warren are two of Richardson's other close friends. They try to help her with small everyday tasks such as describing the lunch being served that day or giving her a summary of a reading in English.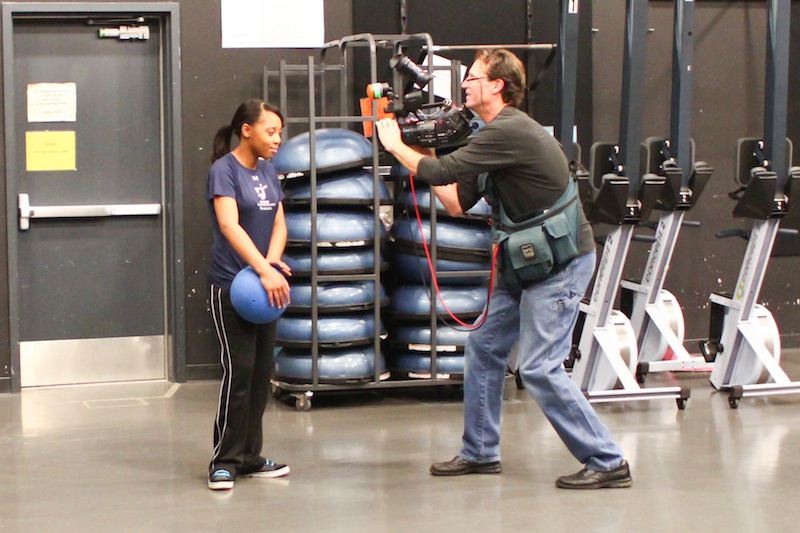 Warren has many classes with Richardson this year and helps her when she needs it.
"I tell her the homework and sometimes I'll bring whatever homework I finished and work through it with her," she said.
Though some things are more difficult for her, Richardson said she has never really felt her vision has held her back from doing what she wants to do. She, along with Canosa, plays goalball, a sport that is designed for the visually impaired. They have traveled around the United States competing in tournaments with their team and last month, they made it to the Goalball National Championships in Florida.
Aside from goalball, Canosa has a passion for art, while Richardson enjoys writing and music, and is involved in dance and drama at Foothill.
They are both students of teacher Karen Rodrigues, who tries her best to accommodate them in her classes. She has Canosa for English and Richardson for Drama.
She respects both girls and is amazed at how they work hard despite their disabilities.
"They are the two most resilient, sweetest young women [and determined, I think they're determined] that I think in my career, I have ever met. They're good students and they try hard, and they don't ever complain about the fact that they have a disability," Rodrigues said.
Rodriguez has printed out larger copies of tests and handouts on specialized paper for Canosa. She also emails scripts to Richardson, who then uses her phone and other tools to see the print.
"She makes sure I have everything. She goes above and beyond, really," Canosa said.
Another vital accommodation for Richardson is a video magnifier called a CCTV, which is located in English teacher Kelly Savio's classroom. The CCTV is a specialized computer that projects large images of objects on the screen and changes colors into a negative of white on black, which makes it easier for her to see.
For Canosa, one of the hardest things is talking to teachers when she needs accommodations.
"It's really hard, because it's hard to say, 'I need extra time.' It's harder when students are around. They think you're getting special treatment, but you're not; you just need more time to do things," she said.
"I think that their tenacity as young women is extraordinary. I think that they are role models," Rodrigues said. "I'm inspired by them."