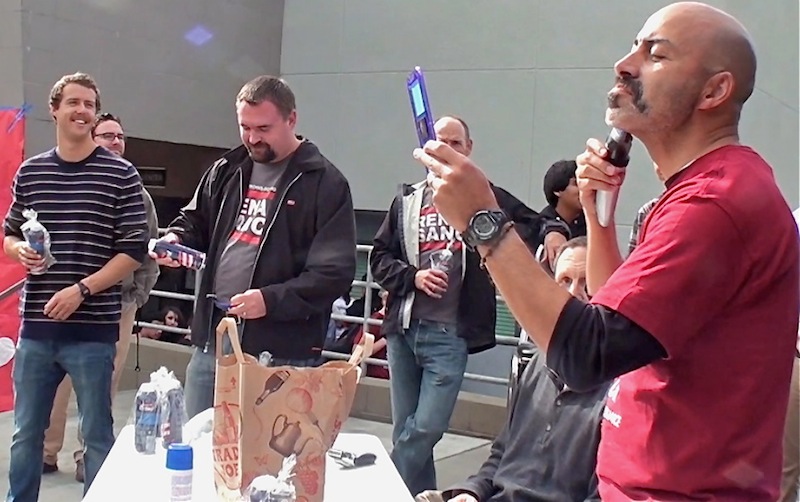 Whiskers prickled as Foothill's first annual No Shave November came to a close last Friday, raising $656 for prostate cancer research.
"This was the first time that the ASB had ever done No Shave November. I think it went extremely well considering it's our first year and we raised close to 700 bucks," said Assistant Principal Carlos Cohen.
Associated Student Body Class President Andre Sehati headed the project.
"I gathered all the teachers and we've all been raising money throughout the month for a competition to see which teacher raises the most money, and the winner gets to decide how the other teachers should shave their beards," said Sehati.
Campus supervisor Dana Eaton won the competition and feels positive about the outcome.
"It feels good," said Eaton. 
Both teachers and students grew their facial hair out for the entirety of November.
"All the guys have been growing out their facial hair, and we all look pretty ragged," said Sehati.
The money will be going to towards the prostate cancer research site Movember and Sons.
"We had 13 staff members participate officially for the Movember and Sons website, but we also had students around campus who had participated and were letting their mustaches and beards grow out," said Cohen.
Cancer research and awareness are the main focus of Movember and Sons.
"That is what No Shave November is about, supporting those who are suffering from [prostate] cancer," said Sehati
The fundraiser aspect helped to motivate the allocation of resources towards the event.
"It's worth it because it does support prostate cancer, so it's not just something silly," said sophomore and ASB representative Jimmy Byrne.
However, Foothill did not strictly follow the Movember and Sons rules.
"We have to be a little more specific about the rules next year, because we didn't follow the Movember and Sons official rules exactly. We had two things, we had No Shave November, and then we had Movember and Sons, which is just cultivating a mustache, not a beard along with it," said Cohen.
A few students saw the event as limiting.
"Well, it is No Shave November, I mean once you're able to get a big beard then maybe you would actually want to do it, but for right now it's all peach fuzz for most people, so it's not something everyone can partake in," said sophomore Ramon Coppa.
Sehati said that he is happy with the outcome of the event.
"It's come a lot quicker than I thought it would," said Sehati. "We have raised over $600 which is really great for the first year, and I'm really proud," said Sehati.  
Credit: Emily Chacon & Bridget Parrino/The Foothill Dragon Press