Four addicting, must-watch British TV shows on Netflix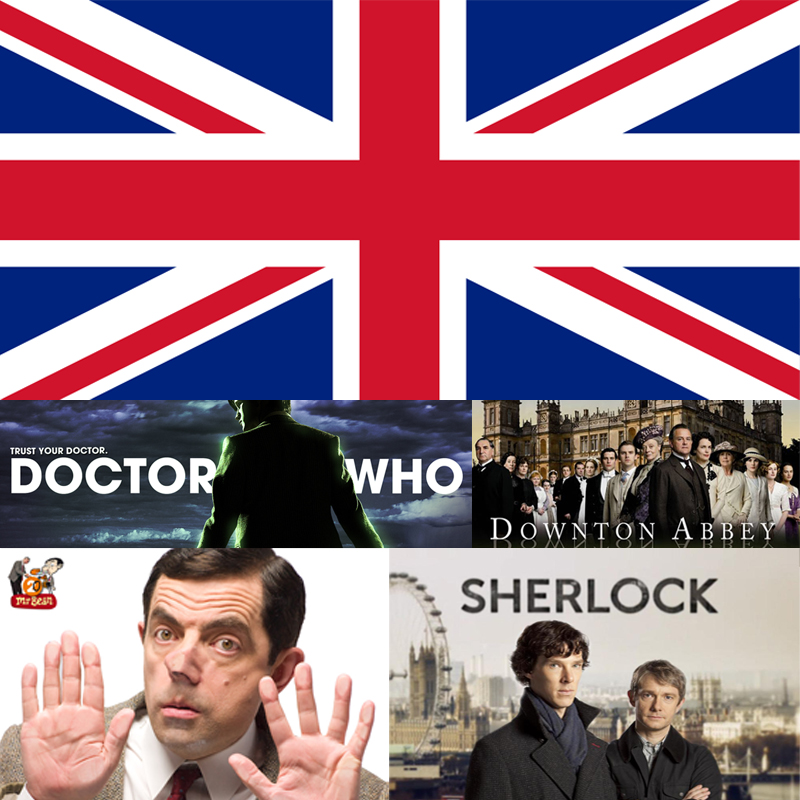 When I sat down to watch as many British TV shows as possible on instant streaming Netflix, I assumed they would all be fantastic and that I would have a difficult time choosing the top best. I didn't have a difficult time. It was actually quite easy.
You've probably heard about this popular BBC show that has starred Christopher Eccleston, David Tennant, and Matt Smith (among others). You've probably heard about something called the TARDIS and a sonic screwdriver. I had my reservations when clicking on episode 1, but I can safely say I do not anymore. Doctor Who has quickly transformed into one of my all time favorite TV shows with its entertaining and complicated plot that never bores me, its well-developed characters, and hilarious references to everything from The Beatles to J.K. Rowling.
I decided to start watching with the ninth doctor, Christopher Eccleston, and was quickly warned by all of my Whovian friends to not judge the show by the first episode. I say 'ninth doctor' because the Doctor is played by various different actors when he regenerates, it's a whole other plot point the show includes that really only makes sense when you begin watching. I give you the same advice as my friends gave me.
The first couple episodes with Eccleston as the doctor are not impressive. The special features lack and actually create a cheesy quality to the show. There is really no say in what is going to happen each episode. They are all so individual and unique that the best I can say is, you will enjoy the whimsical way the Doctor continues to save humanity and aliens alike. However, by the time the fifth episode hit I was completely addicted. For those of you who don't like science fiction, but enjoy dystopian, I urge you to try this series. I found that almost every episode feels like a new dystopian. Doctor Who will suck you into its addictive world and make you become a Whovian, even if you don't want to. It's just that great.
Mr. Bean is definitely the odd ball in this list of best British TV shows, but it is a classic. I am not new to Mr. Bean, I have been watching it since I was much younger, but I decided to re-watch a couple episodes to see if I still enjoyed it. I found myself still keeled over laughing at the same jokes, even though I have seen all the episodes too many times to count. Rowan Atkinson is a marvel of an actor. Without speaking he creates this lunatic character who doesn't seem to understand what human etiquette is, yet he still wants acceptance from everyone around him. Mr. Bean is a middle-aged English man whose various adventures around England that should just be a pleasant afternoon turn into a wild adventure filled with hilarity.
I was very reluctant to watch Sherlock. I had heard about the wonder that is Benedict Cumberbatch from numerous people, but I just didn't buy it. I have seen all the Sherlock remakes and believed that it was overdone. When I actually did sit down to watch the first episode, I was surprised at how entertaining this version is. Sherlock is described frequently in the first episode, often by himself, as a sociopath. He talks incredibly fast and makes quick remarks that to everyone besides him seem rude and uncalled-for.
What makes this version of Sherlock Holmes good is that it is set in modern times. Sherlock is an avid texter and Watson has just returned from fighting in Afghanistan. The editing and special effects in this PBS show are absolutely phenomenal and were enough to keep me watching when I was confused at what Sherlock had just said. Sherlock is definitely a must-watch for all the quirky British TV show-lovers and for the film enthusiasts out there. It's interesting, funny, and suspenseful. What more could you want from a TV show?
Downton Abbey is a supreme example of what I thought British TV shows should be like. It has witty humor and is filled with wealthy British elites (such as Dame Maggie Smith) and their servants. The acting is absolutely brilliant and entertaining. At first, it didn't draw me in, but by the end I was excited to continue watching. It was very interesting, even if it is fictitious, to see the other side of the wealthy British and have the show be centered on the servants and butlers. The screenwriting in this show is very well done, giving each character a defined personality in the very first episode. I even found myself gasping at several moments. Downton Abbey is definitely one of the better British TV shows on instant streaming Netflix.
I'm sure there are many more amazing British TV shows on Netflix and on TV, but these were the four that stuck out to me the most. Netflix doesn't have the best selection of British TV shows, but with these four I think you will be set for quite some time.