Obama defeats Romney in school-wide PAAC election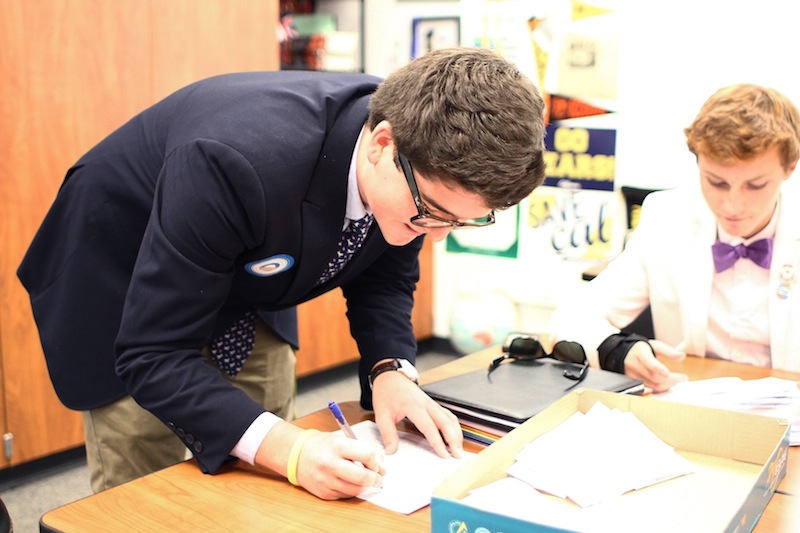 Students leaned toward the liberal side on Tuesday when they voted for the next president during a school-wide election organized by the Political Action Awareness Club (PAAC).
PAAC delegated every classroom on campus a state based on the size of the class in order to emulate the Electoral College process. Students cast a vote for the presidential candidate of their choice. PAAC totaled the popular votes to later calculate the Electoral College votes. They used the same pattern as the electoral college, winner takes all.
Senior Stephen Mariani, who was in charge of organizing the election, believes that having the election at school is really important.
"It's a really important year for the election and we wanted to get a feel for how the school is voting. There is a pattern for younger people to vote liberal and we wanted to see which way our school would vote," he said.
Junior Kalin Moore likes the opportunity to vote at school because it gives her a voice.
"Voting at school gives me the chance to have a voice in the election, even if I am not old enough to actually vote at the ballot box," said Moore.
World history and government teacher Cherie Eulau thinks that it is important to draw attention to this year's election and to show how the election process works.
"Doing the Electoral College so the students understand that they are all a different state and that we do not have a crazy system and shows that we don't just use the popular vote," said Eulau.
Moore believes that the winner of the school election will provide insight to the outcome of the nation's election, but that the swing will be different.
"I think that Obama will have a huge lead in our school election, but in reality, Romney and Obama will be neck in neck on the national level," she said.
After a lot of counting and converting the popular vote to electoral vote, Obama won in both categories. The popular vote totaled to 623 votes for Obama and 261 votes for Romney. The electoral vote totaled 494 out of a possible 538 for Obama and 44 for Romney.
Students are anxious to see the final determination made by the citizens of our nation and will be watching the live results on television with great anticipation.
"My eyeballs will be glued to the television, anxiously watching the election unfold on pins and needles," said Moore.