Foothill drama program undergoes "resurrection"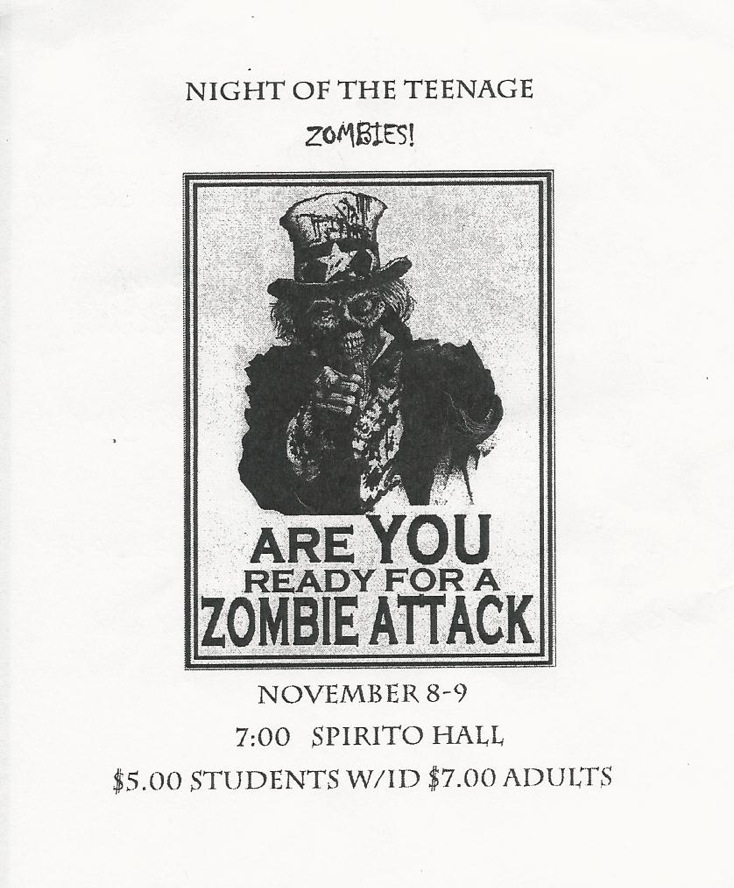 With fresh costumes, sets, and ideas, the Foothill drama department is waking from the dead.
The Night of the Teenage Zombies, Foothill's first play in five years, is opening Nov. 8 in Spirito Hall at 7:00 p.m. There will be another showing of the play Friday, Nov. 9, also at 7:00 p.m.
"It really appeals to our generation," junior Emily Schwerdtfeger said. Although not an actor in the play, Schwerdtfeger has helped with behind the scenes work and makeup.
"Having already seen the rehearsals, I think they are going to do an amazing job," she said.
The last play performed by the drama department, titled "What the Heck is That?", was organized in 2007 by current speech and English teacher Jennifer Kindred.
Karen Rogrigues assumed the position of drama teacher in 2010 and has wanted to do a play ever since. Due to minor set backs, Rodrigues was unable to organize a play until this year.
"I have been talking about doing a drama play for a while," Rodrigues said. "This year is the perfect year to resurrect the drama department."
Admission is $5.00 for students with an ID and $7.00 for general audience.
Although many of the actors are in the drama class, several students participating in the play are not, and rehearsals have been entirely extracurricular.
The cast has been meeting for two hours a day, four days a week since September. As opening night looms closer, they have been meeting even more consistently.
"I am out every weekend looking for props and I am here every day until 5:30 working on this play," assistant director and stage manager Megan Velzy Lenington said.
Rodrigues found the script, written by the Contemporary Drama Services, in a catalog for young actors. The script was decided on last July.
"It was just filled with ideas for plays that were fun and cheesy and silly," Rodrigues said. "There is quite a zombie fad right now."
Actress Bethany Eckstrom has enjoyed rehearsals for the play and has high hopes for opening night.
"I am really excited. I love helping the program grow. I hope there is a great turnout and a lot of people attend so that drama at Foothill gets a great new start," she said.