AP Government and Economics classes pick their winners for mock elections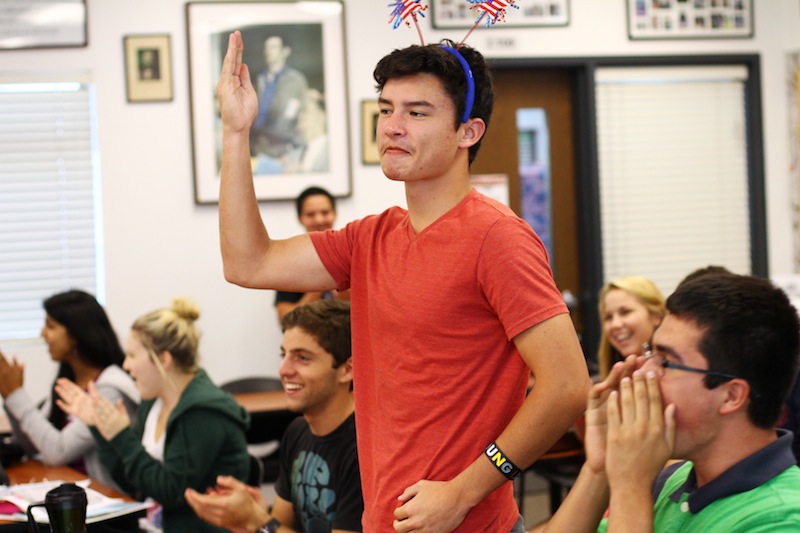 Students in Cherie Eulau's AP Government and Economics class staged their own election today as a finale to the project dubbed "The Eulau Campaign."
Despite polls in period one predicting victory for Democratic Governor Bryn Gallagher, Moderate Congressman Chandler Vu won the election.
"I tried to appeal to both sides. The edge was politics," Vu said. "[Winning] feels pretty good. I'm proud of myself and my part. We were always understaffed and had to work very hard," Vu said.
Polls done by two media teams unaffiliated with the candidates showed 69.9% of the class thought that Gallagher would win, while 21.7% thought Vu would win. 8.7% thought Republican Governor Siena Birdsall would win.
Comparing the statistics to the outcome, some, like Gallagher, suspect the election was a farce due to a deal cut by Vu and Birdsall.
"I was told upon seeing she [Birdsall] would lose, she told her party members to vote for Congressman Vu," Gallagher said.
When asked about the last minute deal, Vu said, "I'm a politician."
Siena Birdsall, the Republican candidate refused to comment beyond, "[It's] politics."
Adam Braver, a student who was reported to have been involved refused to say anything further than, "I have heard of that."
Eulau learned of the alleged deal as well. 
"What that points to is that a Moderate can be elected, it's just how our politics work," Eulau said.
In other periods the elections were also eventful. Luke Ballmer, the Democratic candidate, won in period three by one vote against the Republican candidate, Joe Vielbig. In period four, Molly Roberts ran as the Democratic candidate against Alex Koch, the Republican candidate. That election ended in a tie between Roberts and Koch while the Third-party candidate, Cameron Lee only received four votes.
The project itself has won the Impact II award and, among those winners, was further selected for a grant.
"That was my 6th Impact II award, some I've won with a team and others for my own units," Eulau said.
Though Birdsall lost, she still felt it was a valuable experience.
"I had to think on my feet and learn how to present myself as the best candidate," Birdsall said.
Even though only three students were candidates, every student in the class was involved. Each party had to have members work as media specialists, platform writers and researchers. There were even students acting as Super Pacs.
Adam Braver was a member of a Super PAC and felt he learned a lot about American politics.
"I began to understand the way a Super PAC runs because I was a Super PAC committee member and that U.S. elections have a lot of different factors encompassing into it," Braver said.
Eulau felt that the election project was important to learning about government as well.
"The candidates gained a lot of knowledge, as did the class," Eulau said.
Other students worked separate from the parties as television news broadcasters, journalists and radio broadcasters.
Gallagher felt she had a great experience, but learned a very important lesson in the campaign.
"Don't assume you'll win an election," Gallagher said.