Editorial: Dragon Press endorses Obama, Brownley, education funding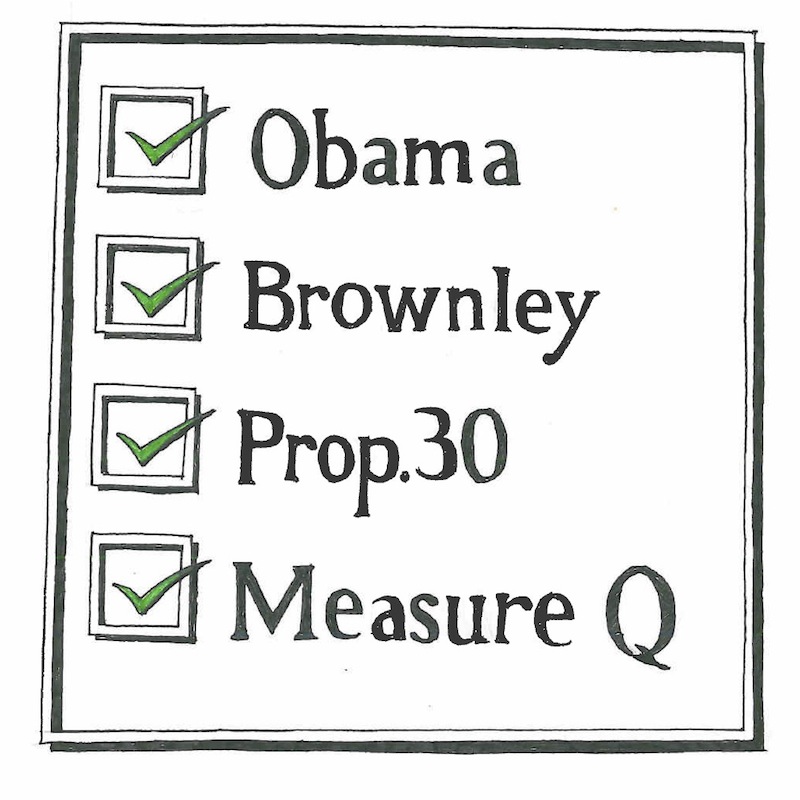 In less than a week, Americans across the country will cast their votes for president, Congress and various propositions and measures.
For Ventura residents, this election is critical. Residents now live in a toss-up congressional district, and measures that will significantly impact the local and statewide education system have found a place on the ballot. 
The Foothill Dragon Press editorial staff discussed the candidates and issues before reaching a consensus on our endorsements for the 2012 election. 
Obama has a clearer, more effective plan
In the past four years, America has seen a great deal of change.
Because of the Obama administration, the Affordable Care Act is making strides to provide affordable health care to all Americans, the war in Iraq has ended, sexual orientation ceases to be a factor in the military, and immigrant children no longer have to worry about deportation.
President Barack Obama, despite his downfalls, has provided progressive leadership in Washington.
Although the economic turnaround has been slow, progress has been made. The financial mess was not made overnight, and cannot be solved overnight. Obama understands this and has a clear, effective economic plan for the next four years, something that cannot be said of Republican candidate Mitt Romney.
Obama's plan to raise taxes on the wealthy in order to increase revenue while cutting spending is the best way to reduce the national debt. Romney's plan, which will lower taxes across the board, shows little promise of trimming the debt, and he has yet to explain how he will be able to cut tax revenue by $5 trillion without expanding the deficit or increasing the burden on the middle class.
On the social front, Obama has a more progressive and modern stance than Romney, a traditional conservative. As president, Obama has pushed legislation in favor of women's and gay rights. He is the first president to publicly support same-sex marriage and has appointed to women to the Supreme Court.
In today's society, America needs a president that is focused on moving forward both socially and economically. Romney's plan to lower taxes for the wealthy will not help regrow the middle class, and his traditional social views don't reflect the progression most Americans are making. Obama, on the other hand, will make the attempt to reach across the aisle in order to reduce the debt and turn the economy around while protecting the rights of all Americans.
Brownley cares about education, civil rights
As a result of redistricting, Ventura County now lies in a toss-up district. Current representative for the area Republican Congressman Elton Gallegly announced his retirement this year, which made way for Republican State Senator Tony Strickland to vie against Democratic Assemblywoman Julia Brownley in the race for Congress.
Of the two candidates, Brownley will be the better representative for Ventura County.
In her political career, Brownley has showed that she is focused on improving education and reevaluating funding for schools, a history that indicates she may ignite positive change in Congress and help provide more national funding for education.
If elected, both she and Strickland have promised to find ways to both maintain and create jobs for residents of Ventura County, both citing the military base in Port Hueneme as a vital component of the local economy.
While Strickland's plan to create more jobs is encouraging, he seems less willing to vote independent of his party, and his voting record has shown that he will not compromise when it comes to raising taxes, which, because our debt is so large, is vital to put America back on the path to prosperity.
Brownley is also a strong proponent for LGBTQ rights and women's rights, issues that are very important to the social progression of our country. On the other hand, Strickland has voted against a bill that prohibits sexual orientation conversion therapy and against a bill that prohibits gender-based health insurance pricing.
Brownley's focus on education and more progressive social views reflect the ideas of many Foothill students, and therefore we feel she will do a better job representing our community.
Prop 30 is vital for education in California
California's schools have been hit hard in the past few years, and the state currently ranks 47 in per pupil spending.
Proposition 30 proposes a temporary solution to the budget crisis in public schools. By raising the California sales tax a quarter percent and increasing the state income tax on those making over $250,000 dollars a year, Prop 30 will provide enough funding for schools to prevent added furlough days and increased class sizes.
The bill requires that 89% of the revenues raised go to public schools and 11% go to community colleges.
According to Trudy Arriaga, superintendent of the Ventura Unified School District, Ventura schools have faced $25 million in budget cuts and will face an additional $8 million if Prop 30 does not pass which will result in the elimination of summer school, an increase in class sizes, 10 additional furlough days, and 100 staff layoffs.
It's vital that California schools retain the funding they have now, and the frustration many Californians feel towards the teacher union should not be taken out on education.
The tax increases are relatively small for poor and middle class Californians, but the impact on the schools will be measurable.
Increased class sizes and fewer school days will negatively affect all students in California, and the future of the state relies on a strong education system.
Measure Q important for VUSD schools
Much like Proposition 30, Measure Q was created with the intention of increasing funding for education. However, Measure Q is a local tax that would only affect Ventura residents and VUSD schools.
Q will impose a $59 parcel tax on all residents for the next four years, and the revenue will be used to fund core subjects like math, science, English, technology, arts and music as well as prevent future increases in class sizes.
The tax itself is relatively small, totaling just over $1 extra a week for Ventura residents. But the combined effect of the measure will prevent VUSD schools from having to sacrifice the quality of education in order to cut their budget.
Measure Q requires that all money be spent on neighborhood schools and will allow for a citizens' oversight committee and for independent financial audits of revenues and expenditures.
Education is vital to a thriving community, and the small tax increase will ensure that the district will not have to lessen the quality of education provided to Ventura residents.