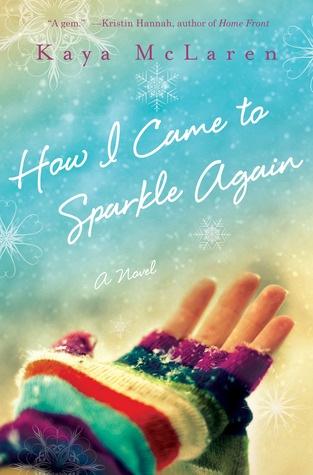 By reading the title, you may think this book is some teenage girl book about boys and sparkles, it isn't. Yes, the audience is more for teen girls or young women, but it is in no way juvenile.
"How I Came to Sparkle Again" by Kaya McLaren, released on Oct. 2, 2012 is best described at the adult version of a Sarah Dessen novel. It deals with relationships and love, but also with grief, regrets, and infidelity.
Be warned, for the younger readers who pick up this book, it does have profanities and more adult scenes.
McLaren writes a tear-jerking book, with a fast-paced plot. All the characters are so realistic; it feels as though they actually exist. Though, the way she writes dialogue is awkward when reading and takes away from the ability to lose yourself in the story.
The main character, Jill, starts off with a horrible day when her car breaks down and she has to walk a few blocks back to her house. It is only a few months after her miscarriage, and she hasn't settled her grief yet.
She walks upstairs to find her husband in bed with another woman. This is the answer to the book's title. Her husband's infidelity is how she "came to sparkle again."
Sparkling, in this sense, is more of a double entendre. It is about finding who you are again, without grief, but it is also the name of a town in Colorado, where Jill had once felt at home.
Jill moves in with her best friend, Lisa, a woman who is just now realizing her life of sleeping around isn't appropriate for her age. Then the narrator jumps onto the shoulders of 10-year-old Cassie, who has recently lost her mom to cancer.
Jill becomes a major role model in Cassie's life, helping her move on from the death of her mother. Lisa becomes a major part of Jill's helping her understand what he husband did is not her fault.
Jill, Cassie, and Lisa all learn how to "sparkle again" through each other; they help each other recover, Jill through Cassie and Lisa and them through her.
Together these three characters make up the plot of the book. The third person omniscient narrator jumps from shoulder to shoulder, allowing the reader an insight into what they are thinking.
Jill is a character who has gone through a rough time and doesn't have a family to turn to, so she finds one in her friends. This book is heartwarming, and a guilty pleasure for many girls.
If you used to read Sarah Dessen when you were younger, or got irritated by her stereotypical teenage characters, McLaren's new novel is the perfect book for you.
Even though Sparkle, Colorado isn't a real ski town, McLaren makes it feel real. The imagery is spectacular and all the town's inhabitants' emotions make up the perfect setting to recover from heartache and discover love.
I found myself thinking about the characters even when I wasn't reading, and feeling their pain through the writing.  "How I Came to Sparkle Again" is the perfect book to read over Christmas break, as it takes place during the holiday season, and has all the right emotions: heartwarming, cheerful, and sad at the same time.