New Music Club fills the void of a band program
Junior Ela Yasa has been playing the piano for the past seven years, has regularly attended private lessons, and even earned a Level 10 Certificate of Merit (CM) – the highest level to attain.
……………
Junior Ela Yasa has been playing the piano for the past seven years, has regularly attended private lessons, and even earned a Level 10 Certificate of Merit (CM) – the highest level to attain.
Yasa is now the president and founder of the Music Club, whose intentions were to "create an environment where musicians at Foothill could finally have a place to get together, to communicate with each other, and to play their instruments and learn more about music."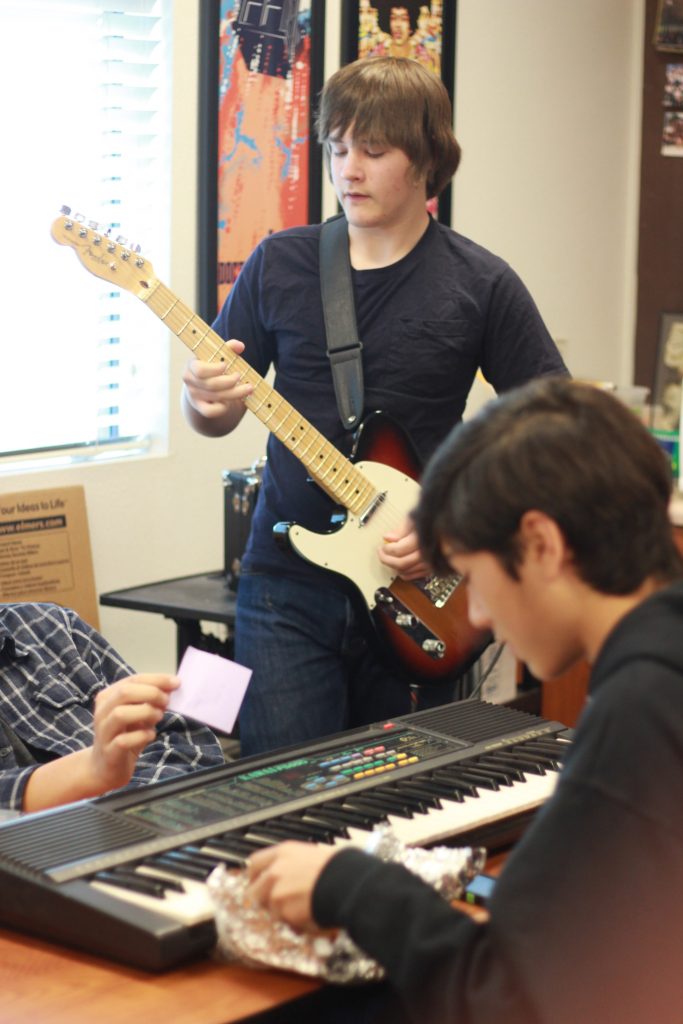 Although she doesn't write music, Yasa enjoys playing and listening to it. Ironically, she isn't much of a classical music fan, which is the genre of ballads she plays on the piano, but in her free time she listens to "a little bit of everything" with emphasis on pop and hip hop.
Alongside Yasa, junior Brieanna Tafoya assumed the role of vice president,
"I mainly collaborated with Ela since we both have the same interest in music," Tafoya said.
Unlike Yasa, she doesn't play an instrument but has high hopes of learning how to play the guitar. Tafoya contributes her great appreciation of music to the club, sharing her knowledge of genres ranging from classical to pop punk.
Tafoya's ideal career incorporates her two interests of music and healthcare; she hopes to become a nurse or paramedic at concerts. As well as Tafoya, Yasa has taken an interest in the medical field and aspires to become a doctor, and is considering a minor in music.
Usual Music Club meetings consist of jam sessions by the members' current ensemble of a violin, trumpet, piano and a few guitars. Yasa also hopes to take the club on field trips to concerts in the future. Mr. Li, the club advisor, maintains a very laissez-faire approach at each meeting to ensure the club is going in a direction that the members wish to take it.
The club hopes to put on concerts in an effort to fundraise for Foothill, as well as voluntarily play for residents of convalescent homes, but Li believes the club has a way to go.
"They're trying to develop the vision right now. They're trying to get people involved. So the more people that show up, the more this vision can coalesce into something where it can turn into a performance," he explained.
As of now, Li feels the impact of the club is still to be determined.
"But what I do know is that students are coming to me, individually, asking me if they can bring their instruments to play and my answer is absolutely yes," he said.
Yasa believes the club brings an "immense environment" to campus providing the "opportunity for student musicians to grow themselves, to express themselves at Foothill and display themselves further to the community."
[soundcloud url="https://api.soundcloud.com/tracks/233942979″ params="color=ff5500&auto_play=false&hide_related=false&show_comments=true&show_user=true&show_reposts=false" width="100%" height="166″ iframe="true" /]
"There are a ton of musicians at Foothill, but they go by unrecognized most of the time," she said.
For that very reason, freshman violinist Darren Wu finds the club a beneficial addition to the campus.
"Music club is great because we don't have an orchestra here at Foothill," he said.
Due to the lack of accommodation for the musically inclined students, principal Joe Bova has considered the addition of a music class to Foothill's campus to be an excellent opportunity for the students since the school doesn't have the "facilities for [a full orchestra]."
Yasa hopes to continue the club into her senior year, and keep its presence on campus beyond her years at Foothill.
Editor's Note: Ela Yasa is Web Editor for the Dragon Press and was not involved in editing or writing this article.