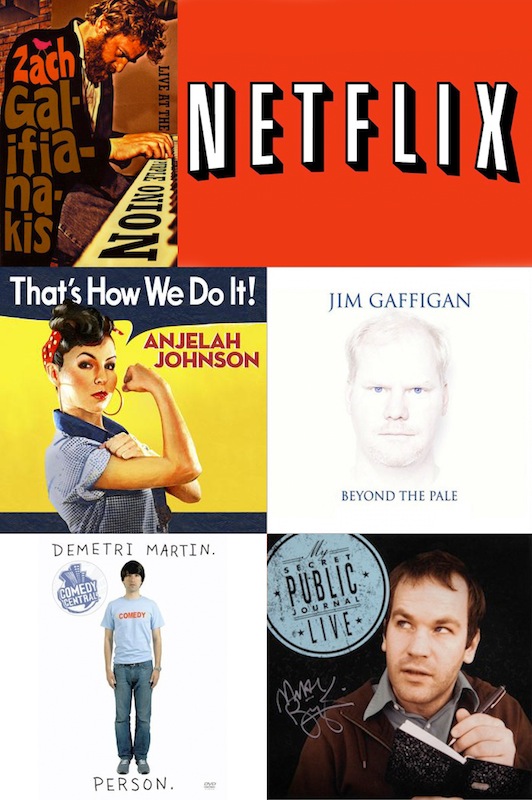 With the ever-increasing industry of making 3D sequels to films that weren't good to begin with, and ticket prices increasing at a seemingly exponential rate, going out to a movie theater is losing its charm. In this theatrical slump, people are turning to Netflix to get unlimited TV, movies, and more for a monthly price that's less than the cost of a single movie ticket.
Netflix has so much more to offer than a movie theater, including an entire section of hilarious stand-up comedy specials. So for those who love to laugh, here are my five favorite stand-up routines of Netflix.
Jim Gaffigan speaks his mind. His jokes seem to be what everyone is secretly thinking, but not courageous enough to say. A main topic is health, and Gaffigan talks about his love of cake and hatred of the gym, an opinion that many people have but are too shy to share. The funniest part about his stand-up routines are his voice impersonations. Throughout the monologue, he will comment on his own jokes with what he thinks the audience's impression of him is, in a hilariously high-pitched voice. Gaffigan's food-based jokes and sarcastic impersonations make his stand-up one of my favorites.
Mike Birbiglia delivers a hilarious routine heavy with self-deprecation, and spins wacky tales of a geeky guy's adventures through life.  Birbiglia recalls hilariously awkward stories from his childhood, such as entering a family's home during their dinner to try and sell them knick-knacks for a school fundraiser. From helping his parents with computers to giving into peer pressure, Birbiglia's story is charming and relatable, but his delivery is what really makes it so funny. Birbiglia also has a movie out that he wrote, directed and starred in, "Sleepwalk with Me."
Now a huge movie star most well-known for his performance in "The Hangover," Zach Galifianakis started off as an off-beat stand-up comedian (though he still had his signature beard). Galifianakis' Netflix special is very unique in that he showcases his skills on the piano while delivering his jokes. He hardly breaks his serious tone during the act and seldom smiles, but these attributes add to the sarcastic mood of the whole performance and make it all the more hilarious.
One of the few female stand-up comedians, Anjelah Johnson proves she's just as funny as the guys. She uses her femininity to her advantage to make jokes where guys can't, such as her famous nail salon bit, included in this special. She talks about her time as a cheerleader for the Oakland Raiders, and reveals the hilarious ways she would sneak into clubs with her sister when she was fourteen. Johnson's imitations of her crazy family and the people around her are a side-splitting insight into her life.
Demetri Martin has unique way of telling his jokes. His routine is original – he doesn't just stand around and talk. He has funny charts, animations, drawings, and plays, funny songs with the help of his guitar, piano, harmonica, and bells. His jokes are short, critical observations on almost anything, ranging from video game violence to questions such as "How fast does a zebra have to run before it looks gray?" The randomness and creative execution of Martin's jokes make his jokes funny in a fresh, clever way.