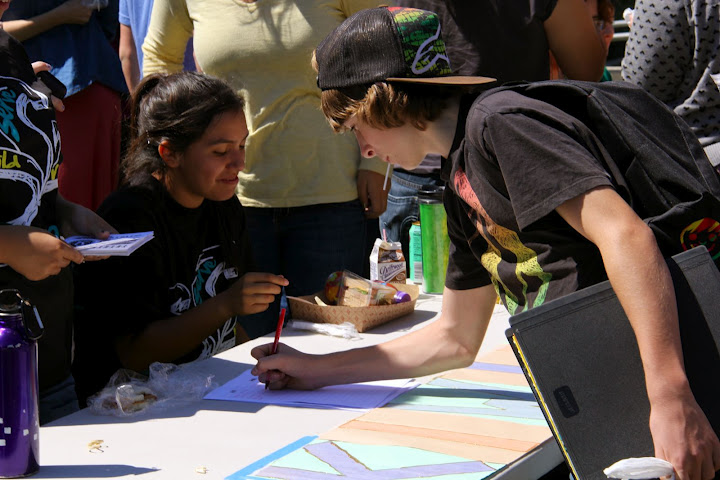 Foothill's quad was crowded with students Tuesday as the annual Club Rush took place. 
The Gaming Club, Sci-Fi Fantasy Club, Young Life, and many other established Foothill clubs worked to acquire new recruits for the 2012-2013 school year.
New members were not the only concern for the clubs, they were also interested in expansion of their materials.
"[We] want to earn money, so that we can build and improve," said Sci-Fi Fantasy President Tim Barone.
Many Foothill students crowded around the Culinary Arts table, where apple and poppy seed muffins were offered to recruits.
Culinary Arts Club has been around for over four years. In the past, this club has been a place for lovers of food, but now the members are seeking out talented cooks and bakers.
"We want active participants… last year we got a lot of squatters," said junior member Claire Jergensen.
Swing Dancing Club, The Academy, and Toms Club are all new clubs to the Foothill campus.
Junior Victoria Bonds created Swing Dancing Club during third period on Tuesday. She wanted to create a group where students can learn about musicians from the 40s, such as Frank Sinatra.
"We want [to teach] a classy way for people to dance," she said.
Headed by senior Chandler Vu, The Academy, also known as the Poetry and Philosophy club, is said to be a place for students to listen, read, and absorb poetry.
Vu says it will be a place "where students can discuss the inner mechanisms of the universe."
The Toms club is also a new addition to Foothill.
Junior Amy Bradford said that "It is not a club only for people who wear Toms," and that its purpose is to support the Toms movement
Last year, former senior Elena Schink and Hannah Alday created Salus, a club where students can learn about first aid and other skills taught in Medical Technology without belonging to the Bioscience program.
The club's goal is to have an end of the year disaster scenario where their participants can interact and use their skills that they have obtained throughout the year.
Another returning club on the Foothill campus is Anime Club, where students can learn about the different types and styles of anime. Club president Kassia Bell hopes that her club will continue be a place where students can go to have fun and get along.
Many of the Foothill clubs today had the common goal of allowing students to have fun and express themselves.
"For support, acceptance and pride," said Mimi Babb of the GSA (Gay Straight Alliance) club. 
Credit: Josh Ren/The Foothill Dragon Press