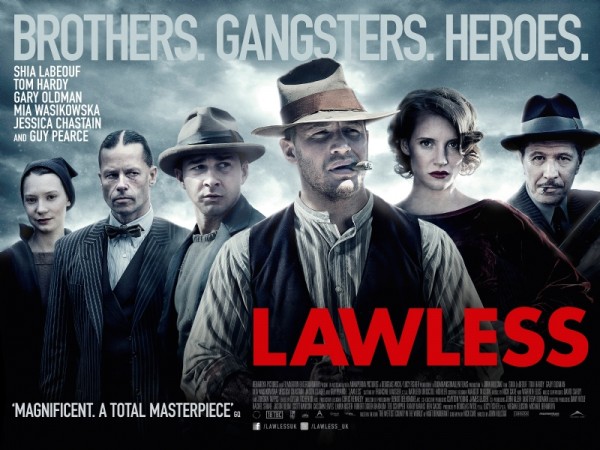 Inspired by true-life tales of author Matt Bondurant's family in his novel "The Wettest County in the World," new movie "Lawless" takes place in Franklin County, Virginia during the prohibition era in the 1930s. This thriller tells the story of the three Bondurant brothers (played by Tom Hardy, Jason Clarke, and Shia LaBeouf).
Released August 29, "Lawless" submerges audiences into the story of these three brothers who are moonshiners. It shares their experiences with gangsters and a rogue big city police officer.
Although alcohol is outlawed, the Bondurant brothers lead a life of making and selling moonshine to people, including the local police. However, when a skewed policeman (played by Guy Pearce) comes into town to shut down all moonshiners, the Bondurant brother's simple life quickly vanishes and they are turned into outlaws as they refuse to play by the new officer's rules.
As the movie progresses, the Bondurant brothers find themselves involved with mobsters and dodging the police, proceeding to scenes of violent brutality involving torture, shooting, and fighting.
Directed by John Hillcoat, this is not your average gangster movie. "Lawless" is a seemingly slow paced movie with a lot of dialogue as well as beautiful cinematographic shots, however this makes the sudden and strikingly violent scenes all the more welcome.
Actor Tom Hardy delivers an amazing performance, hanging up his villain cape from "The Dark Knight Rises" and taking on more of a quiet and wise manner that makes Forrest (the oldest Bondurant brother) one of the strongest in the bunch.
Other notable performances were from Shia LaBeouf (playing Jack, the youngest Bondurant brother) and Jessica Chastain (playing Maggie, an emotionally bruised burlesque dancer, looking for a quiet life in Virginia).
"Lawless" is rated R for violence, language, and sexual content. The movie runs just under two hours, slightly longer than necessary, but still a fun ride. It is a great thrill if you can handle intense scenes of blood and violence.
"Lawless" takes viewers back to the 1930s and gives them a solid movie from the beginning to the very last scene. With a perfect balance of great acting performances as well as scenes that make your skin crawl (if blood makes you squeamish that is), "Lawless" was one of the few movies in theaters that I actually felt didn't rob me of my ten bucks and two hours of my life. If not seen in theaters, I definitely recommend putting it on the top of the Netflix queue when released. Viewers will not be disappointed with what "Lawless" has to offer.