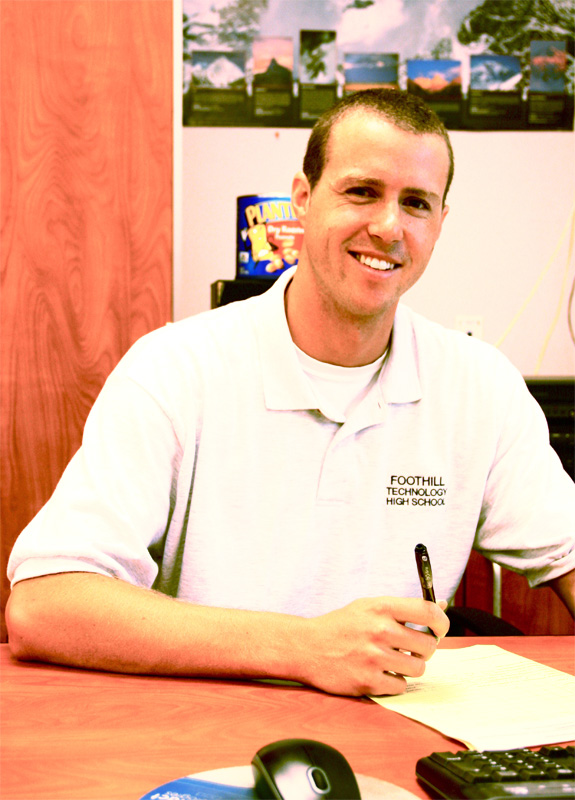 New Foothill teacher Kurt Miller describes his first few weeks on campus as "amazing and busy." 
Miller, who teaches geography and health to freshmen and government and economics to seniors, feels he was always "destined" to become a teacher, though it wasn't his initial career path. He originally planned on getting a Ph.D in Religious Studies, but realized that he wanted to become a teacher while working as a teacher's assistant in graduate school.
Before coming to Foothill, Miller taught in Santa Barbara at San Marcos High School and La Colina Junior High. He feels very fortunate to be working at Foothill.
"I'm so lucky to have gotten a job a Foothill because it's an amazing school," Miller said.
Miller tries to incorporate his sense of humor into his teaching to encourage his students to enjoy learning and to make his class a fun experience for them.
"He has interesting ideas," senior Kassie Bell said.
When asked what he enjoys most about Foothill, he jokingly responds, "The air conditioning is nice when it's hot. But I really enjoy the hard working students."
By creating more hands-on and interactive lesson plans, Miller aims to motivate his students to achieve their academic goals. He wants to give them skills that will help them succeed not only in their classes at Foothill, but also in their lives and careers after they have finished school.
"I hope to start project-based learning like business fairs and other technology-based projects rather than just assigning homework," he said.
Freshman Natalia Gonzales enjoys the fun and unique qualities that Mr. Miller incorporates into his teaching.
"He always makes it interesting when he teaches us. He's funny and gives us a riddle at the end of every class," Gonzales said.
Miller is looking forward to getting to know the "amazing" students of Foothill as well as the exciting new experiences this year has to offer.