Freshman class pledges to "start strong" and work towards graduation (21 photos, video)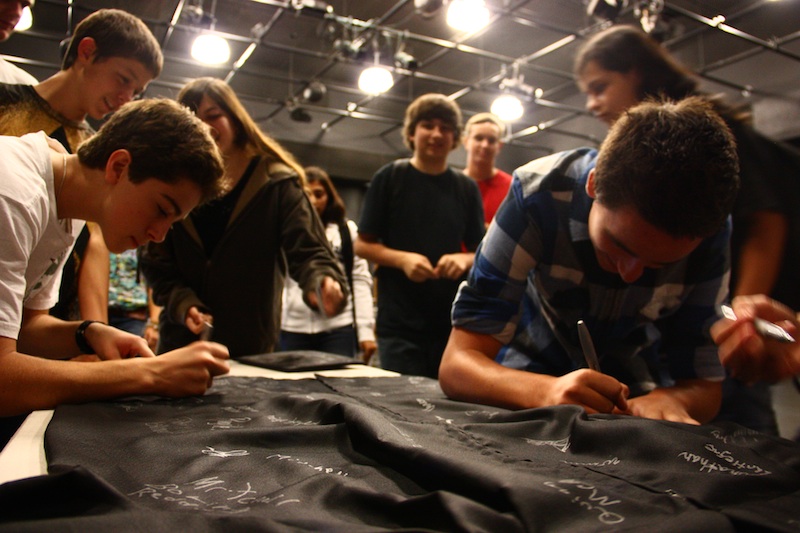 The Class of 2016 gathered in the Black Box Friday during FIRE for Foothill's Start Strong ceremony. During the assembly, freshmen took pictures with an enlarged high school diploma and signed their name on a graduation cap and gown.
The goal of the event was to encourage students to graduate high school in order to lower United States' high school dropout rates.
"Foothill has high expectations and high standards… it might inspire [students] to graduate so they aren't left behind," freshman Claire Dickinson said.
Biology and chemistry teacher Ryan Duston launched Start Strong in 2011 after he attended a Renaissance conference two years ago.
The event was originally called Commit to Graduate, but Duston wanted to change the name in order to parallel the Finish Strong program for Foothill's seniors.
"Foothill doesn't really have a problem with dropouts, but it is still a good reminder to graduate high school and go to college," Duston said. "They may not think signing the cap and gown and taking their picture is a big deal right now, but when they are seniors, it will be a much bigger deal."
Until next year's Start Strong event, the signed cap and gown will be hung in the office. When the Class of 2016 graduates, there will be a drawing to see which student will get to wear the signed attire at graduation.
The event is also meant to create a sense of unity between the students.
"It is a good bonding experience… we all took a picture together and we signed a cap and gown. We are all doing this together," freshman Fidelity Ballmer said.
The event made freshman Chloey Settles feel more supported by the staff.
"I makes me feel like they are really care about us graduating," she said.
Before arriving at the event, the freshmen received their first "brag tags," dog tags that will be used as tokens. The Class of 2016 will collect these tags throughout high school, and there will be an event to celebrate those with fifteen or more tags at the end of their senior year.
Along with the "brag tags," they were read a letter written by psychology and English teacher Melanie Lindsey. The letter reminded them of their goals.
"The brag tags are going to work as an incentive and a way to get prizes and privileges," Duston said.
Assistant principal Katie Tedford believes the event is beneficial for freshmen.
"It gets them motivated to succeed academically," she said. "It gives them something to work towards."
Credit: Natalie Smith & Aysen Tan/The Foothill Dragon Press
Credit: Kazu Koba, Erin Maidman, and Jackson Tovar/The Foothill Dragon Press