Ventura's Spring Showcase, a night of entertaimnent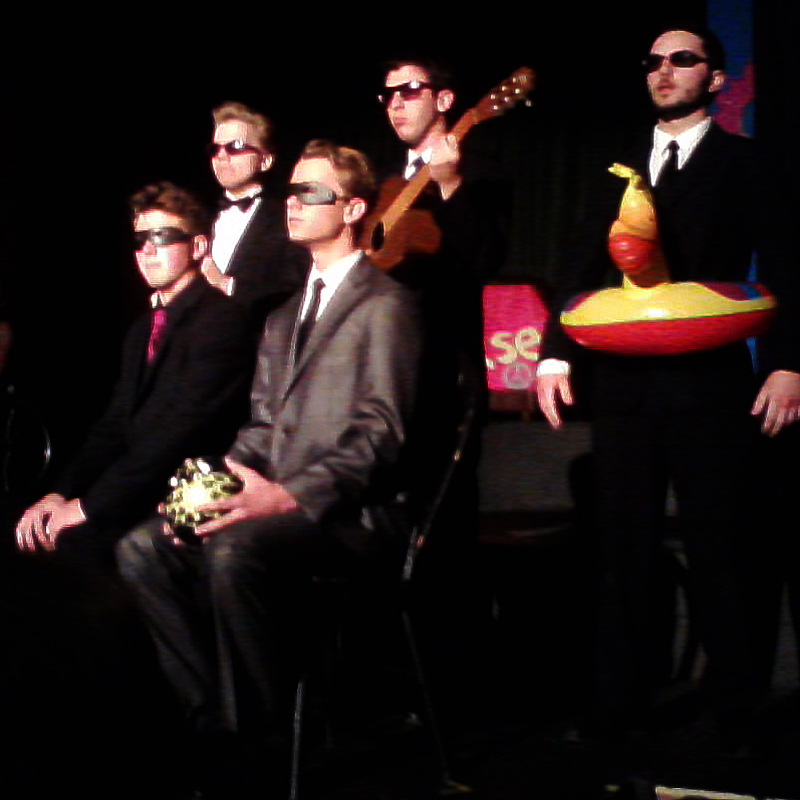 The aura in Ventura's Little Theater was a groovy one as students, parents, and friends of the performers took their seats for last night's 60's themed showcase.
Directed byVentura High School's drama instructor Stefoni Rossiter, the showcase featured the semester's best work performed by students in her drama class, as well as a hilarious segment in which the What? Improvisation Troupe provided lots of laughs for a highly receptive audience.
The show kicked off as flower power-infused emcees Rachel Hawkins, Jessica New, and Alison Schiele welcomed the audience to a evening of entertainment.
After a brief monologue about best-friendship performed by Francis Nye, a quintet of musical men – Christian Bennett, Nate Burdoe, Gage Burgi, Seryozha LaPorte, and Joey Santia – performed a harmonious number entitled "Friends." This act highlighted the aspects of a good friendship, such as the idea that friends have each others' backs, borrow money and never pay it back, and other elements that kept me chuckling throughout.
Shortly after the bromantic ballad, I and most everyone else sat with bated breath during a monologue about a break-up entitled "And Turning, Stay" performed by Lani Akuna, and a dramatic scene from "Who's Afraid of Virginia Woolf?" The latter featured an impressive performance by Prescott DeVinney and Jeannie Odom who played a couple unable to have children that use an imaginary child to fill the emotional void.
"The Miracle Worker," a mostly non-verbal scene, conveyed the struggle between Helen Keller and her teacher Anne Sullivan. This scene featured Maddy Haines and Alison Prather.
Then – perhaps my favorite portion of the evening – Ventura High School's What? Improvisation Troupe took the stage. The troupe performed numerous improv games (for anyone who is unsure of what improv is, think of the old hit show "Whose Line is it Anyway?") such as Park Bench, If You Know What I Mean, Scripts, Pocket Lines, and others.
Simon Delossantos played the role of Simon the Expert, utilizing his quick wit and charm to answer any questions posed by various audience members. When asked the meaning of life, he impressed me with the very simplistic answer "to live."
Other stand out on-the-spot performers included Schiele, Malcolm Lowe, and Malia Mooney.
Act Two commenced with some British humor in an act entitled "The Still Alarm." Burdoe, Burgi, LaPorte, Lowe, and Santia played the roles of five British men trapped in the upper levels of a hotel that had been set on fire. Despite the situation, the men remain ridiculously calm, prompting much laughter that resonated throughout the theater.
Three back-to-back poetry performances then took place – "Duct Tape," written and performed by Ariana Guerrero and Ashlyn Weatherford, "The Search" also written and performed by Simon Delossantos, and a clever and fast-paced performance of "Modern Man" by Santia and Kalen Kasraie.
A scene from "Barefoot in the Park" was performed by Kasraie and Kaitlynn Fern, in which I found myself divided in between considering the scene a drama as it dealt with a couples' marital strife, and a comedy due to Kasraie's portrayal of a seemingly indifferent husband to his wife's feelings.
Hana Hallahan played not one, but two dramatic roles in "Bruises" (written by and also featuring Burdoe) and "Rabbit Hole" with Dylan Horwitz. The two intense scenes, both having to do with couples' struggles were portrayed both convincingly and impressively.
To close off the night, an enthusiastic "Boy's Medley" was performed/lip-synced by Burgi, Kasraie, LaPorte, Lowe, and Santia, featuring a variety of songs including "Y.M.C.A.," "What Makes You Beautiful," and more.
Though I noticed a trend of several acts having to do with marital problems, the night did have a fairly equal balance of intense drama, dramedy, and comedy. Once again, it was proven to me that Ventura is abundant with showstopping student talents.