Masked students celebrate end of year at prom (43 photos)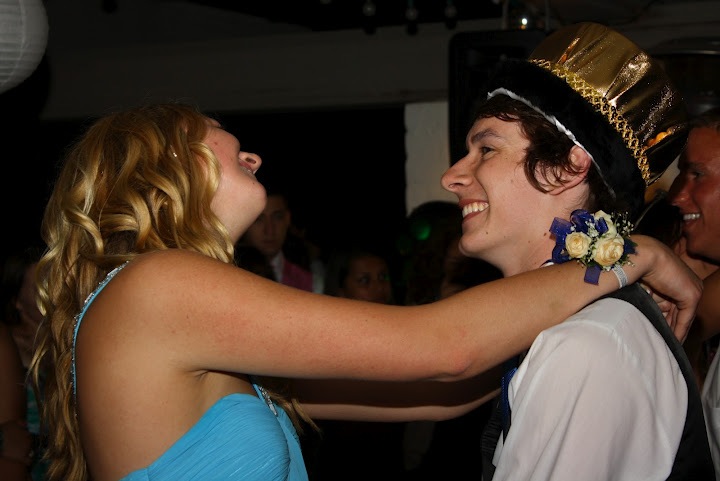 A sea of masked girls dressed in colorful dresses and young men in tuxes met the eye Saturday night at Foothill's prom, themed "Masquerade Ball."
Most couples arrived for a dinner of pasta, chicken, vegetables, and an assortment of other foods at 6 p.m. Students sat beneath drapery and twinkling lights as they mingled and ate.
"It's really nice how they have all the tables and stuff, and then the dance part outside… because it's going to get really hot and stuffy. And the view is really amazing too," senior Eileen Miramontez said.
After dinner, most attendees migrated outside where they danced under hanging lanterns and black lights.
Although prom is intended for upperclassmen, many sophomores attended this year with junior and senior dates.
"It's really exciting. It feels kind of awkward at first, but then everybody's really welcoming… It's really fun," sophomore Andrea Fuller said.
Students from other schools attended as well.
"It's pretty cool… because I missed my prom," Ventura sophomore Corey Portugal said.
Over 300 tickets were sold for this event, and the prom planners, juniors Jackson Tovar and Adam Braver, have been coordinating the event for months.
"It's actually been a lot of work. We started since second semester thinking through this, and especially this last month we've been working and working… Either arranging with the country club itself to have times that we could meet them, or arranging for decorations, arranging with the art department to make sure all the masks and the decorations are working out," Braver said. "We put a lot of work into it but we think it's successful."
The masquerade theme was chosen with help from the seniors.
"We gave out surveys to the current seniors and Senior Focus Council, and 'Masquerade Ball' was their chosen choice… And so that's how we got 'Masquerade Ball,' because we wanted to honor the seniors' wishes," Tovar said.
After returning to the dinner area for an ice cream dessert, students began to waft back outside as it got dark where they danced to songs like "Super Bass" and "Moves Like Jagger."
"The food was great and it's just fun hanging out with all the people that are here. Especially since I know most of them," senior Joe Malach said.
Then, the Prom Court was announced. Wearing white sashes, the princes and princesses came to the front of the dance floor. Seniors Nicole Teitel and Hannah Padaoan were crowned princesses, and seniors Devon Henderson and Zackary Moyal were named princes. Seniors Trevor Kirby and Sarah Levesque were crowned Prom King and Queen.
"It feels really, really good. I'm really appreciative of it and I think it's a really great opportunity, and it's something I get to tell my kids so it's a pretty great feeling," Kirby said.
The king and queen shared a slow dance to the song "I Don't Wanna Miss a Thing" by Aerosmith. After a while, they parted to dance with their own dates, and other couples joined in.
After the slow dance ended, more dance songs come on and the students danced for the rest of the night.
"I think my favorite part was the dancing and the music, along with the delicious food and the delicious ice cream. I think it's all been great," senior Theo Hernandez said.
Credit: Aysen Tan/The Foothill Dragon Press