Foothill earns U.S. News and World Report Gold Medal distinction for first time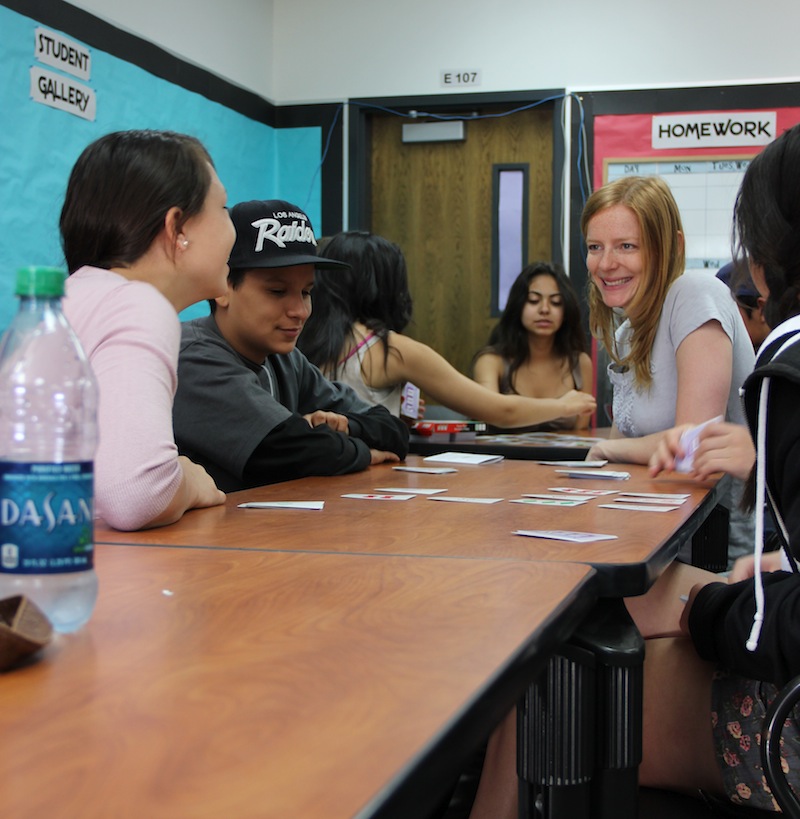 On Tuesday, Foothill principal Joe Bova notified staff that U.S. News and World Report had included Foothill in the top 500 high schools nationwide and awarded the school a Gold Medal status for the first time in Foothill's history. Foothill was given these rankings out of approximately 22,000 other U.S. high schools.
Bova was pleased but surprised by the report.
"I check the US News and World Report site periodically to see where the rankings are and they had not done a ranking since 2009," Bova said, also adding that another teacher had found the report on Yahoo, and brought it to Bova.
"It's exciting to see that we were a gold medal school because last time we were a silver medal [school]," he said.
According to the report, Foothill is ranked 78th among California high schools, and ranks at 419th nationally. Foothill's 61 percent Advanced Placement participation rate, as well as its College Readiness Index of 48.5 and Academic Performance Index of 905 contributed to Foothill's Gold Medal status.
"The interesting thing is that the numbers are are from 2009-2010, and we've really worked in the last couple years on increasing the number of students in AP – we've actually increased our population in AP by about forty percent," Bova said.
Westlake High School was also recognized by U.S. News and World Report, ranking 59th statewide and 306th nationally.
"I wasn't surprised to see Westlake up there – obviously Westlake's a very good high school," Bova said.
Qualifications for the Gold Medal status were primarily based on school test scores and the percentage of students that take at least one AP course, according to Bova.
"U.S. News and World Report…use API scores to try and qualify you for a certain level – maybe to get into the gold level, possibly – but the main criteria is the College Readiness Index, which is how many kids participate in AP, how many seniors take at least one AP test, so that's why [Westlake was] slightly ahead of us," he said.
"I think if the numbers were done based on today's numbers, [Foothill] would be probably much higher on the rankings, and I would think probably ahead of Westlake's as well," Bova said.
Although U.S. News and World Report highly ranked both Westlake and Foothill, Westlake did not rank in California's Top 20 Schools for 2011 API scores.
The difference in the schools' demographics is what contributed to Westlake's lack of recognition in the API scores.
In terms of API scoring, "We're going to be compared to certain schools that are just like us demographically," Bova stated, whereas Westlake would be compared to schools with more similar demographics.
Bova finds the API a more objective evaluation, noting that U.S . News and World Report utilizes the College Readiness Index as main criteria in the assessment.
"The nice thing about the API is that… they actually look at your school compared to schools that are similar to you demographically, and the U.S. News and World Report does not do that. It's still kind of a faulty evaluation because many, many of those Gold Medal schools are schools that have very strict entrance criteria… so to compare a school that students have to enter through test scores versus a school like ours… or even compared to a school like Westlake which is a regular comprehensive public high school isn't really a fair comparison."
However, in terms of choosing between the two assessments, Bova added that "more data is better to look at."
"I think that the ranking doesn't necessarily matter. What matters is every year and every day, are we doing the best we can, regardless of how we're ranked. Is it nice to be recognized? Yes, but on a day-to-day level, it doesn't really change what I do, but I suppose it's nice to be recognized," World History and government teacher Cherie Eulau said.
"I thought it was outstanding," Foothill Career/Multimedia Specialist Linda Kapala said upon her reaction to the news.
"I think it shows that we've always had sort of a high standard. We've raised the bar further and I think in this competitive environment to get into universities and schools, it will be an asset to our students who are applying to go to institutions of higher education."