Foothill senior hosts benefit concert Friday for children at St. Jude's (18 photos)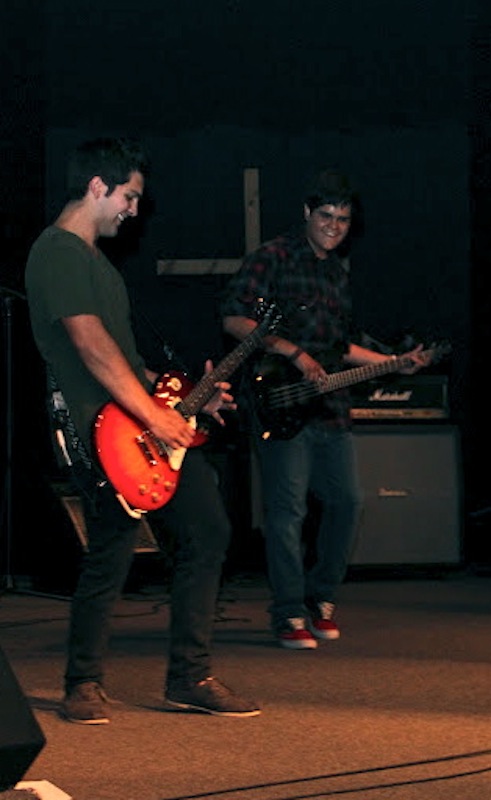 Students and community members gathered at Bible Fellowship Church Friday night for senior Garrett Lyon's benefit concert, Requiem For the Afflicted.
Lyons hosted the concert for his Senior Hero Project, with the goal of raising money for St. Jude's Children's Research Hospital.
"I wanted to do a concert because music is one of the biggest things in my life. It is my life," Lyons said.
Lyons decided he wanted to work with St. Jude's after he took a trip to the hospital while touring in Tennessee. He performed for the patients there and felt he made a real connection.
"[The hospital] does really great things for kids who need it and, right now, it takes about 1.6 million dollars a day to keep the hospital running and 75 percent of that comes from sponsors and donations," he said.
The band Reluctant Hero kicked off the fundraiser with songs they hoped "spoke to the crowd."
"It's fun and really good pump it up music. It is nice for just hanging out and having a good time," said junior Coral Spencer.
They were followed by Lyons' band, fronted by Foothill alumnus Britney Christian.
"I love it," junior Rachel Link said. "I am already familiar with Garrett and Britney Christian's songs and I really like them, so I am glad to hear them again."
The other two bands scheduled to play at the event were forced to cancel last minute due to bronchitis and conflicts with a different performance. Unable to find a replacement act, Lyons chose to have just Britney Christian and Reluctant Hero perform.
"That was definitely a big challenge and a very hectic week," Lyons said.
Smoothies from Jamba Juice and burritos from Chipotle Mexican Grill were available for purchase during the night.
"The smoothies definitely drew me in," said Ventura High School junior Chloe Sehati. "The more popular sponsors you have, the more you appeal to people who aren't just in your group of friends."
The concert itself was free but audience members were asked to donate five dollars at the door. If they chose to donate, they would receive a raffle ticket and be entered to win a free In-N-Out Burger meal.
"It's free, so it gets people to come, but then they get here and they can't say no to a donation," Buena High School senior Kurtis Gibson said.
Foothill junior Trevor Morison believes that St. Jude's is an extremely beneficial cause.
"St. Jude's helps out children who don't have money… and I am all about helping people who don't really have the money to help themselves," he said.
Tyler Brown, a student at Ventura College and lead singer of Reluctant Hero, believes that music is one of the best ways to cure anything from a broken heart to cancer.
"The kids at St. Jude's who are terminally ill, music can give them something to believe in… I hope that our music connects with people whether that be through the lyrics of our songs or literally through eye contact. I hope our music makes people feel better. That's what tonight is about," he said.
Credit: Felicia Perez/The Foothill Dragon Press