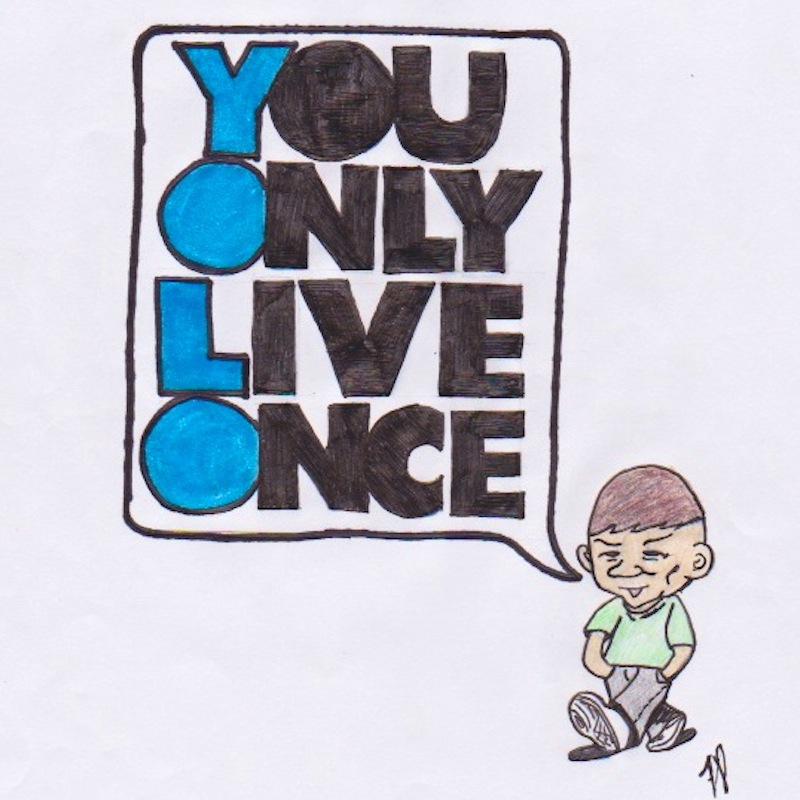 We only have one life to live. Sometimes it seems that life goes by in the snap of the fingers, or in a blink of an eye. One minute you are standing in line for kindergarten, and the next your receiving your high school diploma. Life is too short to live in your comfort zone.
"YOLO," an abbreviation for "you only live once," has been made famous by Drake in his song, "The Motto." Lately, teenagers have been using "YOLO" at the ends of tweets and Facebook status' as a joke.
"Just ran over my grandma with a lawnmower. #YOLO"
"Just got 14 piercings and 10 tattoos YOLO"
Most of society sees this foolish abbreviation as a reason or excuse to let kids party, do drugs and have sex.
However, "YOLO" isn't just a joke. As childish as it sounds, it's a standard to live by. "You only live once" promotes the idea that you shouldn't waste your life doing things you don't love. You should wake up every day, and realize that  day will never come again in your life. Tomorrow is never guaranteed, so don't waste today living inside the box.
Teenagers have misinterpreted "YOLO" in many different ways. Some use it as an excuse to party, drink, and act promiscuously. This is the only group that society really focuses on when they look at how Drake's motto affects teenagers. They only see the kids that use YOLO as justification to do stupid things, when there are plenty of other teens who use YOLO as a way to benefit their life.
Other kids use it as an excuse to seize the day, and to make themselves prosper and grow throughout the course of their life.
"Going to Chile for my Junior year. YOLO"
"Finally got a job so I can afford my new car. YOLO"
The kids that use YOLO as an excuse to be delinquents are disappointing and misguided. Granted, YOLO probably isn't the most philosophical motto to live by, but words are all about how you interpret them. Songs, lyrics, and words all affect people differently. People take things in different ways, and apply them to their lives in different ways. We shouldn't                 judge people on how they interpret Shakespeare's novels, or how they interpret a quote from President Obama, so why do we still care how people apply YOLO to their own personal experiences?
A simple-minded quote from a rap song is no doubt foolish to think of as a way of life, or a creed to live by. I'm sure there will be plenty more quotes, or abbreviations in rap songs that will be just like YOLO, and I'm certain that "YOLO" is just a phase for teenagers. It will be forgotten in our minds just like Bratz, Barbies, and Polly Pockets are now.
YOLO might just be a quote, and it might just be a trend, but it's a constant reminder of what we have, and what we should be thankful for. It's a constant reminder to never take life to lightly, and to never take it for granted. This weird-sounding, simple four-letter acronym is a true reminder that we only live once.