Bioscience juniors see curriculum in the real world on job shadows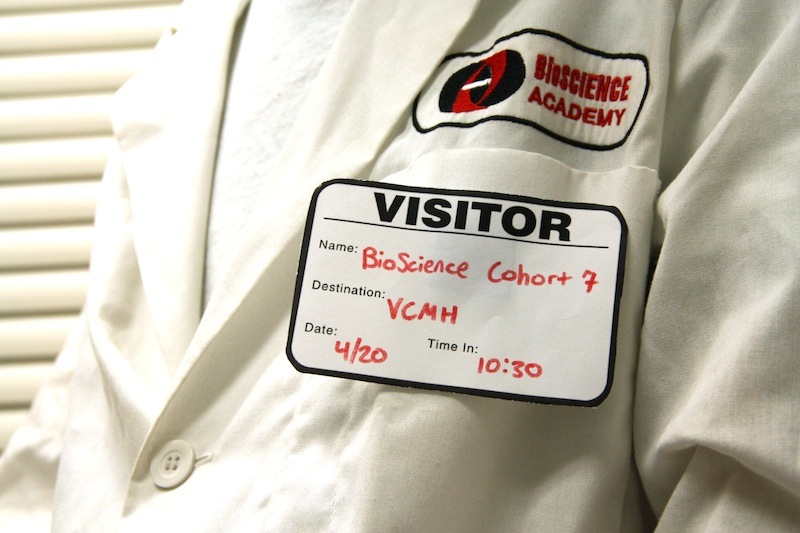 With opportunities ranging from viewing a live birth to observing a clinical lab, students from Cohort Seven of the Bioscience Academy are experiencing a hands-on approach to their curriculum.
Each junior in the Academy is scheduled for anywhere between four and eight job shadows over the next few weeks. The shadows began April 14 and will end May 6.
"The world of health care is the focus of the junior year," Bioscience coordinator Darcy Duffy said.
Juniors take two classes for the Academy: Honors Physiology and Medical Technology. In addition to patient care, the students are trained in health safety regulation, hospital codes, fire safety, standard lab protocol, infection control, first aid, and CPR.
"These two courses together provide students with the academic knowledge and development of patient care, first aid, and clinical lab skills," Duffy said.
Job shadows organized through Ventura County Medical Center give students the opportunity to see the applications of their material.
"These shadows are such great opportunities," Bioscience junior Amanda Torres said. "It's eye opening to see jobs that you would normally only see on TV. It's less dramatic, more nitty gritty, there's loads of paper work, but these things are exactly what we need to see."
Torres has shadowed in Physical Therapy and Family Care at VCMC, in the surgery department at Community Memorial Hospital, and in Medicine and Pediatrics. She will be shadowing in surgery again and also Labor and Delivery.
"My favorite part was certainly seeing a C-section at VCMC," Torres said. "It was exciting to see a newborn baby."
She hopes to become a family care physician, a career she became interested in during the Bioscience Survey class.
"My second job shadow, with a family care physician, pretty much cemented my choice to become a general practitioner," Torres said. "It was so awesome to watch Dr. Slater explain to a patient how the lining of his intestines work and then 20 minutes later deliver a baby."
Bioscience Junior Martin Marquez has yet to shadow in Labor and Delivery.
"If I do see the miracle of birth, but I doubt I will, all I ask is that I don't faint," he said.
Marquez has already shadowed in the surgery department at CMH and observed two surgeries, a procedure on a meniscus tear and a trigger finger operation.
"I liked seeing how they cleaned out the meniscus," Marquez said. "Feeling lucky enough to see the surgery live and what tools they used to perform the surgery was amazing itself."
Bioscience junior Natalie Waechter experienced a different approach in her shadow at the Family Care Center at VCMC. Although there was less action, she saw a more personal side to medicine through the doctor's interaction with his patients.
"I witnessed a doctor explain to a patient that she has great cancer," Waechter said. "It definitely was not the greatest moment ever, but it definitely was a humbling experience."
Waechter is looking into Occupational Therapy specializing in pediatrics, especially those with special needs. Although she already has an idea of what her future looks like, she is looking forward to the wide spectrum that her shadows will offer.
"[Job shadowing] really gives us an open eye about the world. It allows us to really find what we are interested in and what we are not interested in," she said.
"It shows Bioscience students what they would be doing in each department of the medical field in person," Marquez said. "It would either encourage or rethink their future career paths in a certain area in the medical field."