Holocaust survivor inspires and enlightens sophomores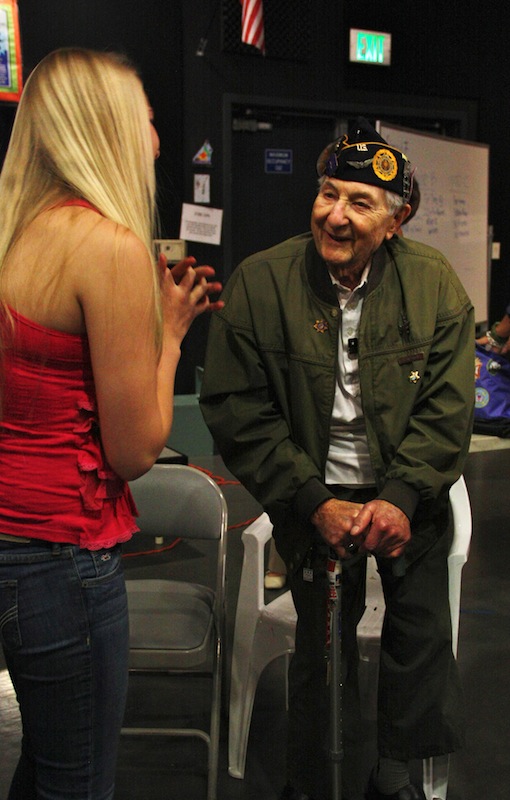 Foothill sophomores gathered in the black box Wednesday, anxiously awaiting the annual visit from 92-year-old Holocaust survivor Bernd Simon.
A video sharing Simon's story played during the first half of the presentation.
Simon grew up in Essen, Germany. When the attack against Jewish Germans began in 1938, he was 18 years old. Along with 30,000 other Jewish men, he was jailed by the Gestapo and then sent to Dachau, the first concentration camp built by the Nazis.
"I couldn't believe this was happening," Simon said.
Simon and the other inmates were shaved and forced to perform hard labor tasks in horrific conditions.
"I survived with hope and faith and prayers," he said. Miraculously, his mother found papers that enabled his release. He obtained a one-year passport to Cuba and was able to secure a VISA to the United States.
The Nazi embassy in Havana, Cuba actually licensed Simon's passport for another year in order to obtain the VISA.
"They let me go free," he said.
Two years later, Simon volunteered for the U.S. army, and specialized in German cryptology and intelligence. He was determined to seek justice in Europe against the Nazi army.
After the war, Simon was asked to be part of a highly specialized counterintelligence group who participated in the Nuremberg trials, indicting Nazi war criminals.
"I had no sympathy for these killers," he said.
After his service ended, Simon met and married his wife, a Hungarian Jew named Judie. Judie was the only one in her family to survive Auschwitz after being selected to work in manufacturing munitions for the German army.
Together, the couple immigrated to America and eventually to Ventura, where they still live today.
"I looked out the porthole [of the boat] and saw the statue of liberty, that was the most beautiful sign I had even seen," Simon's wife said in the video of her voyage to America.
A question and answer session with Simon followed the video.
Honors world history teacher Cherie Eulau selected questions that students had written before the presentation to ask Simon. Many of these dealt with the students' "Who's Responsible" project, in which they determine how responsible different groups are for the Holocaust's occurrence.
Sophomore Anneke Zeko asked whether the Jews themselves felt any responsibility for the Holocaust.
Simon replied that the Jews had no responsibility because they didn't know they were in danger until it was too late.
"We saluted the Swastika flag," he said. "We didn't know he [Hitler] was going to be a killer."
Zeko was fascinated by Simon's presentation.
"It was really interesting to see him being strong enough to share his experiences," she said. "I am sure that it was hard for him."
Besides sharing his story, Simon couldn't help but throw in words of encouragement to his audience.
"You can be anybody you want to be," he said.
He encouraged students to study hard and listen to the news.
"You have to be optimistic," he said. "Tomorrow will be sunny and shiny again."
Simon is forever grateful for his opportunity to live in America.
"They took me as an immigrant," he said. "I was four dollars worth."
Simon's annual visit gave students a better perspective on the Holocaust and the endeavors of a courageous man that made it out alive and strong.
"It's an amazing story how he got to be here," Eulau said.