Wrap-Up: Girls' tennis moves forward in playoffs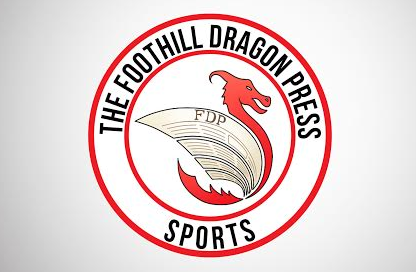 Keaton Dadigan
November 4, 2015
Hang on for a minute...we're trying to find some more stories you might like.
The Foothill girls' tennis team defeated Arroyo Valley High School 13-5 in Division V playoffs at their home court at Ventura College on Wednesday afternoon. With Foothill's victory in Wednesday's must-win game, Foothill advances to round two of the playoffs.
The round one "win or go home" game was a cold and windy one. Temperatures ranged in the low to high 60s, which is unusually colder than normal for Ventura over the last few months. Senior and team captain Karina Cole noticed how the change in weather affected the gameplay.
"Its was cold and really windy," said Cole. "I think it hindered our game a little bit. However, dealing with obstacles will just make us all better players. Winning definitely made the stress and intensity all worth it."
Freshman Erin Gaynor and junior Laina Feath started off the afternoon with a "sweep" in their singles matches, winning all three sets.
Sophomore Enkela Qoshlli won 2-1 after recovering from an injury. This was her first game back as a singles player. Qoshlli played her last three games with a partner in doubles sets.
"It was tricky to adjust to Arroyo Valley's game," said Qoshlli. "That's what tennis is all about though. The winner will always be the one that can adjust quickly and more fluidly than the other. Besides that, I'm really proud of the hard work our team put in."   
In doubles, sophomore sisters Summer and Sherlyn Khouvilay went 6-0 through all three of their matches, keeping their undefeated status.
Partners junior Emma Kolesnik and Cole and partners sophomore Katlyn Urick and senior Nina Urban both had one win and two losses.
Cole thought that communication is what won the game.
"I'm very proud of the girls for working hard and fighting for every single point," Cole said. "I could see how tired everyone was. I think we communicated very well during our matches and that's why we were able to handle the competition so well."
Coach Brad McClain was happy to see the Dragons take round one.
"It was a pretty good game overall," said McClain. "I was a little bit nervous at the start but that was to be expected. Anytime I can get five or six matches, I'm very pleased."
The Dragons will be playing game the second game of playoffs on Friday, Nov. 6. The time, location, and opponent is to be determined.
"All I know is that we need to get off to a strong start," said McClain. "That's been our formula all season."