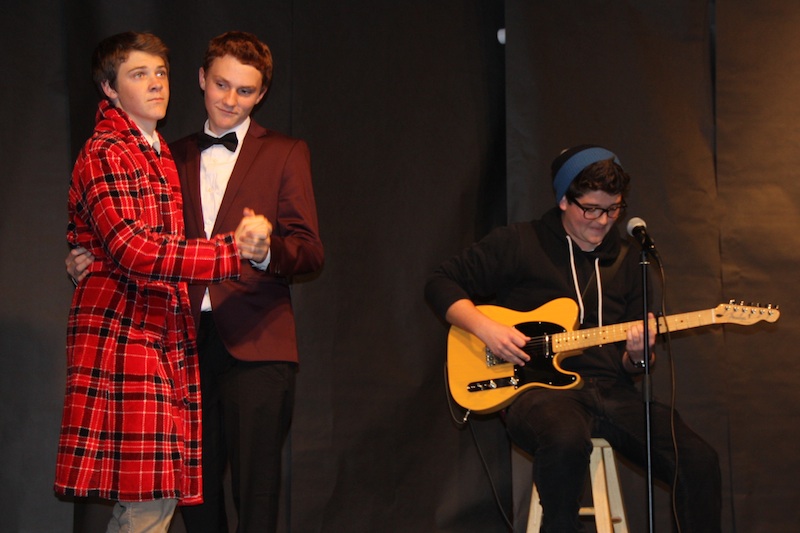 Foothill's Spirito Hall was filled with people, laughs, and anticipation last night as students and staff waited for the second annual Mr. Foothill competition to begin.
Mr. Foothill is a male pageant presented by the fresman class to raise money for events like Winter Formal. Foothill boys of all grades competed against each other in the categories of Wow! wear, formal wear, question and answer, and talent portions in hopes of being crowned "Mr. Foothill."
This year, junior Nate Rowley won with 653 points. Last year's Mr. Foothill, senior Oscar Pratt, passed the crown on to Rowley as the crowd erupted in applause. Senior Trevor Kirby came in fourth place, senior Henry Ashworth in third, and junior Chandler Vu was the runner up.
"I was really surprised. It feels really nice," Rowley said.
The night began with an opening show. Kristen Faulconer, applied arts teacher and announcer for the night, came out in a renaissance-type dress along with fellow announcer and Freshmen Class President Kaylie Matthews.
The song "Fergalicious" played as the boys started coming out from behind the back drop wearing crazy outfits that ranged from a pink onesie to a green one-piece suit. Some members of the audience laughed until they cried as the boys frolicked on and off stage.
Wearing pink crowns, Freshman Makayla Flinn, sophomore Mallory McPherson, junior Natalie Karbum, and senior and ASB President Riki Schmitt were announced as the night's judges. They scored the contestants on appearance, creativity, crowd response, personality, and poise with a possible score of 50 for each category.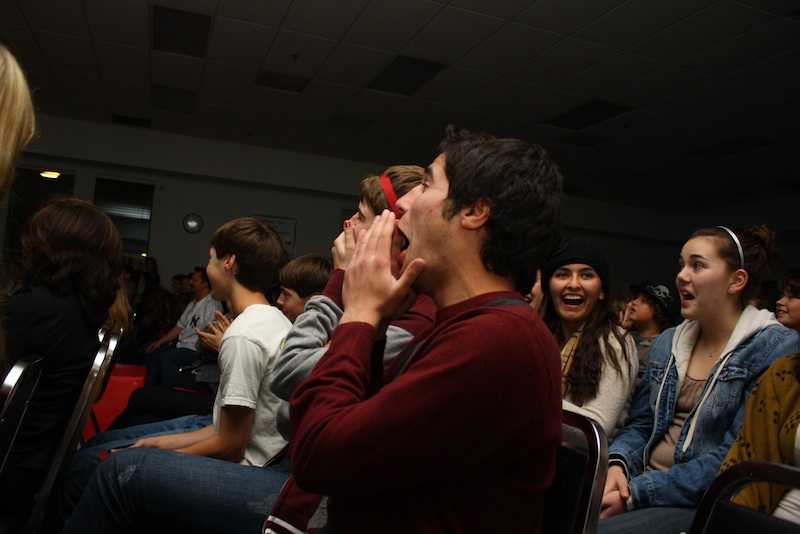 The next segment was Wow! wear, during which contestants came out in costumes they created themselves to describe their style. Some of these Wow! costumes included sophomore and Junior Class President-elect Liam Egan's short red dress and high heels that caused the crowd to explode with clapping and laughter.After that was sophomore Angel Mayorga, wearing a cowboy outfit, Andy Warhol-inspired shirt, mini guitar, and walking like the cowboys in the wild west. Sophomore Michael Morales was next displaying short gold shorts, a shirt with "Got Milk?" written on it, and tennis attire including a racket and headband.
Stephen Mariani, a junior at Foothill was also dressed memorably, as a stereotypical "hipster" with headphones, skinny jeans, a jacket, and black-rimmed glasses.
"I definitely found the Wow! Wear most interesting because people have very Wow! outfits like
"Birdman" in his green one piece suit," Sophomore Class Vice President Carson Graves said.
Following formal wear was the question and answer segment where the contestants were asked randomly selected questions to give the judges and audience a glimpse of their personality.
Junior Jackson Tovar was asked which word better describes him: smart or hot, and answered "yes."
Vu was asked if he believes he is more of a giver or a taker and his reply was "I'll give you my love, and you can take my heart," making some of the girls in the audience coo and swoon.
It was then time for the talent portion, where each contestant had a time limit of two minutes to perform a talent of their choice.
Freshman Nick Vaughn sang a song he wrote called "This Feeling." Sensing the theme of young love, the crowd couldn't help but "awww" at his lyrics. Freshman Greyson Melendez peformed a skit with his dad about baseball, making the audience laugh.
"I wanted to feel more connected with the high school and I wanted to do other activities and I can sing so that was fun," Vaughn said.
Alexander a self-proclaimed Pastafarian, then came out and gave a sermon about
The Church of the Flying Spaghetti Monster
while wearing a pirate hat and his signature kilt.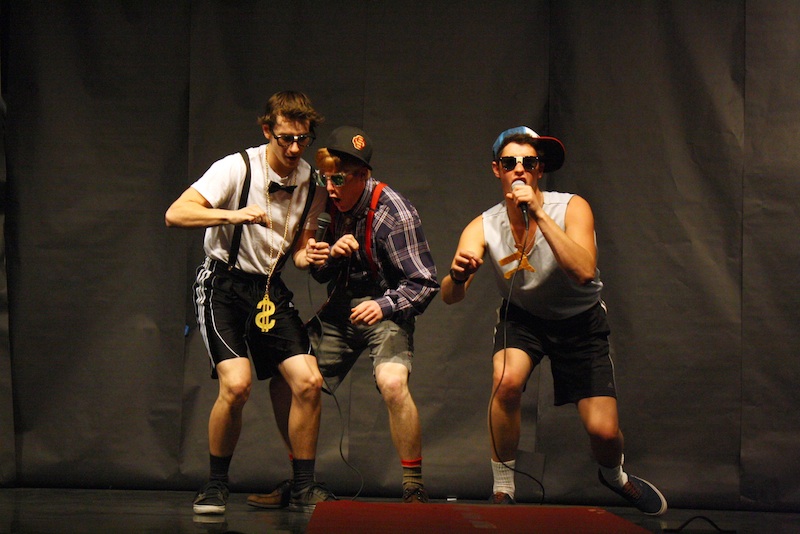 For his talent, senior Greg Oyan rapped
Eminem,
Drake
, and
Busta Rhymes
songs. Senior Class President Trevor Kirby and senior Henry Ashworth joined Oyan onstage and did a parody of the song
"Sexy and I Know It"
entitled "Nerdy and I Know It."
Schmitt was impressed with the talent at the show.
"It's so funny because you never know that Greg Oyan can rap or Nick can sing and you walk past these people everyday on campus. They always surprise me" Schmitt said.
Other acts included: a baseball skit peformed by freshman Greyson Melendez and his father, Stephen Mariani's rendition of "Hallelujah" by Leonard Cohen, an interpretive dance by Rowley and Vu, a cover of "Sharp Dressed Man" by ZZ Top performed by Mariani, Tovar, sophomore Blake Gurrola, and senior Oscar Pratt, and an original beat poem written by sophomore Michael Morales.
"The talent's really good because it had something different to offer and there were some that were funny, some that were serious, but they were all really entertaining," Sophomore Vice President-elect Will Hammer said.
After the talent competition, the show took a short intermission where the audience could buy popcorn, pizza, and cotton candy as baby pictures of the contestants were shown inside.
After intermission, the contestants did a Dash for Cash where they went out into the audience and tried to collect money from the crowd in a hat, the person with the most money at the end of two minutes was delcared the People's Choice Winner.
The participants turned up with some interesting things in their hats, but the award was tied with Ashworth getting $58.26 and Melendez receiving $57.38. Because there was only one People's Choice crown Ashworth let Melendez take home the award.
"I kind of liked the comradery between all the guys. A lot of these guys I've never met before so getting to know them and everything was kind of cool," Oyan said.
Credit: Felicia Perez and Aysen Tan/The Foothill Dragon Press