Concert supports Schools for Salone cause (28 photos)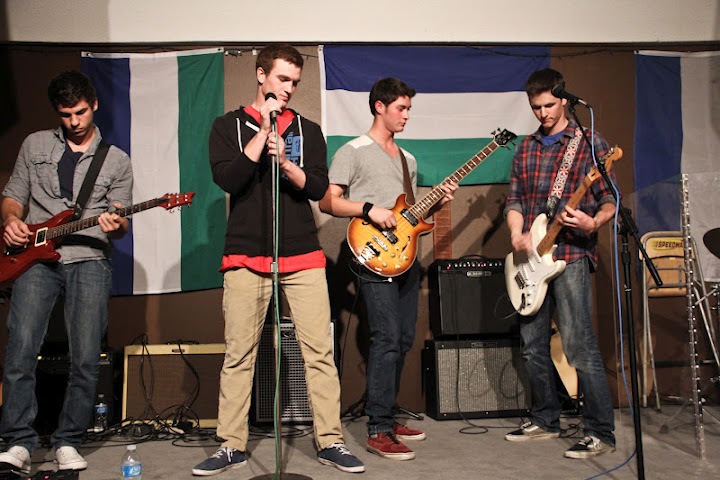 Ventura Baptist Church shook with the rhyme and rhythm of giving at Foothill's Second Annual Schools for Salone Benefit Concert on Friday.
Schools for Salone is an organization whose primary aim is to reestablish schools in Sierra Leone, Africa, that were destroyed by the country's civil war.
"These are people worthy of helping, are grateful for help, and are trying to improve themselves. We are helping them do that," said history and government teacher Cherie Eulau.
Eulau and fellow Foothill teacher Melissa Wantz were inspired to bring the program to Foothill last year after visiting Lungi Village in the summer of 2010.
"With Schools For Salone, the village has to want the help. They have to want a school. They sort of interpreted our visit as a promise […] and they needed our help," Eulau said.
Joined by about 30 seniors with aims to fulfill their senior Hero Projects, Wantz and Eulau raised $56,000 dollars last year to build the school through events such as Teacher Challenge Week and the first ever Schools for Salone Benefit Concert.
Although the school was officially built last May and the initial fundraising has ended, senior Henry Ashworth chose to independently continue working with Schools For Salone for his Hero Project this year.
"I've gone on some medical missions to Benine, which is a country very close to Sierra Leone… and [Sierra Leone] is a place that needs a lot of help after the war. It's a cause that is very close to my heart," he said.
With a couple of slow songs to accompany the calm aura of the venue, Joe Malach and Jon Oyan kicked off the concert at 6:30 p.m.
"I think the music really connects with the venue. It brings out the emotional side of the songs," sophomore Tara Yanez said.
Following Malach and Oyan was the band Myrmar. Senior Connor Fenwick, senior Henry Ashworth, junior Nate Rowley, senior Nolan Bailey, and senior Daven Gonsalez's faster songs had the crowd clapping to the beat.
"Myrmar was great," said junior Andre Sehati. "They have a new drummer, Nate Rowley, but he did a great job. I admire their groove."
They were preceded by a 30-minute intermission for concertgoers to talk among themselves and enjoy refreshments. A short video about the Schools for Salone cause was shown in the background.
"This is the perfect opportunity because you get to hear great music and support teachers in Sierre Leone at the same time," said sophomore Audrey Karbum.
"It's one of those things that comes full circle," said health and government teacher Chris Prewitt. "As a teacher, you try to give to the students and now you can watch the students give back."
After the intermission came Red Terrain, a band who performed at last year's Schools for Salone Benefit Concert. Bringing the night to a close was The Rhine, whose upbeat rhythms kept the crowd dancing until 10:30 p.m.
"I think the people did a really nice job putting it all together. I am very impressed," said parent Sandy Ross.
"I think it turned out amazing… We've gotten a lot of support from the community and it is nice to bring everyone together for such a good cause," Ashworth said.
Eulau was also very impressed with the initial turnout of the concert and the bands themselves.
"I am always impressed to see how creative these students are especially with writing their own songs," Eulau said. "And it is nice not to see them stressed out like they are in my classroom."
Editor's note: This article was updated on May 21, 2012 at 8 p.m. to correct the misidentification of Nolan Bailey. 
Credit: Bethany Fankhauser and Melissa Marshall/The Foothill Dragon Press