Freshmen challenged to think global, act local (14 photos)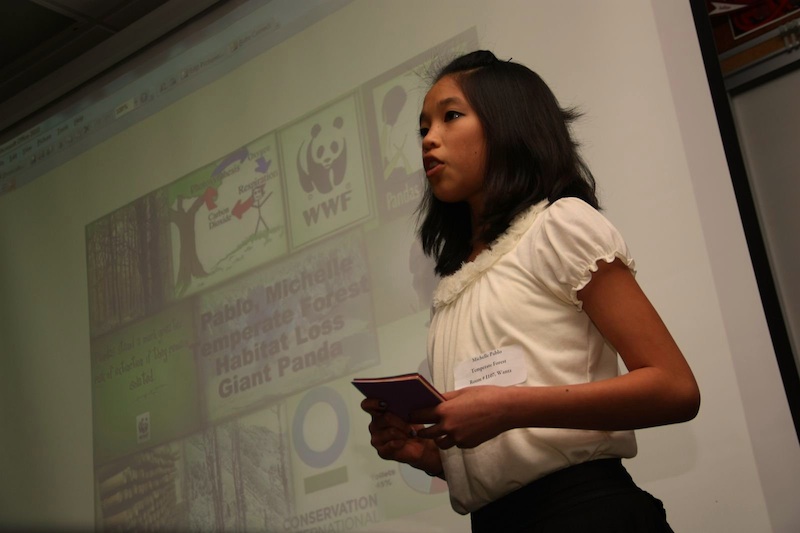 Foothill's freshmen, dressed in formal attire, lined up in front of classrooms before presenting the annual 9th Grade Project after school on Monday, Dec. 12 to their fellow peers, teachers, and assessors.
During their freshman year at Foothill, students are required to complete an in-depth project focusing on a particular environmental biome. Yesterday, they relayed this information to their audience through a speech and a collage of images.
"[I'm] kind of excited but like kind of nervous too 'cause when I was doing my research I was doing what I was interested in," said Celine Gomez before presenting.
For their assignment, students are required to identify two environmental concerns within their specified biome – one must be affecting the biome itself and the other must look at the endangered species found within it. The students must also identify an action plan to prevent further damage of that biome and its creatures.
Before the Class of 2015 presented their speeches, they were served lunch from Milano's Italian restaurant. Over their plates, students silently rehearsed their speeches until the last possible moment before the final presentation.
The people who reviewed and graded the students on their projects were Foothill teachers and volunteers, including parents. To get an idea on how to grade students, assessors were given the opportunity to practice grading by listening to freshman Carlos Cohen's speech on Temperate Forest.
Cohen's speech acted as the model for the rest of the speeches.
Freshman students were graded on the quality of their content and delivery of the speech. Other contributions to their overall grade included the collages, presentation length, and the attire of the presenter. The 9th Grade Project will count as a grade in Biology, EDA, English and Health.
"At first I thought it would be really hard and all the upperclassman told me how they give you really hard questions, but it's not that difficult," said Joanne Quiray.
While students and assessors made their way to their assigned rooms, adrenaline levels were rising and their anxiety began to peak. Many 9th graders took deep breaths in an effort to calm their nerves.
As students presented their speeches in alphabetical order, they discussed topics from the Temperate Forest to African Grasslands. Students waiting to give their presentation had jitters: hands were clammy, feet were tapping, and knees were bobbing.
"It was pretty nerve-racking before but once I actually got through it, it felt a lot better and there's some areas, quite a bit of areas that I could have improved on but it was good," said Ty Spicer after giving his speech.
Soon after the class of freshman finished their presentations, a sigh of relief filled the room.
Ben Newman who researched freshwater and pollution said he would, "try to volunteer more and go to more of the beach cleanups because those really help out freshwater ecosystems."
Teachers Ryan Duston, Macie Rizzo, Conni Carr, and Mika Anderson as well as BioScience Academy students stayed until all final scores were tallied and placed on a spreadsheet for all of the teachers.
Credit: Aysen Tan/The Foothill Dragon Press.