"The Mystery of Irma Vep" is side-splitting mayhem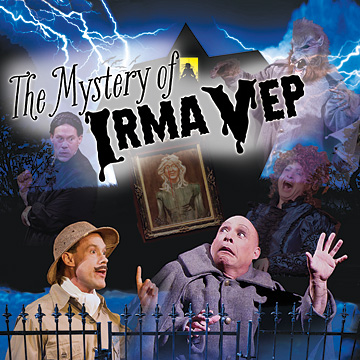 Hang on for a minute...we're trying to find some more stories you might like.
I found myself hearing Christmas carols as I located my seat at the Rubicon Theatre's second showing of the play, "The Mystery of Irma Vep."
This little quip might have made me giggle, but it was nothing compared to the gut-splitting laughter that erupted from me for the entirety of the performance.
One may walk into this theater prepared for a Victorian-era mystery but no, "The Mystery of Irma Vep" is actually a hysterical satire complete with vampires, mummies and murder. Directed by Jenny Sullivan, this ridiculous, two-act play was put on by just two actors – Joseph Fuqua and Jamie Torcellini, who both played a total of eight characters.
Torcellini, who proposed the idea of acting in this play to Fuqua, was no newbie to "Irma Vep." After acting with Fuqua in "Man of La Mancha", Torcellini traveled to Philadelphia to work on another production of "Irma Vep."
"As I was working, I said, 'Joseph, this is a good part for you,'" Torcellini said.
Fuqua apparently did not agree.
"He met with me while I was in Chicago doing 'Billy Elliot' and he sat down and said, 'Sell me on the show. It doesn't look good on paper," Torcellini remembered. "It's not necessarily on the page."
So, what makes this play transform from folly on the page to electrifying on the stage?
This joint production of "Irma Vep," which showed in Santa Barbara last November, is more than just a play. Kathleen Parsons, the stage manager for "Irma Vep" conducted complex light and sound effects that played a big part in making this a full on affair.
"It's just such a fun play to watch over and over again," Parsons said. "The tough thing about this show, but also part of what makes it so fun, is a lot of it is visuals."
Torcellini, Fuqua and Sullivan decided to transcend just visuals however.
"Some of the voiceover stuff that we added is not in the script," Torcellini said.
Fuqua saw the original production of "The Mystery of Irma Vep," first performed in 1984 in Greenwich Village, New York, but chose not to look back on how things were done there.
"I didn't remember what they did, so we started fresh as if it was a new production," Fuqua said.
According to Fuqua, the theater term for this type of editing is known as "actor's choice."
These actors chose right. "The Mystery of Irma Vep" blew me away on all fronts – the script was riotous, the visual and sound effects were superb, but beyond everything, the acting was excellent. It can't be easy playing three different characters within ten minutes.
Audience member Maureen Fitzpatrick was pleased with the performance, stating that she would recommend play to anyone.
"I've already texted four friends," Fitzpatrick said.
Tickets range from $25 to $54, but in celebration of Halloween, tickets are only $15 for all under 25 on October 29. Those who come in costume that night receive a complimentary voucher for one concession. The play is only here until November 6, so buy your tickets here because this is not an event to be missed .