Cougars victorious in intense rivalry game (37 photos)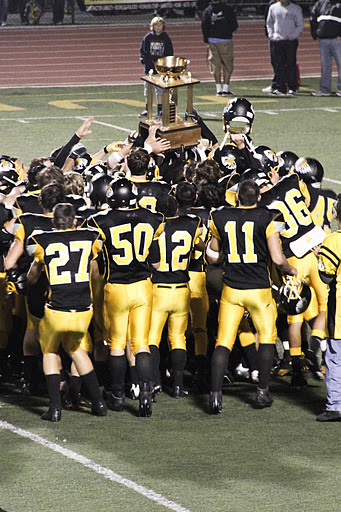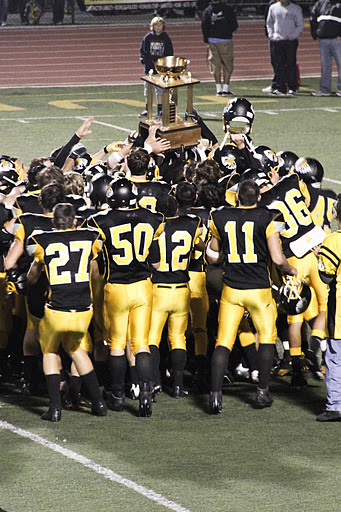 About 7,500 fans dressed in black, gold, blue, and white enveloped Ventura High School's Larrabee Stadium Friday night during the annual rival football game between the Ventura Cougars and Buena Bulldogs.
Ventura took home the trophy for the second year in a row, winning 20-6.
The night began with chants and screams from both sides. During the first quarter, Ventura's Conner Armstrong scored the first touchdown with 3 minutes left on the clock. Screams erupted from Ventura's side while Buena's fans sat quietly or booed.
In the second quarter, Ventura's Leo Camacho scored their second touchdown nine minutes before halftime. They missed the point after touchdown, leaving the score 13-0.
The quarter intensified when seconds later Ben Salazar scored Buena's first touchdown. Buena fans burst out in cheers while the band played an upbeat, celebratory song.
Buena's thrill was short lived, however; minutes later, an interception was made by Ventura player Nick Januska.
Januska ran for the touchdown and furthered Ventura's lead, making it 20-6.
During halftime, Buena and Ventura cheerleaders met in the middle of the field to hug and walk together back to Ventura's side. The audience then watched Ventura's cheerleaders, dance team, and hip hop team perform.
In the third quarter, the score stayed 20-6 despite both teams' best efforts.
In the last quarter of the game, Buena intercepted the ball, and then Ventura's Armstrong made another touchdown, but it got called back on holding penalty. Ventura's side stood up in disappointment and booed.
With two minutes left of the game, Ventura intercepted Buena to end their drive. The final score was 20-6 and with that, the Ventura fans, coaches, and players cheered for their victory.
"I feel as though it was closer than it should have been," Foothill senior Joseph Malach said of the score.
Beaming, Ventura Junior Varsity coach Tim Garcia said, "Anytime you win a football game, it's great stuff. Anytime you beat Buena, it's even better."
Superfans with painted bodies rushed to be the first on the field to congratulate the team while Buena's fans quietly left the stadium.
"I'm just sad for the seniors because they wanted it really badly and it's their last game against their rival team, so I kind of feel their pain," Buena fan Jayla Albanez said.
After Ventura's players were presented with the gold trophy, they all crowded around and held it up in the air, each straining to touch it.
Celebrating his victory, Conner Armstrong said, "I feel amazing and that game was awesome. Our team really took it to them. I mean, that was the biggest game of my life and words can't explain it. I feel great."
Credit: Bethany Fankhauser/The Foothill Dragon Press