Peace Corps presenter stresses importance of volunteer work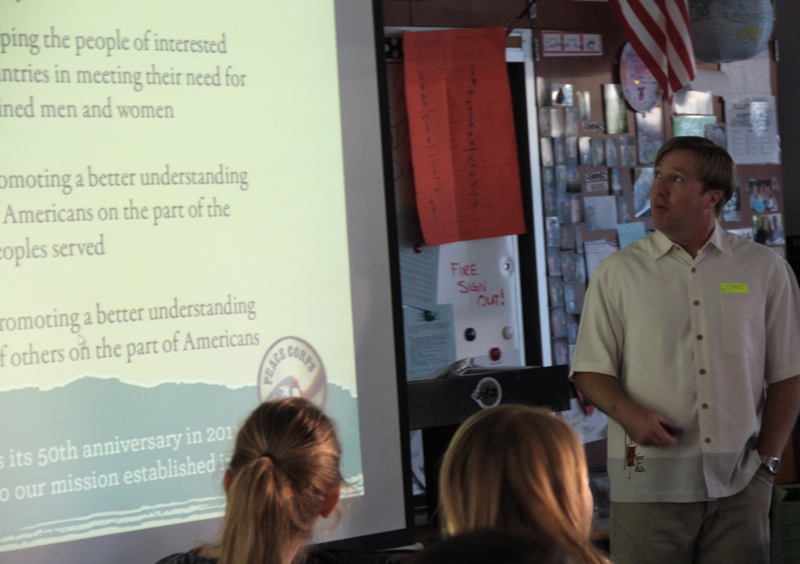 Guest speaker Ken Leandro brought his experience as a Peace Corps volunteer in the Caribbean to life by using music and photos to enhance a presentation he gave to Foothill seniors Monday.
"Everything in my life has branched from volunteering," he said.
Leandro first contacted government and economics teacher Heather Ferris about presenting five years ago on the Peace Corps's 45th anniversary, and he has come to speak each year since. Ferris believes that having a Peace Corps presenter really benefits students.
"The idea of volunteering and benefiting others is one of the key themes at Foothill for their senior year," Ferris said. "I hope it makes them more enthusiastic about volunteering and gives them an idea of what they might like to do after they graduate college."
Leandro believes very heavily in the benefits of volunteering.
"Volunteering, in whatever form, is going to change your life and help you succeed, " he said.
Leandro worked for the Peace Corps from 1993 to 1995 on the small islands of St. Kitts & Nevis in the Caribbean.
"I went from 18, 000 people at UCSB to a tiny village of three to four hundred people where everybody knows everything about everyone," Leandro said.
Leandro worked at four different elementary schools and taught environmental education. His goal was to create a more hands-on approach to learning.
"I just wanted to go out and show them where all the things they were learning about came from," Leandro said
Hoping to recreate a Caribbean environment, Leandro brought a mix of Caribbean music that he played for the students.
"Everywhere you go in the Caribbean there is music blasting," he said.
Peace Corps volunteers often encounter problems in foreign countries that they wouldn't in the United States, but Leandro believes that facing those issues is one of the most important parts of the experience.
"You just don't know the trials and tribulations you'll encounter in a different country and it changes you," Leandro said. "You start to appreciate the benefit of clean clothes."
Leandro believes that working in the Peace Corps will help improve every aspect of a person's life.
"[With] the life skills you've gained you can basically just come back and kick butt," Leandro said.
Senior Nicole Teitel appreciated Leandro's presentation.
"After watching the presentation,  [the Peace Corps] seems like a very valuable option for the future," she said.