The difference between reconstructive and cosmetic surgeries
Senior Ellie Morrison was born with a malformed jaw and overbite, which only got worse with age. She underwent orthognathic surgery during the summer of 2014, after nearly six years of deciding whether or not to have the procedure done.
Prior to the operation, she suffered from "jaw popping" and locking of her jaw, along with respiration issues due to the lower jaw pressing against the trachea, causing her airway to resemble the size of a straw.
Aging with a restricted airway, Morrison was putting herself at a higher risk of sleep apnea as an adult.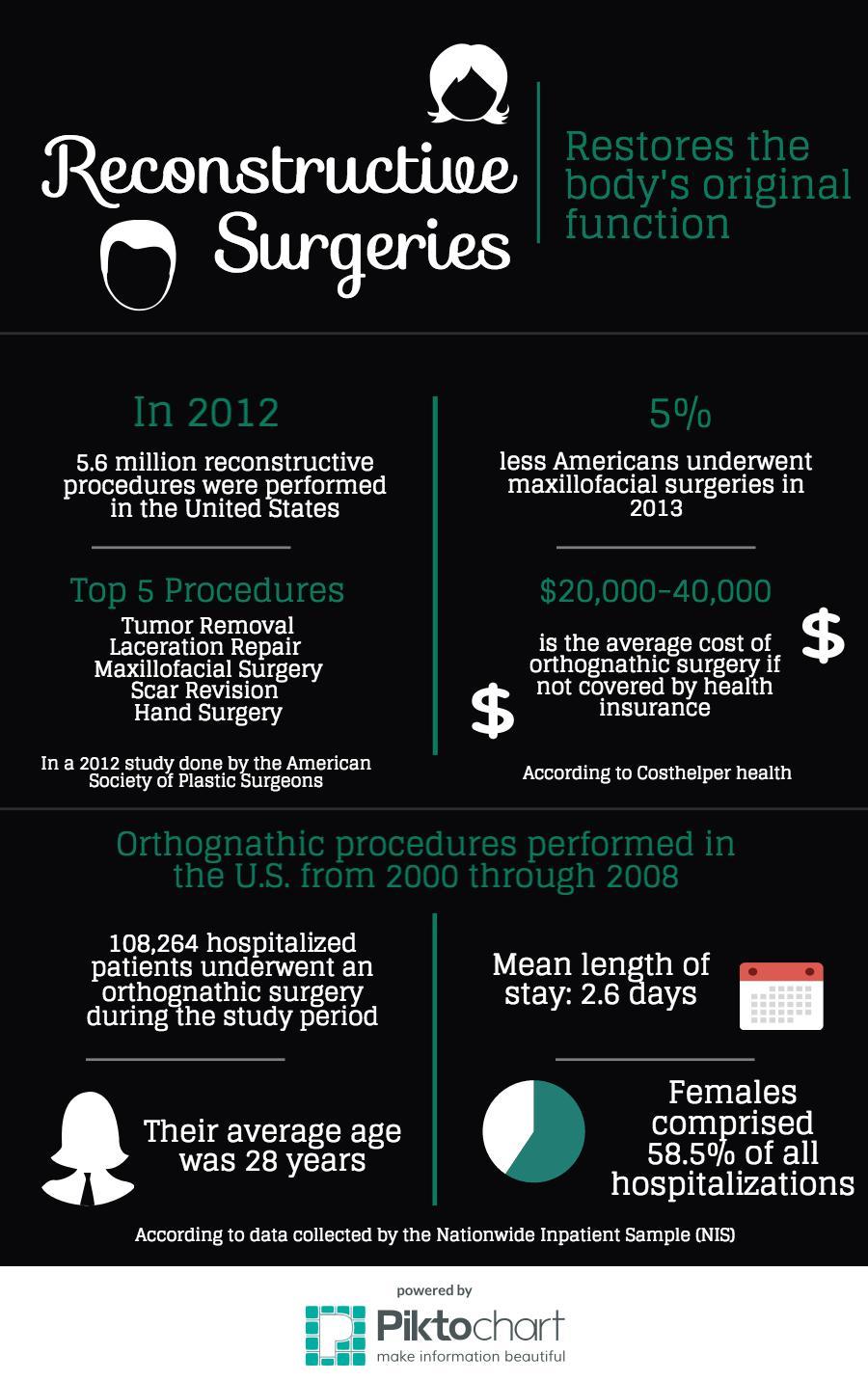 Starting around 10 years old, "I was being stared at by little kids," Morrison said.
She was nervous to correct her overbite, but it was "nothing compared to [the embarrassment of] being stared at."
Her father Barry Morrison was also aware of this issue.
"I was optimistic and excited for her [surgery] as I know how hurt she felt about people staring at her or her problems with eating," he said in an email.
Two appointments before the surgery, she was told of everything that could go wrong: her face could be paralyzed on one side, she could go blind in one eye and/or have permanent numbness in the lower jaw. She also risk contracting aspiration pneumonia, a disease she suffered from when she was six.
However, as Ellie Morrison was under "the care of one of the most world-renowned reconstructive jaw surgeons," her father was confident in his ability to help her.
After a successful procedure with no side effects, she immediately noticed that she could breathe better. Her airway is now four times bigger than before the procedure.
According to her mother Christina Morrison, her daughter was required to stay in Santa Barbara for a week during her eight week recovery period.
During this time, Ellie Morrison's selection of food consisted only of pure liquid nourishment, including various juices, milkshakes and water. Due to her liquid-only diet, she lost 15 pounds in six weeks.
"She wanted to rest and sleep a lot for long over a month, and it was really hard to get her strength back on a liquid-only diet," Christina Morrison said in an email.
Due to her senior year beginning in two and a half weeks after her surgery, Ellie Morrison "had to get a home hospital set up through the district until early October."
[soundcloud url="https://api.soundcloud.com/tracks/207833901″ params="color=ff0000&auto_play=false&hide_related=false&show_comments=true&show_user=true&show_reposts=false" width="100%" height="166″ iframe="true" /]
"Even then, the transition back to school was really hard, but she did it," Christina Morrison said. "Mrs. Freeman, her counselor and her teachers, especially Mr. Huffman and Mrs. Ferris and Mr. Perfect and Mrs. Anderson, all who helped us so much."
Ellie Morrison isn't one of the few in the country who decided to undergo reconstructive surgery. Almost 8 million reconstructive surgery procedures were performed in 2008, according to American Society of Plastic Surgery.
The difference
While Ellie Morrison had surgery only because it was necessary and was purely reconstructive, others have cosmetic surgeries done to change their appearance.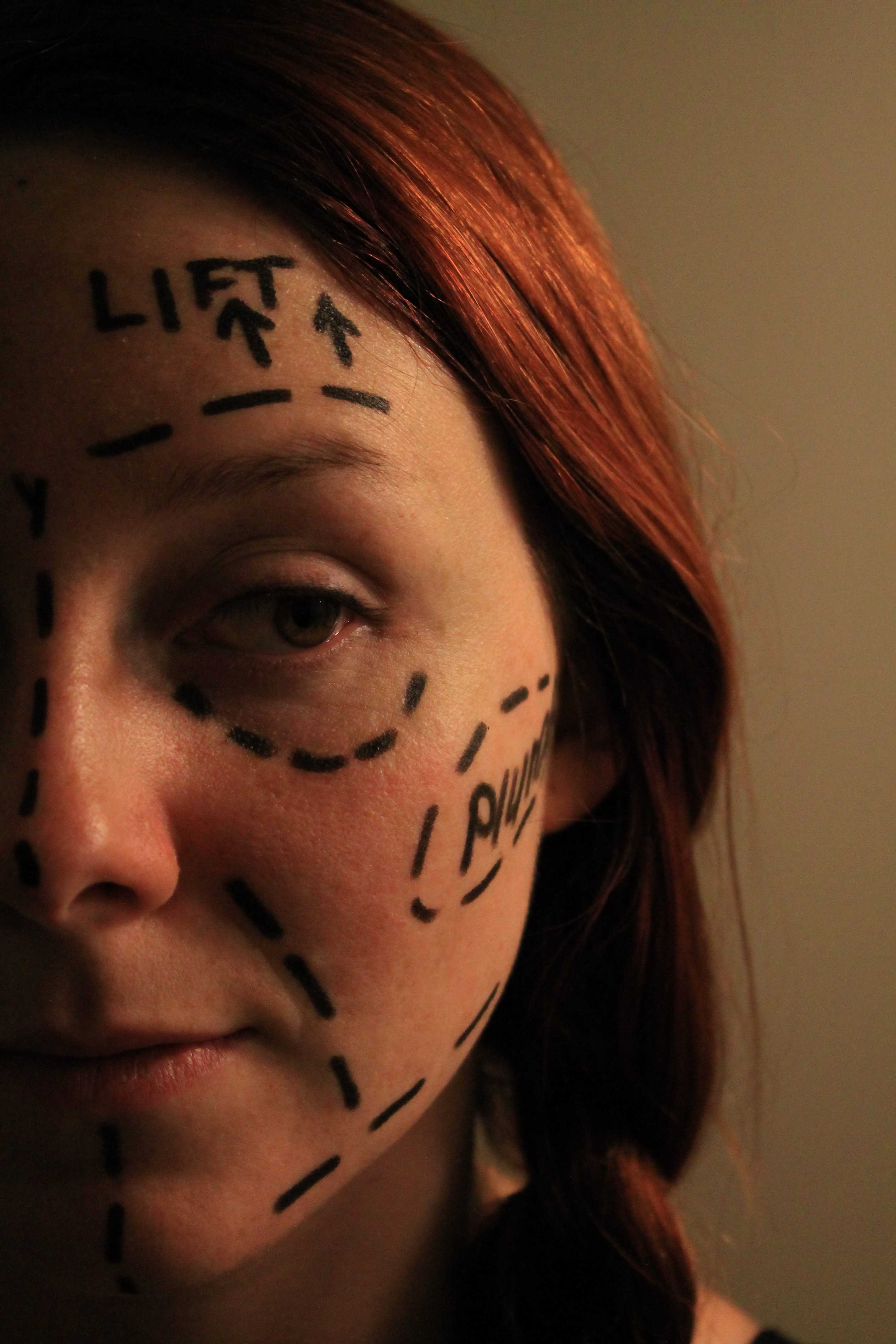 Not a fan of typical cosmetic procedures, Ellie Morrison said that she liked herself the way she is.
The most common forms of cosmetic surgery include: nose jobs, breast implants, ear surgery (otoplasty), liposuction and breast reduction-especially seen in males.
Cosmetic surgery procedure prices can vary widely, ranging from as low as $122 to as high as $6,840, depending on whether or not the surgery is minimally invasive. However, the costs don't seem to be a barrier for many teenagers nowadays.
According to a report by the American Society for Aesthetic Plastic Surgery, the number of cosmetic surgeries performed on adolescents have more than tripled in the last decade from 59,890 procedures done in 1997 to 205,119 procedures done in 2007.
In a 2010 report by the same organization, the total number of cosmetic procedures performed on both adolescents and adults was 13.1 million, a five percent increase from the previous year.
While cosmetic surgery is done to enhance and beautify physical appearance with no medical condition apparent, reconstructive surgery is done to restore a body's function and correct a deformation.

Common reconstructive procedures include implantation of a prosthesis, tumor removal in cancer patients, laceration repair, scar revision, hand surgery and maxillofacial surgery.

The side effects of these procedures can vary. In Ellie Morrison's case, although she and her parents were worried about the possible side effects of nerve damage and permanent numbness, her daily struggles with jaw deformation combined with the risks of not correcting it outweighed the side effects. In fact, her mother was more in favor of the procedure than her daughter was.
"I had seen how she struggled with her jaw her entire life. She was always sleepy and had trouble gaining weight as an infant. She had trouble eating many foods her entire life, and as she grew older the issue worsened significantly," Christina Morrison said.
"I saw Ellie struggle to be included and accepted in addition to always being tired and have difficulty focusing. I saw her confidence drop and her quality of life differ drastically from her peers. I wanted her to have the surgery so she could have a chance at a normal jaw, normal eating, normal breathing, sleeping. Just a normal life."

Ultimately however, it was completely up to Ellie Morrison's to decide of whether or not the benefits outweighed the risks.

Nations under the knife

Over the years, the percentage of cosmetic surgeries done domestically and internationally has been steadily rising, resulting in higher demands for cosmetic surgeons.

According to Ellie Morrison, the rise in cosmetic procedures is partly fueled by the media's perception of physical beauty.
"People look at it and don't feel great about their bodies," she said.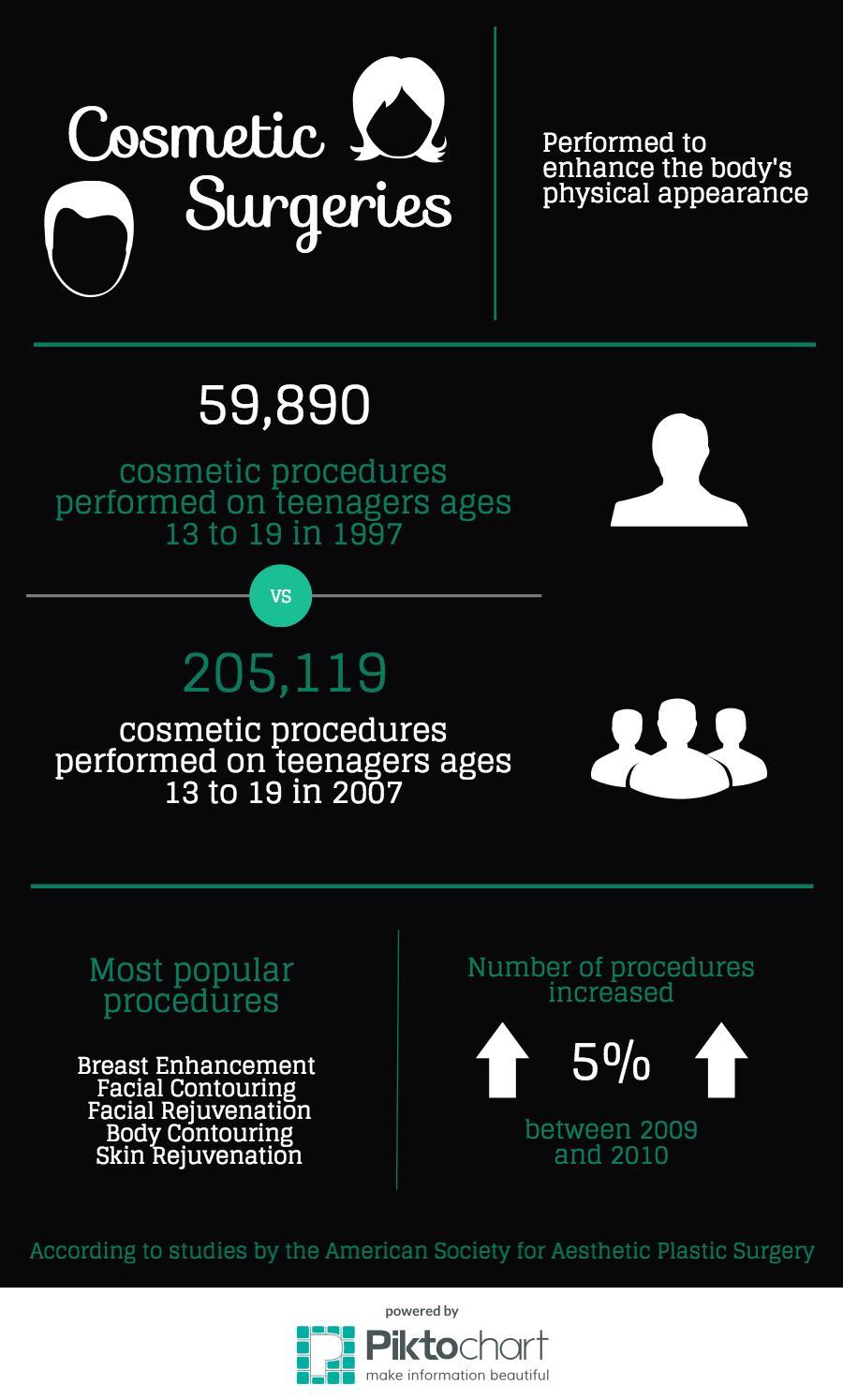 South Korea and Greece currently occupy the "top plastic surgery [spots]" in the world by percentage of population, respectively.
Perhaps one of the most ideal areas for a cosmetic surgeon to thrive in is South Korea, named the world capital of plastic surgery.

Out of the number of women surveyed in Seoul, one in five women have undergone plastic surgery.

The demand for plastic surgery procedures is so high that there is even a street located in the high-end Gangnam district named the "Improvement Quarter," where hundreds of cosmetic surgery clinics line the road.

The most popular types of cosmetic surgery procedures done in South Korea are double eyelid surgery, rhinoplasties and reconfiguration of the jaw. Double eyelid surgery is used to make the eyes wider, and reconfiguration of the jaw removes protruded mandible angle to give the face a "V shape."

Shows such as Let Me In further induce South Korea's love for cosmetic procedures. Let Me In centers around a participant, chosen from a pool of applicants, who receives free cosmetic surgery procedures. The procedures take place over several months, and at the very end the "new and improved" participant is shown to the audience.

Greece is not far behind South Korea when it comes to countries notorious for cosmetic procedures, which can come as a surprise due to its struggling economy.

In 2011, 142,394 cosmetic surgery procedures were performed in Greece. The rise of cosmetic surgeries performed in Greece is partly due to the country's failing economy. As citizens are being paid less and less, surgeons are lowering their prices to the accommodate the economy.

They charge an average of 40 percent less for their procedures, deeming them a popular go-to country when it comes to low procedure costs.

The most popular procedures performed in Greece are breast augmentations. Approximately one in 79 Greeks has also "been subjected to surgeries like liposuction, eyelid surgery and botox."

Even though cosmetic surgeries tend to be more heard of and the amount of procedures done every year has continued to rise, there is also a great number of people undergoing reconstructive procedures who are often overlooked.
Featured Photo Illustration Credit: Johnathan Carriger/The Foothill Dragon Press