Federal standards include API, other AYP indicators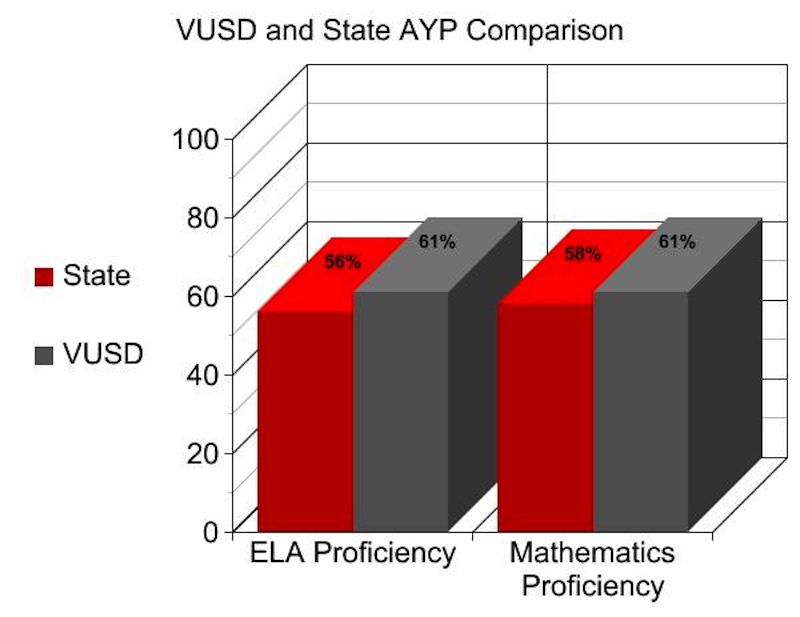 Foothill students may have zealously celebrated their 2011 API score, but few know of the other indicators used by the federal government to measure progress. API is the standard indicator of academic growth for California, yet it is only one of the measurements included in the federal government's AYP, or Adequate Yearly Progress.
AYP evaluates schools from a national standpoint, providing educators with a broader picture of their school's progress and development.
"It allows you to compare schools across the country and see what areas need improvement," senior Emily Wages said. "You can see what schools are doing well and model off of them."
AYP is based off of four indicators. The first is participation rate in English Language Arts (ELA) and Mathematics. The federal government has set a goal of 95% participation for each school district and numerically significant subgroup in the nation.
The second indicator is called Annual Measureable Objectives (AMO). Annual targets for ELA and Math depend on school type.
The third indicator, most familiar to Ventura Unified students and faculty, is the Annual Performance Index (API). Each state chooses an additional indicator to incorporate into their Adequate Yearly Progress report; California has chosen API.
"Schools must increase by 1 point API or meet their target API," Director of Student Performance and Program Evaluation Rene Rickard said at a school board meeting on September 13.
API is quantified by two different methods: a Base to Growth cycle and a Growth model.
The Base to Growth cycle announces base API in the spring along with a growth target for the following year. The California Department of Education (CDE) recommends this method.
The Growth model, the preferred method for educators, measures growth on a year-to-year basis without using base API to calculate a new target. Progress is measured by how many points are gained each year, not by whether or not the school or district met its calculated target.
"The Growth model is more simple," Rickard said.
API is measured on a scale of 200 to 1000. CDE has set a proficiency target of 800 and above for all schools in the state. API is based on student performance on statewide assessments across multiple subject areas. Student performance is compiled to calculate school-wide performance.
"This is no individual indicator," Rickard said. Instead, Rickard said that API measures "the overall progress of schools".
The final federal indicator, measured only in high schools, is graduation rate. Schools may obtain proficiency in this indicator in one of three ways: reaching a 90% graduation rate, a fixed growth target rate, or a variable growth target rate. A fixed growth target rate, unique to each school district, uses the 2010 AYP graduation rate in comparison to the 90% goal. A variable growth target rate, also unique to each district, instead uses the current graduation rate to compare with the goal.
"Schools could potentially have 46 different ways to miss AYP," Rickard said.
If Title 1 funded schools fail to meet AYP requirements for two consecutive years in either the same content area or the same indicator, they enter safe harbor, also called Program Improvement (PI).
"Program Improvement decrease the number of non-proficient students by 10% or more," Rickard said.
Ventura Unified has seven schools in Program Improvement this year. However, the district's overall performance is ahead of the state average.
Last year's API score for Ventura Unified was 801, an increase of 63 points since the 2002-03 school year. 100% of Ventura Unified schools have shown improvement since that time. 14 district schools have an API of over 800; Foothill and Mound Elementary are the only two Ventura Unified schools that have achieved an API of over 900.
In Foothill's case, the increase in test scores is not directly related to the caliber of student, according to calculus and geometry teacher Anthony Villa.
"What I have seen is a shift in attitude and culture," he said. "The student that comes to Foothill, despite his or her background, comes with an ambition to do his or her best."
Villa believes that the integrated curriculum at Foothill, a result of teacher collaboration, has made the material more accessible to students.
"Teachers at this school have met to ensure more depth than breadth," he said.
Villa also contributes much of Foothill's success to the students themselves.
"They have built a culture of pride in celebrating academic achievement, which has grown greatly within the last few years," he said.