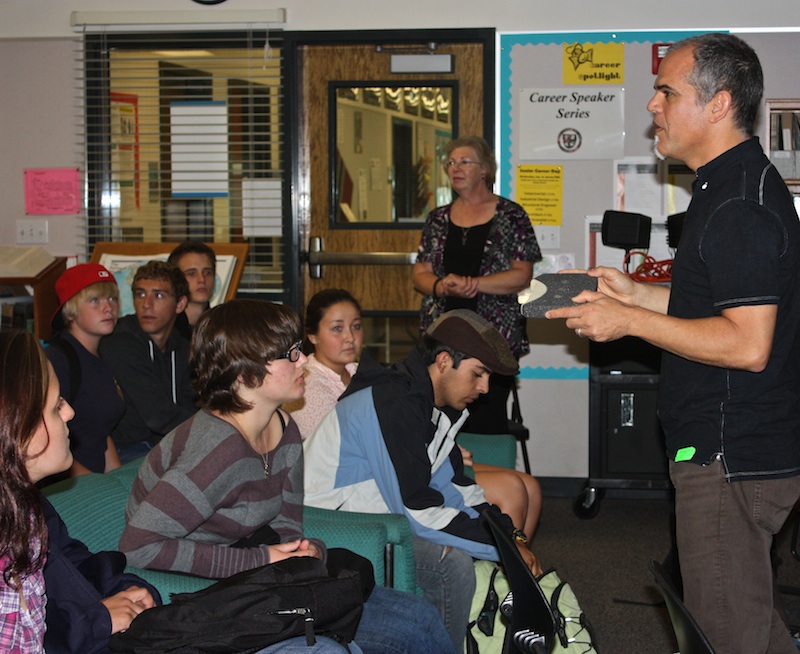 Students gathered in the media center and classrooms last Wednesday to listen to different professionals talk about their jobs for Foothill's Senior Career Day.
Students interacted with the speakers by listening and then asking questions.
English teacher Jason Dinkler said that its goal is to expose students to different careers.
"It gives people a chance to see what they want to do and what they don't want to do really well, so it gives exposure to new ideas, plus sometimes they learn more about what they don't want to do. "
Quite a few students found the day very helpful.  Ciana Iverson chose to sit in on the industrial/art design session.
"At first I thought it would be something that I would really want to do but then I realized…I shouldn't go into something like that," Iverson said.
Shaena Singer felt that Senior Career Day was very helpful.
"It just showed me the different opportunities that there are," Singer said.
Kids had a chance to hear about the work place, and were told that it is ok to fail because success often follows.
With the different speaker options (veterinarian, architect, food scientist, engineer, and designer), there was something for every student, which is an experience industrial designer John Cook missed out in his high school years.
"I wish somebody had spoken at career day for me when I was in high school," Cook said.  "I wish somebody had done this for me so I could get into it faster. "
Showing the realities of different jobs is good for students to see what's out there for them and it may make it easier for them to find the right job.
"If they love what they do they will never work a day in their life," English and psychology teacher Melanie "Captain" Lindsey said.