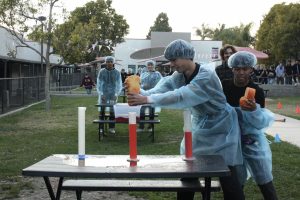 On Friday, Nov. 17, 2023 the BioScience Academy hosted its annual bonding event, the BioScience Olympics. It happened after school from 3:30 p.m. to 6:30 p.m., where all of the academy participated a competition of games and challenges.
BioScience consists of multiple branches based on grade; current sophomores are Cohort 20, current juniors are Cohort 19 and current seniors are Cohort 18. The three cohorts competed against each other by playing in multiple games and activities for the awards of first prize, "The Golden Crutch", second prize, "The Silver Crutch" and third prize, "The Bronze Crutch."
Sarah O'Neil '24 shared her feelings on the event, saying, "Every time it grows as more of a competition, but it's not a rough competition, it's a friendly competition and everyone works together."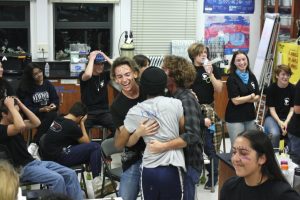 Shea Stevenson '26 stated her feelings on how the event brings BioScience together, "We [underclassmen] don't usually bond with the upper cohorts, and this game is a chance to compete against each other for five hours and we got to know each other [better]."
All of the BioScience cohorts participated in multiple games including a Relay Race, Save the Baby, Jeopardy and Pictionary. Each game provides the opportunity to win points. There were breaks between each game to enjoy snacks and water.
BioScience Director Mika Anderson explained how the whole event was brought together, "It was set up by students in HOSA [Health Occupation Students of America], they are a part of the Bonding Olympics Committee and so they've been planning it … the biggest challenge was actually daylight savings times because it got dark a lot earlier than usual."
The Relay Race consisted of carrying someone across a certain point, then filling up a beaker to five millimeters with dyed water, and then balancing five petri dishes on their head as they walked across, before they had to go through an obstacle course while on crutches.
In Save the Baby, students had to run to grab a medical kit, and use the proper items for the procedure of save the baby. Jeopardy had multiple options for questions mainly about science, but there were a few about Anderson herself.
Lastly, in Pictionary the students had to draw out a certain medical term and their partner had to guess in time, bringing the energy up to an intense competition. Overall, Cohort 20 earned zero points, Cohort 19 earned 11,490 points and Cohort 18 emerged victorious, winning the Golden Crutch with 12,960 points.
As the night darkened and the event came to a close, the BioScience Academy left with strengthened connections and newfound knowledge, setting an exciting precedent for the rest of the school year.